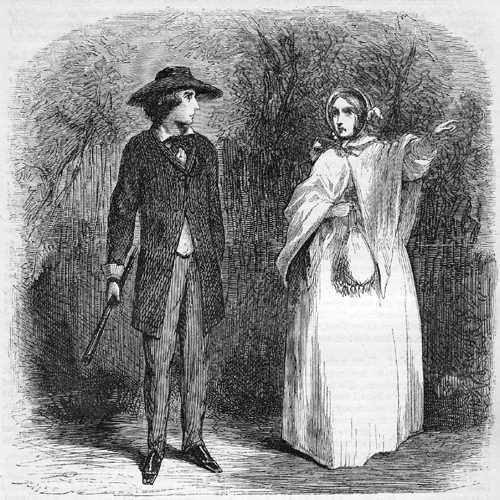 One hundred and fifty years after its first publication,
The Woman in White
has been published once more in its original, weekly parts on the dates the originals were published. For the first time in one and a half centuries readers can enjoy the original text exactly as it was first published. And experience the agonising week's wait after each cliff-hanging ending.

All forty parts have now been published. You can download each part through the links below either as a PDF of the text and or as a PDF of images of the original periodical pages. Set your own timetable and download one part a week. Or you can download the whole 40 parts of the text in one PDF. The text PDFs reproduce the original text including all original printing errors. Those errors are listed in a separate document. If you find mistakes that are not listed please let me know.


"Is that the road to London?" she said.


You can also read the introduction to each part which was sent out with the weekly email. There is a collection of background material which includes the illustrations from the 1875 Piccadilly edition; an account by Collins of how he wrote the story; an interesting paragraph written by Dickens about a White Woman published in 1853; three original prefaces to the book by Wilkie Collins.

The story was published simultaneously in New York in Harper's Weekly. Each part had one or two illustrations by John McLenan (1827-1865). They are also available for each part and in a pdf of the illustrations to all 40 parts.

There is also an e-text and PDFs of 'The Ghost in the Cupboard Room', Collins's contribution to the Christmas number of All The Year Round which was written while he was writing The Woman in White.

The story first appeared as a serial in Charles Dickens's periodical All The Year Round beginning with the issue dated Saturday 26 November 1859 and ending with the issue dated Saturday 25 August 1860. In fact parts were published on the Wednesday before their date. And the parts were published here week by week exactly 150 years after their original publication on the same calendar date.

You can hear about the project on Night Waves on BBC Radio 3 (and read more here), Front Row on BBC Radio 4, or The Strand on BBC World Service.

The first part was available on Monday 23 November 2009 and the last on Sunday 22 August 2010, in the morning UK time. (The day changed on 7 March because of the Leap Year in 1860).