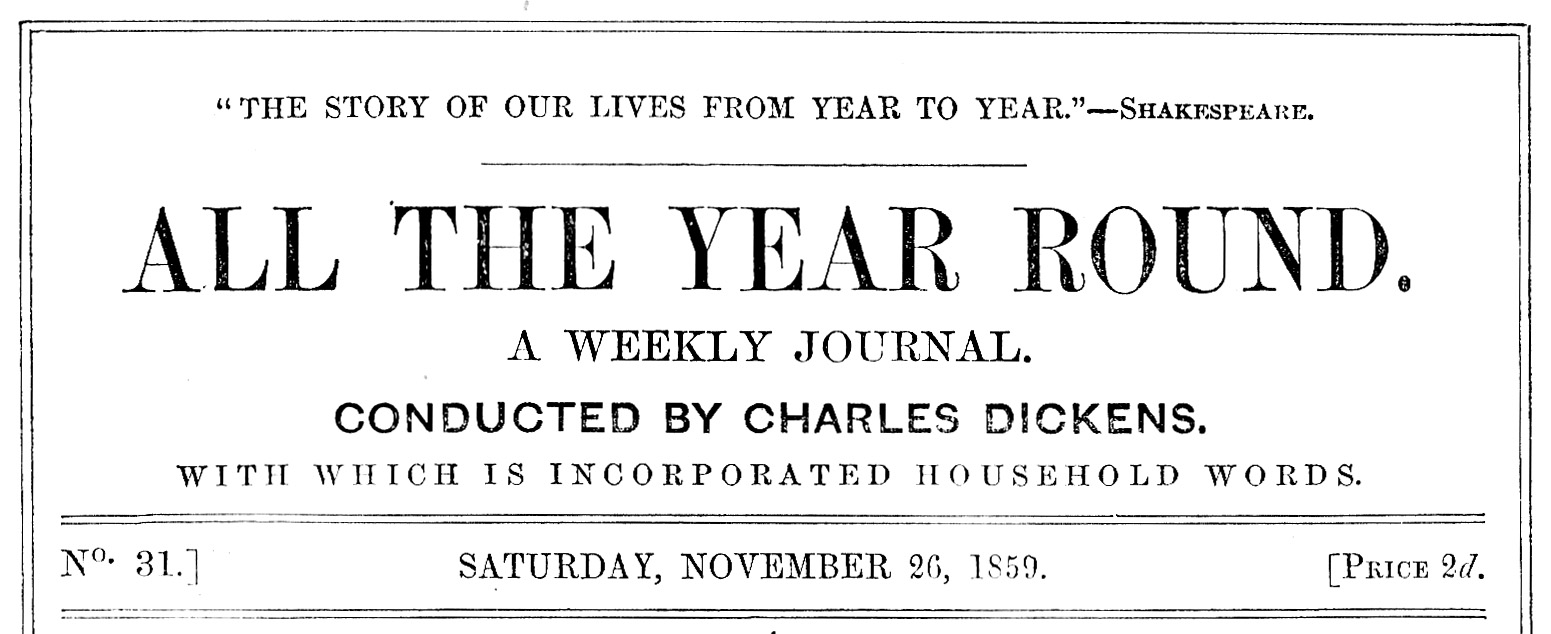 THE WOMAN IN WHITE.
———
•
———
Introductions to each weekly part
as sent by email to subscribers. Errors are omitted as they are available elsewhere. Routine and housekeeping material is also not included.
Top Part 1 Part 2 Part 3 Haunted House Part 4 Part 5 Part 6 Part 7 Part 8 Part 9 Part 10
Part 11 Part 12 Part 13 Part 14 Part15 Part 16 Part 17 Part 18 Part 19 Part 20
Part 21
Part 22
Part 23
Part 24
Part 25
Part 26
Part 27
Part 28
Part 29
Part 30
Part 31
Part 32
Part 33
Part 34
Part 35
Part 36
Part 37
Part 38
Part 39
Part 40
Part 1 sent 23 November 2009
Thank you for joining The Woman in White 150th anniversary celebrations.
I attach a pdf of Part 1 of The Woman in White. The text is, I hope, a comma-perfect transcription of the original. The format is like the original but not identical – the type is larger and the A4 page size (297x210mm) is bigger than the original 235x153mm. The extra size of page and type makes it easier on the eye. One column in the pdf contains about 370 words; in the original there were about 500 to the column.
After the preamble, it falls into its three sections. Pause to admire how the last 25 words of section II change the mood completely and prepare the reader for the key section III. And notice where the actual phrase 'woman in white' first – and last – appears.
Part 1 did not lead the periodical (though it appears to in the pdf). It followed the final episode of A Tale of Two Cities by Charles Dickens. Between the two items – on what must be one of the finest pages on English literature – Dickens wrote:-
"We purpose always reserving the first place in the these pages for a continuous original work of fiction, occupying about the same amount of time in its serial publication, as that which is just completed. The second story of our series we now beg to introduce to the attention of our readers. It will pass, next week, into the station hitherto occupied by A Tale of Two Cities. And it is our hope and aim, while we work hard at every other department of our journal, to produce, in this one, some sustained works of imagination that may become a part of English literature."
Collins himself invested a lot in Part 1. In the summer he stayed on the Kent coast to work on the story. And on 15 August 1859 he wrote to the All The Year Round sub-editor William Wills.
"I send enclosed (and registered – for I should go distracted if it was lost) my first number. Please let me have duplicate proofs as soon as pos­sible, for I want to see something in connection with the story which is not a mass of confusion. It is an awfully long number – between 8 and 9 pages; but I must stagger the public into attention, if possible, at the out­set. They shan't drop a number when I begin, if I can help it.
I have hit on a new title, in the course of a night-walk to the North Foreland, which seems to me weird and striking:
THE WOMAN IN WHITE."
The first part was indeed long – 8,821 words when published which is around 2000 words longer than the typical part.
We know that All The Year Round was published on Wednesday from letters of Wilkie Collins and Charles Dickens. For example on Sunday 11 December 1859 Collins wrote to his old friend Edward Pigott "Look at the number published Wednesday next…" referring to the issue dated Saturday 17 December but in fact published on Wednesday 14 December. And on Sunday 4 December Dickens wrote to Leigh Hunt "The next no. we make up will probably be published at the office on Wednesday the 21st of this month…"
Hence your emails are sent out on Mondays – those being the same date as Wednesdays in 1859 – on the precise 150th anniversary of the date of the first publication of the original.
Part 2 is much shorter than part 1 – 6762 words compared with 8821 of the first part. It is also in many ways much less dramatic. But it contains more instances of the phrase 'The Woman in White' than you will see again – count them! Making you wonder who – and what – she is? It also introduces us to many of the key people in the story so you just can't wait for Part 3! The character of Mr. Fairlie is more than a comic interlude. His personality occupies a central part of the plot in the not too distant future.
Part 3 sent 7 December 2009
I attach Part 3 of The Woman in White which is dated 10 December and was published on Wednesday 7 December 1859. Part 2 contained seven mentions of 'the woman in white' and ended with the expectation of resolving the mystery next week. Note how Part 3 slows the pace with the long introduction of a new character, takes us on a ride – literally – and then changes pace to deepen rather than resolve the mystery.
The Haunted House sent 13 December 2009
I attach a newly made text of 'The Ghost in the Cupboard Room', Wilkie Collins's contribution to the Christmas edition of All The Year Round which was called 'The Haunted House.' Today is the 150th anniversary of its first publication.
Dickens instructed his contributors to write stories of the memories that haunted each occupant of one room in the house. He despaired of some of the contributions, turning one down from Charles Collins "I am afraid not for the Christmas No." and writing to the novelist Harriet Smythies "I have half a dozen stories here now, by regular contributors, quite impossible to be used for the Xmas No., yet written for it." He wrote to John Forster "As yet not a story has come to me in the least belonging to the idea (the simplest in the world; which I myself described in writing, in the most elaborate manner)".
No correspondence between Dickens and Collins or about Collins's contribution now exists. But it could be that he turned to Wilkie in desperation to provide one, which he duly did. At any rate he squeezed in writing this little gem between his 1000 word a day writing of The Woman in White.
Dickens wrote to Elizabeth Gaskell – whose story 'The Ghost in the Garden Room' he used – "the force and beauty of your story impressed me more than I could easily find words to describe." But other remarks lead one to conclude that he was partly buttering her up to see if she would write the next serial for ATYR after The Woman in White ended – George Eliot had just turned him down.
Wilkie's story was the middle of seven contributions, following a poem of Adelaide Proctor and preceding Dickens's own story 'The Ghost in Master B's Room'.
The writing and publishing was all done fairly swiftly. The Xmas number was published on Tuesday 13th and had gone to press ten days earlier on Saturday 3rd. It was being 'made up' (laid out and set in type) at the start of that week on 28 November when Dickens wrote to Harriet Smythies. Yet that was barely three days after he had written to Forster on 25th November complaining about the contributions. On 19th he rejected Charles Collins's contribution and the next day wrote to G H Lewes saying he was "in a state of temporary insanity (Annual) with the Xmas No. and don't expect to be out of it for ten days or a fortnight to come."
The introductory full width paragraphs which link into Wilkie's story were almost certainly written by Dickens. The whole of the two-column story itself is by Wilkie Collins. It was republished by Collins, with some minor amendments, as '"Blow up with the Brig!" A Sailor's Story' in Miss or Mrs.? and Other Stories in Outline, London 1873; in Harper's Weekly 1 March 1873 vol. XVII No.844 pp.174-175; in After Dark and other stories, New York, 1875; and in Alicia Warlock (A Mystery) and Other Stories, Boston, 1875. It was often republished under that title in collections of mystery, horror, or suspense tales.
This etext is the only known of the original text done in the same carefully checked method used for The Woman in White. Part 4 of that story will be sent to you tomorrow morning.
Part 4 sent 14 December 2009
I attach Part 4 of The Woman in White first published 150 years ago today, 14 December 2009. There were no printer's errors in this part.
Wilkie was pleased with Part 4. On Sunday 11 December he wrote to his friend Edward Pigott
'I have just done a third of the story – more than four hundred pages of the novel-size! – Look at the number published on Wednesday next, and see whether the manner in which I there "bring out" "Miss Halcombe's" character does not justify what you have so kindly said of me in The Daily News.'
Pigott's review in The Daily News was of Wilkie's latest book The Queen of Hearts – a collection of short stories linked by an ingenious framing narrative. Pigott wrote
'There is no novelist, even in France, who surpasses him in the difficult and delicate art of putting a story together, so as to keep the attention suspended on a thread of interest, sometimes of the slenderest tex­ture, yet strong enough through skilful weaving, to hold the reader's attention from the first page to the last, eager, anxious, and excited'. (The Daily News Saturday 10 December 1859 p.2a)
Wilkie thanked him for this and added
'It is more than kindly, it is generously written, and it hits the point (in reference to the nonsense talked in certain quarters about my incapability of charac­ter-painting) so cleverly, that I shall take it as the text of what I have to say for myself in the preface to The Woman in White.'
There are now nearly 500 subscribers to the project from all parts of the world. Readers in Brazil, India, and New Zealand have recently joined. If you are enjoying it why not suggest your friends join in too? Or read it aloud in groups as people did in 1859? That is one explanation for the plethora of commas and semi-colons.
Part 5 sent 21 December 2009
I attach Part 5 of The Woman in White first published 150 years ago today, 21 December 2009.
Top Part 1 Part 2 Part 3 Haunted House Part 4 Part 5 Part 6 Part 7 Part 8 Part 9 Part 10
Part 11 Part 12 Part 13 Part 14 Part15 Part 16 Part 17 Part 18 Part 19 Part 20
Part 21
Part 22
Part 23
Part 24
Part 25
Part 26
Part 27
Part 28
Part 29
Part 30
Part 31
Part 32
Part 33
Part 34
Part 35
Part 36
Part 37
Part 38
Part 39
Part 40
Part 6 sent 28 December 2010
I attach Part 6 of The Woman in White dated 31 December 1859 and first published 150 years ago today, 28 December 2009. Part 6 was one of the shorter parts at around 5,800 words. There were no printer's errors in this part.
On Christmas Eve 1859 Wilkie visited Coutts bank in The Strand and took £48 out of the account he shared with his mother. He and his brother Charles used that account until the summer of 1860 when they each opened their own individual accounts. By then Charles had just got married and Wilkie had a lot of money coming in from The Woman in White. But at the end of 1859 the money he did receive was mainly paid in cash including £6-6s a week from All The Year Round. But there were a growing number of payments from foreign rights of the book and then of course selling the book publication rights. The £48 Wilkie took out on 24 December was probably the same £48 paid in by him on 5 November. There is no record of who paid it to him or what it was for. But it was a considerable sum of money – by coincidence almost exactly the amount Walter Hartright would have earned in his twelve weeks at Limmeridge House on four guineas a week. It represented about seven and half week's pay for Wilkie at All The Year Round.
On Christmas Eve Wilkie also wrote to Williams & Norgate, a foreign bookseller in Covent Garden, authorising Her Majesty's Customs & Excise to allow through six copies of his latest book A Plot in Private Life. This was a version of his collection of stories The Queen of Hearts published in Leipzig, in English, for sale only in continental Europe. A Plot in Private Life in fact only contained five of the ten stories which had appeared in The Queen of Hearts and dispensed with its linking narrative.
These English books published on the continent were from the firm of Bernhardt Tauchnitz who published 28 books under Collins's name and another jointly with Dickens. The copyright permission did not allow the import of Tauchnitz editions into England though undoubtedly many did arrive undetected in the luggage of travellers. Authors were allowed to import copies for their own use. Although Wilkie almost certainly authorised copies of each of his books through customs only five such letters are extant, generally authorising six copies each time. You can see an image of this letter and the customs form on my website wilkiecollins.com – go to menu item 6 and then letter 3. There is another letter from Wilkie to Williams & Norgate dated 1877 on the website.
Wilkie himself complained a lot about Christmas – it cost him money and took him away from his work. You can read here what he said and did about Christmas.
Part 7 sent 4 January 2010

I attach Part 7 of The Woman in White dated 7 January 1860 and first published 150 years ago today, 4 January 2010. Part 7 takes us to the end of an era in the story and leaves us feeling that the future of all the characters we have come to know so well is very uncertain. What will happen next? Who will take on the story?
We don't know much of what Wilkie was doing at this time. It is possible he went to the Garrick Club at some point this week (he had been elected as a member on 3 June 1854) because he realises that he has forgotten to pay his annual fee – due on 1 January – and on 6th January writes to his friend Charles Ward, who works at Coutts Bank and acts as his banker, to pay it for him.
He was probably still about 7 parts ahead of publication so writing part 14 and proof reading parts going to press. ATYR was printed two weeks in advance so Part 9 was actually being printed at this time.
We do know he was still anxious to move from 2a New Cavendish Street – just up the road from where he was born. Who was living unmarried with Caroline Graves and such arrangements were not always easy in Victorian society. But it would be a couple of months before he moved to new lodgings. The house at 2a New Cavendish St no longer stands – on the site is now De Walden Court, 85-89 New Cavendish Street, London W1W 6XD, probably built in the late 19C. That is the site though where rather more than the first half of TWIW was written. There is no plaque to record the fact. If you put the postcode into Google maps and then go to street view you can find an image where you can see De Walden Court clearly, opposite The Stag public house which was also there but has been completely rebuilt in the mid 20C. It is a bizarre coincidence that TWIW was written in a building that now has the postcode W1W.
I attach Part 8 of The Woman in White dated 14 January 1860 and first published 150 years ago today, 11 January 2010. Part 8 is by a new narrator – the lawyer Mr. Gilmore. His opening paragraph hints that Walter may have gone but has not disappeared from the story. In his place comes Sir Percival Glyde, who Gilmore clearly likes. But note the interesting use of Laura's dog to guide our attitude to Glyde and Gilmore. More on Wilkie and lawyers next week. It is the second longest part so far at 7760 words.
Dickens has now appraised The Woman in White for the first time. By now Collins will have written up to part 14 or 15. But Dickens probably reads only up to part 11 which by now will be set in type and almost ready to go to press. That takes him up to the end of Volume I of the three volume version – hence his use of the term 'book'. Dickens writes on 7 January 1860:-
My Dear Wilkie
I have read this book, with great care and attention. There cannot be a doubt that it is a very great advance on all your former writing, and most especially in respect of tenderness. In character, it is excellent. Mr. Fairlie as good as the lawyer, and the lawyer as good as he; Mrs. Vesey and Miss Halcombe in their different ways, equally meritorious. Sir Percival also, is most skilfully shewn; though I doubt (you see what small points I come to) whether any man ever shewed uneasiness by hand or foot, without being forced by nature to shew it in his face too. The story is very interesting, and the writing of it admirable.
I seem to have noticed, here and there, that the great pains you take express themselves a trifle too much; and you know that I always contest your disposition to give an audience credit for nothing -- which necessarily involves the forcing of points on their attention -- and which I have always observed them to resent when they find it out -- as they always will and do. But on turning to the book again, I find it difficult to take out an instance of this. It rather belongs to your habits of thought, and manner of going about the work. Perhaps I express my meaning best when I say that the three people who write the narratives in these proofs, have a dissective property in common, which is essentially not theirs but yours; and that my own effort would be to strike more of what is got, that way, out of them by collision with one another, and by the working of the story.
You know what an interest I have felt in your powers from the beginning of our friendship, and how very high I rate them: I know that this is an admirable book, and that it grips the difficulties of the weekly portion and throws them, in masterly style. No one else could do it, half so well. I have stopped in every chapter to notice some instance of ingenuity, or some happy turn of writing; and I am absolutely certain that you never did half so well yourself.
So go on and prosper, and let me see some more when you have enough (for your own satisfaction), to shew me! I think of coming in to back you up, if I can get an idea for my series of gossiping papers. One of these days, please God, we may do a story together; I have very odd half-formed notions -- in a mist -- of something that might be done that way. (Pilgrim IX 194-195)
The Woman in White was published in parts in All The Year Round and Wilkie visited the office frequently, not least to collect in cash his £6-6s weekly fee, which was paid on a Wednesday. That was the same day on which the periodical was actually published for sale. The office still stands at 26 Wellington Street, London WC2E 7DD. The ground floor is now a coffee house and the building can be seen by putting the postcode into Google Maps and going to Streetview. There is a blue plaque celebrating Charles Dickens's time there – he had a makeshift bed and room on the top floor which he used occasionally. The resolution of Streetview is not high enough to read the plaque, but you can see an image here - www.flickr.com/photos/32445100@N03/3860410836/in/set-72157614126384038
I attach Part 9 of The Woman in White dated 21 January 1860 and first published 150 years ago today, 18 January 2010.
Part 9 concludes the narration of the lawyer Mr. Gilmore. Its main purpose is to set out a complex legal position and that is done with extraordinary clarity and in perfect detail while maintaining the tension of the plot.
Wilkie Collins was the opposite of Dickens – he liked lawyers and hated doctors. Many of his books and stories contain sympathetically drawn legal characters while doctors get short shrift. A few years later he was to write in The Moonstone "Mr Franklin replied that a course of medicine, and a course of groping in the dark, meant, in his estimation, one and the same thing." By contrast here we have a lawyer fulfilling his careful legal function – and going as far beyond as he dare – while giving the reader key information for the drama that follows. And there is slightly more in this part than that. We meet an old friend and are left worrying about him.
It has been a busy week for Collins. On 11th January he complains in a letter to his friend Charles Ward that "the weekly race with the press is beginning to weigh heavily on me." He also thanks Ward for the eau-de-cologne birthday present and invites him round on Sunday 15th to try the Stilton, also presumably a birthday treat. Did I mention Collins was 36 on 8 January?
But his main job has been selling the rights to publish The Woman in White in book form. He writes to Smith, Elder and to Sampson Low on Wednesday 11th saying he has already had a offer (that turns out to be a lie) and asks for a bid from each of them for the book by tomorrow. Within two days he has rejected the offer of £500 for the whole copyright made by Smith, Elder and accepted an offer which only allows the publisher to publish the three volume novel for three years. Otherwise the copyright remains with Collins. In his letter of 13th rejecting Smith Elder's offer he pretends the successful offer was the one he had received earlier. In fact it is not; it is the one from Sampson Low. Only two payments from Sampson Low to Wilkie are recorded over the next fifteen months totalling £450. In this week a payment of £15-15s is paid into his mother's account – which Wilkie still used – on 17th. It is not clear what it was for.
George Smith Jnr said later he regretted his low offer for the book. His reply was sent on 12 January; that night he went out to dinner and he reports 'The lady sitting beside me was a bright and lively talker and somewhat startled me by asking "Have you read that wonderful book 'The Woman in White'?" I said, "No, have you?" "Oh, yes!" she said, everybody is raving about it. We talk 'Woman in White' from morning till night!" If I had heard that piece of gossip a couple of hours earlier it would have multiplied my offer to Wilkie Collins fivefold.' Smith went to work early on 13th to try to recall his letter but he was too late. 'If my offer had been multiplied tenfold I should have made a large sum by the transaction; but my hasty original offer cost me the pleasure and profit of publishing "The Woman in White".' Read more here.
There are now more than 520 subscribers to the project from all parts of the world. A few more join each week. Feel free to encourage family, friends and work colleagues to join in and I will send them the parts so far.
I attach Part 10 of The Woman in White dated 28 January 1860 and first published 150 years ago today, 25 January 2010. At the end of this part we are a quarter the way through the tale.
Part 10 has a new narrator and she takes the story to new and alarming places. Few will be able to read it without shouting 'no' or 'don't' from time to time. But please pause to ponder this statement which Sir Percival Glyde addresses to Laura Fairlie "The least that you can offer is more to me than the utmost that I could hope for from any other woman in the world."
Dickens writes to Wilkie today inviting him to the Britannia theatre on Saturday – after 'a British Steak at the Cock in Fleet Street' – to see a pantomime called The Spirit of Liberty followed by a melodrama and on Sunday to dine at his house and then go back to the Britannia Theatre to see a preacher. In the event the latter got double the audience of the former. Dickens wrote about the visits in All The Year Round a month later as part of his Uncommercial Traveller series. Edmund Yates went too and Dickens took a box for the three of them.
Apart from that we know that Wilkie is ploughing on writing part 16 or 17, doing first proofs of part 15, correcting part 14, and checking final proofs of part 13. Part 11 is already printed and on a boat to New York (you have a treat in store with that one next week) and Part 12 is being printed today and tomorrow as Part 10 is published. However, he may have eased off ahead this week. Parts 16 and 17 are much shorter – barely 4000 and barely 3500 words compared to an average so far of about 6500. So he is not writing so much this week as he has been – assuming I am right that he is still writing about 7 weeks ahead of publication.
There are now more than 520 subscribers to the project from all parts of the world. A few more join each week. And so far no-one has left! One enthusiastic subscriber writes in an email
"I am as hooked as the Victorians must have been; actually waiting for, looking forward to, the next instalment. I read it when I was a teenager but have totally forgotten it, so I have little idea of what happens next. The book itself sits on a shelf at home and I have to fight myself not to pick it up rather than wait for the next part. I don't know whether my will power is sufficient for another thirty one weeks! The experience is quite different to reading a single volume cover to cover because the reader cannot resolve the tension immediately by simply, and immediately, turning the page."
Hang in there! It is well worth it!
Feel free to encourage family, friends and work colleagues to join in and share this unique experience and I will send them the parts so far.
Top Part 1 Part 2 Part 3 Haunted House Part 4 Part 5 Part 6 Part 7 Part 8 Part 9 Part 10
Part 11 Part 12 Part 13 Part 14 Part15 Part 16 Part 17 Part 18 Part 19 Part 20
Part 21
Part 22
Part 23
Part 24
Part 25
Part 26
Part 27
Part 28
Part 29
Part 30
Part 31
Part 32
Part 33
Part 34
Part 35
Part 36
Part 37
Part 38
Part 39
Part 40
I attach Part 11 of The Woman in White dated 4 February 1860 and first published 150 years ago today, 1 February 2010. This part takes us up to the end of the first volume of the three volume novel. And what an end it is. Wilkie has written a little over 74,000 words and at this point he thought he was about a third the way through the story. He will soon estimate that he will finish by part 35 or 36. In fact the story ends at part 40.
Part 11 continues with Marian's narrative taken from her meticulously kept diaries. Note that in this part – unlike the last – the date beats through it like a drum keeping the pace of the story going as the days – and in the last day the hours – inevitably pass. Notice the first mention of the key character who has yet to appear. And remember as you read Marian's diary for 28th that it was not long after reading this that Dickens burned in a great fire at Gad's Hill all the letters ever written to him. Did he get the idea from this part of the story?
As presaged last week, Wilkie almost certainly did accompany Dickens to the Britannia Theatre last Saturday and Sunday, dining with him and Edmund Yates each day beforehand, and seeing the melodrama and farce on Saturday (28th) and the preacher on Sunday. It will be another two weeks before I can report Wilkie's next extant letter. But some years later he wrote to the Rev. Dr. Deems, a Methodist minister in New York, about his methods.
"When I sat down to write the seventh weekly part of "The Woman in White", the first weekly part was being published simultaneously in "All the year Round", and in "Harper's Weekly". No after-thoughts in connection with the first part were possible under the circumstances – and the same rules applied of course week after week to the rest of the story. I had no choice, but to know what to do before hand throughout the whole story – and months before a line of it was written for the press." (5 October 1865).
On this schedule, as part 11 is being published Wilkie is writing part 17. He will complain again soon about the strain caused by the "press clattering close behind".
There are now more than 530 subscribers to the project from all parts of the world. And each week the number grows by one or two. Feel free to encourage family, friends and work colleagues to join in and share this unique experience and I will send them the parts so far.
Part 12 continues with Marian's account. But here the narrative almost pauses to give us information that will be useful in the future:– the layout of the house at Blackwater Park, the illness of – well wait and see; even Fosco's itinerary is laden with meaning. We also have yet another statement by the strongest woman in the book of the limitations of women – but will she soon overcome them? And after this exposition, the welcome return at the end of the part of the book's theme.
We have no letters from Wilkie this week and no information about what he was doing except that he was writing – probably part 18 – and proofing at various stages parts 15-17. Part 13 being on a ship to America and part 14 at the press.
This week's part contains an unusual mistake – probably a piece of broken type – which I have tried to reproduce in the pdf. It is present in all the copies of this issue I have seen.
Part 13 continues with Marian. We see through her eyes the change in her half-sister Laura. We also get to know the charming but alarming Fosco with his contradictory and peculiar habits. And we are led to be curious about his wife and her relationship with the Count. The part ends with a shock as a minor character returns – but we will not be told what it means for (at least) a week. Note – in passing – the instance of 'recals' which was changed to 'recalls' in the book edition. No printer's errors have been spotted.
WILKIE
This week we have another letter from Wilkie. On 15th February he writes to William Henry Wills, who was assistant editor at All The Year Round, to tell him when he expects to finish The Woman in White. Dickens wants to arrange the story to follow it and has already lined up the novelist Charles Lever to write it. So Dickens asks Wills to find out from Wilkie when he will be done. Dickens preferred to give Wills the periodical's business jobs to do, especially when it came to his close friend. Wilkie replies to Wills this very day 15 February 1860.
"My dear Wills,
If I don't knock up, go mad, or die, the last number of The Woman in White will appear on Wednesday the 18th or Wednesday the 25th of July next, in A.Y.R. This is as nearly as I can calculate it, at present. I may be a week over the mark - but I am not likely to be a week under. If you tell Lever to put the pot of inspiration on to boil at the beginning of June I think you may be sure of giving him a good six weeks' notice.
Ever yours W.C"
Note that Collins refers to the actual publication dates on a Wednesday rather than the Saturday date printed on the parts. It is one of many confirmations that the periodical was available for sale on a Wednesday.
In the event, Collins's prediction was out by some weeks. The later of the two dates would be Part 36 and if, as he suggested, he was a week over the mark that would be Part 37. But in fact the story did not end until part 40. Although Collins knew every twist and turn of the plot before he started writing it, the way characters were developed and the expression and development of the plot was only done as he went along. So length was unpredictable. And often crept up.
I attach Part 14 of The Woman in White dated 25 February 1860 and first published 150 years ago today, 22 February 2010. There is a lot to notice in this part. The wonderful self-justification of Marian as she does her first spying. Her logical deductions from facts. The game of chess. Fosco's opinions about criminals – which were in fact Wilkie's own. Sir Percival's attitude to sticks. And of course the return at the end of that name which sets all of them a quiver.
We know that The Woman in White was a great favourite of many people – including Thackeray, who sat up all night reading it, Gladstone, who missed a trip to the theatre to finish it, and T S Eliot thought it "the greatest of Collins's novels". But I didn't know until this week that Tolstoy and his wife Sonya read it aloud to each other.
Cynthia Asquith writes in Married to Tolstoy (London 1960)
"When at last the children had been put to bed, and the manuscript on which Sonya was working laid aside, husband and wife would sit down to the piano and play duets far into the night, or read aloud some favourite book. Tolstoy gave Sonya her early lessons in English. He wanted her to be able to read Dickens, for many years his favourite writer, but the first book they read together was The Woman in White by Wilkie Collins." (chapter 6).
My thanks to one of our readers Valerie Lillington in Australia for that information.
WILKIE
Earlier this week on Saturday 18 February 1860 Wilkie wrote to Joseph Stirling Coyne, an Irish playwright who was Secretary to the Dramatic Authors' Society.
"Dear Sir,
I have just learned (through an application from the manager of the Norwich Theatre) that "The Red Vial" is one of the dramas on the list of The Dramatic Authors' Society.
If it be possible to take it out of the list again, will you oblige me by doing so? After the reception accorded to the play in London, I have no desire to give that acutely-critical portion of the British public which fre­quents Theatres any second opportunity of taking their dose of dramatic medicine out of "The Red Vial."1
I remain,
Dear Sir,
Faithfully yours
Wilkie Collins
"
The Red Vial had been performed briefly at the Olympic Theatre from 11 October 1858 but had been laughed off the stage by the London audience. It was never printed nor performed again. Twenty years later Wilkie adapted the plot for his novel Jezebel's Daughter published in 1880.
In this issue Wilkie's brother Charles Allston Collins also had a story – one of his series of Eye-Witness reports this one 'in Low Spirits'.
Not much to say about the contents this week, except what courage! But will it prove ineffective? And remember that it was Part 12 when we were given the apparently gratuitous news that the lawyer Mr Gilmore was unwell and not working and we were reminded of it in Part 13. And now, how significant is it that we were prepared in that way for his absence?
One identified error – which it technically is – may not have been. Mike Jago, one of our readers, noticed this phrase…
"Figaro sù! Figaro giù!" sang the Count, jauntily tossing up the concertina at arms' length, and bowing to us, on one side of the instrument, with the airy grace and elegance of Figaro himself at twenty years of age.
…and asks why "arms' length" has the apostrophe after – rather than before – the 's'? This spelling was changed for the book edition and all future editions so I took it to be an error. But it is possible that Wilkie wanted to convey that the concertina was being held in both hands and both arms were stretched out as Wilkie tossed the concertina around. And that indeed is how they were shown in the McLenan illustration, sent with Part 14 last week. The other minor punctuation error from last week you can find on the website. There were no errors identified in this week's part but notice the phrase 'out of window' again rather than the more modern 'out of the widow.'
There is no direct news this week of Wilkie's own activities as no letters are extant. But we know he was actively looking for somewhere else to live. News on that in a week or so. But it seems possible that around this time he identified the rooms he will soon take and in which he will finish writing The Woman in White.
Top Part 1 Part 2 Part 3 Haunted House Part 4 Part 5 Part 6 Part 7 Part 8 Part 9 Part 10
Part 11 Part 12 Part 13 Part 14 Part15 Part 16 Part 17 Part 18 Part 19 Part 20
Part 21
Part 22
Part 23
Part 24
Part 25
Part 26
Part 27
Part 28
Part 29
Part 30
Part 31
Part 32
Part 33
Part 34
Part 35
Part 36
Part 37
Part 38
Part 39
Part 40
I attach Part 16 of The Woman in White dated 10 March 1860 and first published on 7 March 1860 which was published 150 years ago yesterday. Laura is the one main character not allowed her own narrative. But here we get it second-hand as she recounts her early married life to Marian who dutifully reports it to us. Note the emerging character of Sir Percival. And Marian honing her skills at deduction from the physical evidence.
At 4175 words this part is the shortest so far (though the next is shorter). Wilkie would have been composing this part at the end of January when we know he spent the weekend with Dickens visiting the theatre twice. Three weeks earlier – and two weeks later – he wrote of the problems of keeping up with the demands of the press. This week he would be writing Part 22. I won't spoil the plot but it is a very different part from all the rest so far.
I also attach again Part 15. There was a mistake in it which was my fault. So please replace the earlier Part 15 with this one. I am grateful to Mike Jago who led me to the error by asking why the Count was a man of 'crochets'. Hardly a form of garment on can imagine covering his large body. It should of course be 'crotchets'. I don't feel too bad since I discovered that the same error appears in a range of editions from the Everyman edition (p.216) that goes back to 1910 and up to (at least) 1991, the Penguin edition (p.265) edited by Julian Symons and published from 1974 to 1997 (including tie-ins with two BBC productions), and the scholarly Bachman & Cox edition for Broadview (p.266) published in 2006. When it first slipped in is a mystery because early London editions are correct as are all those I have seen published in the USA. Other examples welcomed.
In this part, note the use of the word 'gentlemanlike' which is a fineVictorian term and is correct. It draws a nice contrast between the person it refers to and Sir Percival.
I attach Part 17 of The Woman in White dated 17 March 1860 and first published 150 years ago on 14 March 1860.
This is the shortest part so far. At barely 3500 words it is half the length of some parts and well below the average to date of 6246. Wilkie composed this part in the first week of February, shortly before he wrote for the second time of the problems of keeping up with the demands of the press. You will recall his letter to W H Wills (see intro to Part 13), the All The Year Round sub editor, on 15 February that he would finish the story by the end of July "If I don't knock up, go mad, or die". It may have been these pressures that led it to be a short part. It is nevertheless packed with interest and ends with that crucial must-read-on surprise.
Observe the careful description of the road with two bends to set the scene. Look for the passage remarkably like this from part 1 "There, in the middle of the broad, bright high-road—there, as if it had that moment sprung out of the earth" and "…I was far too seriously startled by the suddenness with which this extraordinary apparition stood before me…". Note too how the frustrated recording angel Marian is out of earshot for a crucial conversation. I also liked the fact that Marian considered her bosom a safer hiding place than under lock and key! There are echoes of the later book Armadale (1866) in the mysterious dream-like sequence. And of course do not glance ahead now to the two shocking last words!
LEGAL DISPUTE
There has been some discussion on the Victoria List – an online community of nearly 2000 Victorian scholars – about the legal basis for the complex agreement which preceded Laura's marriage and on which the tale depends (described in Part 8 and especially Part 9). On 25 August 1860, just after the story was published in three volumes, the Saturday Review criticised the legal underpinning of the story "Mr. Wilkie Collins…on the subject of life estates, is either more obscure in his expressions, or else less sound in his law, than we could wish…half the crime and folly in the tale has been committed in consequence of a misconception…Before the second edition appears, we trust the author will either explain himself better, or else get his property tied up by a professional man."
This criticism was taken up by Professor John Sutherland in his Explanatory Notes to the Oxford World's Classics edition of the book (1996). "Presumably what the reviewer meant was that Sir Percival would have had a perfect legal right to his wife's £20,000 without going to the trouble of murdering her." (p.669). Sutherland adds in a note on the passage in question (p.675 n.144) "Sir Percival and his solicitor assume that they have to persuade Laura to sign over property which would seem—by the law of 1850—already to belong to her husband."
Those comments misconstrue the law of the time. The purpose of trusts of the sort set up by Mr Gilmore before Laura's marriage was precisely to keep the personal property of a woman in her own family and away from her husband if she has no children of her own. The £20,000 is not Laura's; it is the trust's which means Glyde is not entitled to it while she is alive. Normally the trust would pass it to her family or her nominees if she died without children – exactly the provision Gilmore tries to draw. But he was forced by Merriman's skill and Mr. Fairlie's indifference to agree to a settlement which passes the money to Glyde if Laura dies childless.
Wilkie Collins dealt with the Saturday Review criticism in his preface to the 1861 one volume edition (which is reproduced in Sutherland's edition p.3).
"Some doubts having been expressed, in certain captious quarters, about the correct presentation of the legal "points" incidental to the story, I may be permitted to mention that I spared no pains—in this instance, as in all others—to preserve myself from unintentionally misleading my readers. A solicitor of great experience in his profession most kindly and carefully guided my steps, whenever the course of the narrative led me into the labyrinth of the Law. Every doubtful question was submitted to this gentleman, before I ventured on putting pen to paper; and all the proof-sheets which referred to legal matters were corrected by his hand before the story was published. I can add, on high judicial authority, that these precautions were not taken in vain. The "law" in this book has been discussed, since its publication, by more than one competent tribunal, and has been decided to be sound."
My thanks to Jon Varese and others on the Victoria List for this discussion.
I attach Part 18 of The Woman in White dated 24 March 1860 and first published 150 years ago on 21 March 1860.
This part is back to a more normal length at about 5400 words. When the story was republished in book form there was no gap between this section and the previous one. Wilkie takes great pains here to let us know that Marian has an exceptional memory.
There are two printer's errors. The very obvious one at p.168b where a space and a letter are transposed to read 'see he r,and'. Then at col 169b 'fixed herself in her eyes' should of course be 'itself'. Then there are two old-fashioned usages. At p170a there is the word 'sadly' used in its old meaning of 'resolutely'. It was not changed in the book version. And again at 172b the Count 'eat' little using the old fashioned past tense instead of 'ate'. This form of the past was used by Wilkie in at least two letters. One from this year 14 August 1860 to Charles Ward "I never eat a more perfect dinner in Paris." And again much later on 13 November 1885 to Doris Bartley "and he eat good dinners". It was changed for the book.
WILKIE'S HOUSE
This week Wilkie moved from 2a New Cavendish Street to his new lodgings at 12 Harley Street, the house of his dentist George Gregson. We know from his later bank accounts that the rent was £27-10s a quarter and on Monday 19th March Wilkie took £30 out of Coutts bank in cash presumably for his first quarter's rent in advance. A week later he will write to a friend Anne Proctor (who lived in Richmond):-
"I have been moving, since I saw you last, into new rooms, on your side of Portland Place, at No 12. Harley Street. I carry about with me an infinite quantity of "litter" and have been, and am still (except that I have found my note-paper) in a state of confusion which has, I think, definitely upset my "mental balance". Did you find when you last moved that you could not get rid of the carpenter? I can't. He has been working with me ever since last week. He was putting up curtain-poles at one end of the room, today, and I was writing a strong effect of suspended inter­est at the other. He is coming tomorrow to saw something off, and he will look in, the day after, to put something on. He is a tall mild deliber­ate man, with a sympathetic smile – and I don't at all see my way to the end of our connection, unless any friends of mine in the neighbourhood London (say at Richmond) will be so very kind as to give him a job, and keep him at it for a good long time. I can strongly recommend him." (26 March 1860)
What an opening! Note how Marian does a lot of deduction from the physical evidence – timing, footprints, piece of shawl and so on. What is the meaning of the suddenly tough Countess Fosco? And ponder as Marian says to Laura "…you are not quite helpless so long as I am here with you." Mmm.
There are clearly printer problems with question marks. Two present where they shouldn't be (a ! and a .) and one missing ( a .)when it should be. And one present when I thought it shouldn't be but it should! Ah well, see the errors page on the website to find out where and when. The one mistake that is clearly wrong is "servants'-hall" which should be without its hyphen.
Next week we will be half way through.
WILKIE'S MOVE
Wilkie is now in his new house at 12 Harley Street. He is probably writing part 25 or 26 so just under half the story will be written here. Collins later wrote on the manuscript that it was finished "on the 26 July 1860, at 12 Harley Street, London." If you are in Harley Street in London do not look at the elegant yellow-brick terrace house at No.12 and wonder why it has no blue plaque on it to inform passers by of its important history. In fact the present-day No.12 is not the same building which Wilkie lived in. The numbers in the street were changed in 1866, after Wilkie had left, and No.12 became No.26. That building was demolished in the 1970s. It is now a medical facility called Laservision with the address 22 Harley Street W1G 9AP. Originally it was a four storey terraced house and I will be supplying a picture of it in the near future.
Wilkie had been quarrelling with his landlord at 2a New Cavendish Street. On 15 August 1859 after he had been there barely three months he wrote to William Wills, the All The Year Round sub-editor "I am at mortal enmity with my London landlord, and am resolved to leave him." At the time Wilkie was spending some weeks in Broadstairs writing the outline of The Woman in White. The argument was possibly over his relationship with Caroline Graves who lived with him together with her eight year old daughter, Harriet. So the 41 year old George Gregson who lived in his large house alone apart from his servant Mary Stockwin, aged 38, may have been more broad-minded. Harley Street was certainly a move up-market and Wilkie lived openly with Caroline – he put her down as his wife in the 1861 census – and their two servants. In May 1860 Wilkie will write "I have got better lodgings than I had in New Cavendish Street". The Woman in White had given Wilkie the means to pay the £27-10s a quarter rent and to house himself and what is now his family in more comfort.
I attach Part 20 of The Woman in White dated 7 April 1860 and first published 150 years ago on 4 April 1860. We are half way through! Though Wilkie did not know that. He thought the story would end by part 36 or 37. So far you have read 123,000 words. The length of this part – 5563 words – is close to the rolling average of 6153. Next month though expect something a little longer.
In this part we start with some slightly creepy thoughts about spies and spying. Then Marian explains the way the plot is going – or is it? Later, even Laura turns detective, making deductions. Marian's writing habits – pressing down on the nib so the pen scratches noisily – probably reflect Wilkie's own. Certainly blots and hard pressure are to be found in his manuscripts. What was Fosco's motive for charming the housekeeper? And then there is the forecast of rain – mentioned at the start and the very end…
WILKIE'S LIFE
In this part Fosco sings an Italian song 'La mia Carolina'. In English that is 'my Caroline' which was the name Wilkie used for Elizabeth Graves who now lived with him openly as his wife – at least as far as some people were concerned. He never refers to Caroline in any of his many long letters to his mother. He announces plans – later this year and in future – to go abroad referring only to 'I' and 'me' not 'we' or 'us'. Yet he writes to his landlord 'with kind regards from Mrs Collins' and speaks openly of her in letters to his friend and banker Charles Ward. Dickens of course knew about her but apparently did not like her. About a year from now he will write:-
"He has made his rooms in Harley Street, very handsome and comfortable. We never speak of the (female) skeleton in that house, and I therefore have not the least idea of the state of his mind on that subject. I hope it does not run in any matrimonial groove. I can imagine similar cases in which that end is well and wisely put to the difficulty. But I can not imagine any good coming of such an end in this instance." (CD to Esther Nash 5 March 1861, Pilgrim IX 388-389)
Caroline was supposed to be the model for the Woman in White. The son of the artist John Everett Millais who was a close friend of Wilkie and his family, recalled in his biography of his father that Wilkie rescued Caroline from a man who had imprisoned her in a villa in Regent's Park. In truth she ran a run down cheap second-hand shop known as a marine store. And if he did find her in distress and spend the night with her then it was probably near her shop at No.5 Charlton Street (now long demolished and the road renamed. It is on the site of Westminster Treatment Centre, 40 Hanson Street W1W 6UL. Further south in what is still now Hanson Street is a contemporary terrace of buildings which probably look very like her shop – look at 16-20 Hanson Street W1W 6UE on Google street view). It lay on the route of the walk Wilkie took from Hanover Terrace to Gower Street with brother Charles and Millais one moonlit summer night in 1853, recounted by Millais the younger. Read it on my website wilkiecollins.com menu item 4 scroll down to 1899 Millais. Newly widowed, Caroline had a young child Elizabeth Harriet (born 3 February 1851) who Wilkie treated as his own. We now know he paid for her education for eight years and in his will he left Caroline and thence Harriet half his estate.
Top Part 1 Part 2 Part 3 Haunted House Part 4 Part 5 Part 6 Part 7 Part 8 Part 9 Part 10
Part 11 Part 12 Part 13 Part 14 Part15 Part 16 Part 17 Part 18 Part 19 Part 20
Part 21
Part 22
Part 23
Part 24
Part 25
Part 26
Part 27
Part 28
Part 29
Part 30
Part 31
Part 32
Part 33
Part 34
Part 35
Part 36
Part 37
Part 38
Part 39
Part 40
I attach Part 21 of The Woman in White dated 7 April 1860 and first published 150 years ago on 11 April 1860. A slightly longer part at 6740 words, taking the running average up a little.
Despite its length this part keeps up the tension, giving us a lot of information – though not of course the nature of the Secret. Marian's phenomenal memory remembers 4300 words of dialogue precisely as spoken over an hour and a half and she will later write it out in full in her diary. Although she is the narrator she enables both Fosco and Glyde to tell parts of their story. I loved the description of the cigar and cigarette ends at the start. Her first walk along the verandah, avoiding windows ducking and moving reminded me of a video game on a computer. What does Glyde's statement that Laura is "not in the least likely" to have children tell us about their relationship – now and earlier? Refer back to the phrase that Dickens used about Wilkie's domestic arrangements when Fosco refers to the Secret as "a skeleton in your cupboard here at Blackwater Park". And just what is being plotted in the devious mind of Fosco?
'Some hundreds', 'some thousands' and £20,000 are hard to convert into modern money. Multiply by 80 to get them in relation to prices. But by about 250 to convert them into the equivalent in earnings today. So some hundreds could be £40,000, some thousands £400,000 and £20,000 is £1.8 million in terms of prices. In terms of earnings about three times as large.
There is just one illustration in Harper's Weekly this week. I also attach a revised version of the Harper illustrations for Part 19. Two astute readers pointed out that the caption to the second illustration was wrong. It was not Marian talking to Mrs Michelson. It was the maid Margaret Porcher blocking Marian's way into Laura's room. That was of course a much more dramatic moment to illustrate. Please replace your Harper Part 19 with the one attached here. I have also changed it on the website. Thanks to Jean and Lucinda.
BOOK PLANS
On Friday 13th Wilkie writes to Sampson Low, who will publish the three volume edition, estimating lengths.
My dear Sir,
I promised to send you word what number of pages there were in the 1st and 2nd volumes.1 Here is the calculation:
Vol I. 71 pages of All The Year Round
Vol II. 83 pages of "
The 3rd Volume will be from 70 to 75 pages – not more, I think I can say certainly.
A page of ATYR is approximately 1000 words. We will see how accurate an estimate this is later.
When TWIW was illicitly dramatised in 1861 for a performance in a theatre in Norwich the Lord Chancellor – who until 1969 (yes 1969!) censored all public performances of dramas in Britain insisted that the unknown author 'omit all oaths & the exclamation "Oh God"'. This week we read of Marian writing a similar unladylike exclamation in her Diary. Fosco fails to hide his absolute egocentricity even under the many layers of obsequious politeness. And Mr Fairlie reappears as a comic character – I found myself laughing aloud at one point – despite his despicable inability to take the strong role which the eldest male in a Victorian family was supposed to take. His diatribe of the Single against the Married would resonate with some single colleagues who complain when those with children take time off work. But his comments about Fanny – misogynist, risqué and otherwise – and his treatment of Louis make him deeply unattractive. Note the last few words of this part and the wonderful rhythm which Wilkie gives them.
Do the comments on married vs single reflect Wilkie's own view in any way? He never married but did live with two women for most of his adult life. He adopted the child of the first and had three children with the second. Discuss.
Note two instances of 'recal' which on this occasion remained uncorrected in later editions and also the oddly spelt 'unrol' which was also unchanged in later editions.
INDIAN TRANSLATION
The latest recruit to our global 150th birthday reading list lives in India. And that reminds me that later in his life Wilkie was delighted that The Woman in White was translated into what he called Hindustanee on one occasion and Bengali on another.
To the publisher Andrew Chatto 12 November 1883
"I know you will be interested in hearing that the parcel contained a letter, asking my authority to publish a translation of my works into the Hindustanee language, for circulation among Indian readers. The trans­lator (himself an Indian novelist) lives in Calcutta – and he is beginning his work with "The Woman in White". I think we may congratulate each other on our books winning such a distinction as this."
To his agent A P Watt on 25 November 1883
"P.S. If you happen to be in communication with the Indian newspapers, it may not be amiss to tell them that my works are about to be translated into the Bengali language! The translator is at work on the Woman in White at Calcutta."
And to his lifelong friend Nina Lehmann 29 November 1883
"A boasting postscript - which you will understand. Only think! My novels are to be translated into the Bengali language and read by the native inhabitants of India!!!!"
No copies of this – or any other – early Indian translation has been found. Any information from readers about publication in India of Wilkie's books in the 19th century would be very welcome.
Finally, I attach the finally proofed Part 23 of The Woman in White dated 28 April 1860. Two missing commas and a missing hyphen have been duly added. If anyone can find them there will be an honourable mention next week! Apologies for the delay due to reasons beyond etc etc.
I love this part, bringing together as it does two such different but equally dislikeable characters – and describing them so perfectly as their personalities clash to produce the plot line Wilkie needs. Mr Fairlie concerned with the minutiae of his own odious selfishness. And the Count who judges him so well and gets what he wants so cunningly. Mr Fairlie of course is not charmed by the Count but we hear the wonderful detail that, despite his size, he is silent even to the nervous ears of Mr F. And look at the final words of Mr F's narrative, then look back at the final line of Part 11 – and compare. After Mr F we get Mrs M – and her wonderful misunderstanding of the Count's concern for Fanny. A little piece of the jigsaw clicks into place. You may also ask yourself just what IS Laura good for? And share Mrs M's question with which she ends this part.
One final thought. A few years after this story was written Wilkie brought to London – or established in a house in London – his mistress Martha Rudd. From the start she was known Mrs Dawson and Wilkie, when with her, was William Dawson, barrister-at-law. Their children took the name Dawson. And they named their first daughter Marian – with that spelling – after the person we all suspect was Wilkie's favourite character in The Woman in White. No-one knows why he adopted this surname. Could it be after the minor character we come across in this part of The Woman in White? Incidentally, at this time the 16-year-old Martha Rudd was a servant in Norfolk at the house of John and Phoebe Bartram and their two children.
On 25 April – the day this part was published – Wilkie wrote to the Rev. Chauncy Hare Townshend accepting an invitation to dine with him the next day, Thursday 26th at his home 21 Norfolk St, Park Lane. Townshend was a friend of Dickens and is generally thought to be the inspiration for the character of Mr Fairlie. A poet, eccentric and collector he a witness when Dickens's daughter Kate married Wilkie's brother Charles in July 1860. Wilkie had known him since the 1850s, possibly first meeting him on his trip to Europe with Dickens and Augustus Egg in 1853 when they stayed with Townshend in Lausanne. So as this most awful account of Mr Fairlie was published Wilkie was dining with its inspiration. The friendship continue until Townshend's death in 1868. We do not know if he read The Woman in White or realised his place in it – or how his nerves coped.
Part 24 sent 1 and then 3 May 2010
Oh dear there were four unspotted errors in the version sent out early. So here rather late is a properly corrected copy of Part 24 of The Woman in White dated 5 May 1860 and first published on 2 May 1860. Please delete the part I sent out Saturday night.
In addition to two original misprints you can add 'cost him sincere anxiety' which is wrong but is what was originally printed (col 223b/75b). The version I sent round had mysteriously corrected itself to 'cause him sincere anxiety' which is what is printed in subsequent editions. But the original says 'cost'. And the sharp-eyed among you will find a Mr Dawson (without the stop after 'Mr') somewhere in col 224b/76a. Again, my earlier version had the stop restored but it was missing in the original.
Plus there was also a missing comma and then – horrors – a missing word! 'the subject of the dispute' not as I had 'the subject of dispute'. Which just shows you cannot preaf-rood a document two menny thymes.
As for the content we have the unreliable narrator Mrs Michelson who misjudges everyone – or does she? – but, we hope, at least gives us the facts and in the correct order, including the contents of a conversation between Mr Dawson and Sir P strictly in private! The best part though – which had me chuckling – is her struggle to reconcile the fact that the nurse is a foreigner but was chosen by a nobleman! Ultimately snobbery triumphs over prejudice.
Wilkie himself loved the profession of lawyer but despised that of doctor (though his own doctor Frank Beard remained a close friend all his life). In The Moonstone eight years after TWIW Wilkie wrote "Mr. Franklin replied that a course of medicine, and a course of groping in the dark, meant, in his estimation, one and the same thing". Certainly Wilkie's persistent ailments were never properly diagnosed never mind cured. So he must have enjoyed the comeuppance of Mr Dawson.
And as for Typhus, is that really what it was? Caused by fleas? But in the C19 no-one really understood the cause or cure of most diseases. And a night spent getting soaking wet on a verandah has to lead to fever in a heroine and of course any fever can turn into Typhus with a capital T can't it? Google it to find out more.
Finally I wonder of Dawson's bill – sent after Fosco drove him to flounce out – was ever paid by the impecunious Sir P?
WILKIE
The transfer of the text into the book version was proceeding week by week. Duplicates of the final printed proof were sent – corrected – every Friday to Sampson Low who would have them reset for the three volume book publication. On 13 April Wilkie had written to Low estimating the final length of the book.
"My dear Sir,
I promised to send you word what number of pages there were in the 1st and 2nd volumes. Here is the calculation:
Vol I. 71 pages of All The Year Round
Vol II. 83 pages of "
The 3rd Volume will be from 70 to 75 pages – not more, I think I can say certainly."

We can now assess how accurate this letter was.
In fact Vol I up to the end of part 11 occupied 146 columns of ATYR which is 73 pages.
Vol II, which was parts 12 to 26, took up 171 columns or about 85 pages, again slightly more than Wilkie predicted though he would have written most of this section by 13 April.
But he underestimated badly the balance of the book. Vol III in fact took slightly more space than vol II. Parts 27 to 40 took a shade under 172 cols or 86 pages. The last three parts were long and the final one Wilkie was to call a double number. Harepr's Weekly ran the final parts over two extra weeks to cope with the extra length.
Each column of ATYR contained almost exactly 500 words. At the moment the final length of the book is estimated at around 490 columns or 245,000 words.
Next week we come to the dramatic end of what is called Part One in the periodical but will be the end of the second volume of the three volume novel. This week's part lays the ground for that gripping part by puzzling us. Why is Mrs Michelson sent on a mission to Torquay? Why did Marian go alone to London? Where did Laura get her new strength and intelligence? But should she really be allowed out alone? Despite this new strength Laura is too weak to read the letter from Mr Fairlie but that is a device so that we can have it read to us by Mrs Michelson. Incidentally, between this edition and the book Wilkie lengthened the description of the note from three lines to four – without adding to its 27 words. In Wilkie's handwriting that would have taken more like seven or eight lines. And what does Mrs Michelson mean when she says of Laura's dream – or at least of Laura not telling her the contents – "It matters little now"? Note also the moment when Laura sits up late 'reading letters and burning them'. In just two months Charles Dickens will burn all the letters he has ever received, thousands of them, on a bonfire in his garden.
Wilkie may well have known something of accommodation in Torquay. The Antrobus family, who gave him his first job at their tea merchant shop, had a house there where his mother stayed in 1845. He visited the town on a sailing trip in 1856, berthing on 2 July in a boat called RYS Coquette.
WILKIE
On Monday 7 May he paid £36 in to his mother's account (which he still used as his own) at Coutts' bank. And at the end of this week on Saturday 12th he writes a note to Georgina Steeple, the 11 year old daughter of landscape painter John Steeple who lived in Edgbaston, Birmingham. She appears to have been a fan though Wilkie may have known her father who was an exact contemporary. Eighteen months later he would send her a picture of himself and it is possible this first letter – of which we only have the envelope – was little more than a signature.
THE PROJECT
The engravings by Francis Arthur Fraser and the frontispiece by John Gilbert from the 1875 Piccadilly edition are now on the website in the Background section. Warning – don't look beyond p9 (p297 of the printed book) if you d not want to see illustrations of key moments in the future of the plot.
Top Part 1 Part 2 Part 3 Haunted House Part 4 Part 5 Part 6 Part 7 Part 8 Part 9 Part 10
Part 11 Part 12 Part 13 Part 14 Part15 Part 16 Part 17 Part 18 Part 19 Part 20
Part 21
Part 22
Part 23
Part 24
Part 25
Part 26
Part 27
Part 28
Part 29
Part 30
Part 31
Part 32
Part 33
Part 34
Part 35
Part 36
Part 37
Part 38
Part 39
Part 40
This part begins in what is the middle of a chapter in the later book publication. Right at the start we see the evidence for the scaffolding that some complained of in Wilkie's plots. Glance back at Part 12 for that apparently redundant tour of the whole house. Now we see why. Mrs Michelson reminds us very early that she is in fact a lady not a servant even though she is, in fact, a servant. And mark her reference to 'foreign shoulders'! I am still puzzled how you can, in 1850, heat water and broth without a fire – one explanation is a spirit stove. Other thoughts? How creepy is the account of Fosco by Hester Pinhorn – and note his words and her declaration carefully. The details we get of Laura's dates show that she was 20 when she married but of full age (21) when Glyde tried unsuccessfully to get her to sign the document. And note the reappearance in the text, for the first time since part 6, of the title of the book. What a part! What fear!! What puzzlement!!! Do not read ahead in that dog-eared volume on your shelf. Enjoy the mystery for a week, as the Victorians did.
It is a very long part, second only to the first, at 8,200 words compared with the rolling average of 6,152. There will be longer ones near the end as Wilkie struggles to squeeze the story into not too many parts over length. It concludes with the label 'the end of the first part'. It is indeed a turning point. But we are now nearly two thirds the way through the story and at the end of what would become the second of three volumes. Later Wilkie would say he paid no heed to the volume or part divisions. What nonsense! Remember the end of Part 11 which was to conclude Volume I?
Finally a word about misprints. There are a number including a blatant mis-spelling – 'extact' for 'exact' and an odd character like an 'i' without the dot for an 'l'. Two rogue commas, a missing full stop, and a 'these' for a 'those'. Full details on the website womaninwhite.co.uk.
WILKIE
Wilkie refers to Islington is this part. Which is where his lover Caroline had given birth to her daughter Elizabeth Harriet around the time the story is set, 1850. Islington does not reappear in his work for more than twenty years – in The Black Robe (1881).
Wilkie's brother Charles has been busy writing for All The Year Round too. His series 'Our Eye-witness …' has reached its 15th part 'Our Eye-witness and a Salamander'. There is another already in press for next week 'Our Eye-witness among the Statues'. He was later to collect them into a book. He is also beginning to write for Macmillan's Magazine. Charles was no Wilkie when it comes to writing, but he was by now seriously courting Charles Dickens's daughter Katie and their wedding will happen during the run of The Woman in White. Pick your outfit – I'll give you plenty of warning.
Last week I reported that Wilkie had paid in the sum of £36 into his mother's bank account. This week – the day this part is dated – he takes it out again in cash. So it was probably a cheque which he paid in to clear. I am not sure what it was for but possibly a payment for a translation of The Woman in White.
On Friday 18 May we hear something of his workload when he writes to his friend Henrietta Ward (who in May 1848 had married Edward Ward when she was barely 16 assisted in the deception of her parents by Wilkie)
'Many thanks for your kind invitation. I am most unluckily plunged over head and ears in all sorts of evening engagements just at this time, and, I am sorry to say, Thursday the 24th is one of the evenings which is no longer at my own disposal. I have no choice therefore but to ask you to accept my excuses, and to remember that my absence on Thursday is to be attributed to my "misfortune" and not to my "fault".
Give my love to Ward and the children. I can get to see nobody in the day time (while my story is still on my hands) – or I should long since have found my way to Notting Hill
Ever truly yours | Wilkie Collins'
Part 27, as we know it, begins Volume III in the book version and in the one volume editions is headed The Third Epoch. And the end of the part is in the middle of a chapter in all subsequent editions. A good example of the fact that modern readers would not ascertain the part divisions from the later publications.
I must say I found section I. of this part an example of particularly fine writing 'burst of view from a mountain's top', 'hiding us in the house-forest of London', 'Torn in her own lifetime from the list of the living' are all very fine. You will find more if you look.
Note how Wilkie escapes the constraints of the first person narrative by using Hartright's 'brief, plain, studiously simple abstract'. Ah, thank goodness we have a man back to sort out the 'inevitably confused' women!!! I think Wilkie is very hard on Marian particularly as she has coped with dreadful trials – and achieved so much. Wilkie is normally very good about women in his books – making them strong and determined characters. But The Woman in White is not so good – right from the opening sentence.
Note the stress on the uncertainty of dates. In fact Wilkie got them wrong himself and 2 August in this version becomes 30 July once the book was published (11 October does not change).
Marian says she tracked down the Asylum by her notes of Walter's meeting with Anne. That event is in Part 6 and Walter says 'She mentioned the place—a private Asylum, as its situation informed me; a private Asylum not very far from the spot where I had seen her'. And the meticulous Marian somehow deduced the address from this cryptic statement.
In case you are wondering about the three sovereigns (which is £3) and the several hundred pounds mentioned later on, roughly speaking you can multiply money in 1851 by about 100 to get current day value in terms of what it will buy. In terms of wages you may have to use a much bigger factor. A nurse would probably have earned no more than £25 a year at that time. So £400 was a massive sum for her – perhaps 16 years' wages. Convert Sterling now to your own currency at xe.com.
Banknotes for £100 were produced by the Bank of England and by local banks at the time. But they did represent an enormous amount of money - £10,000 each in today's price terms. Today they would be priceless – even a £5 note of this era fetches £3000 in good condition and no high denomination notes come on the market.
There are a few errors in this part but none too egregious and some fairly subtle. See if you can find the commas that simply should not be there – even by the odd standards of the mid C19 – and the missing full stop. Answers on the website.
WILKIE
I can now reveal without spoiling the plot for you that on 15 May Wilkie wrote to a friend revealing a part of the plot in the two previous numbers (25 and 26) – before they were published! Miss Chambers (a friend) had clearly written begging him for assurances – showing how involved people got in the plot and how anxious they were about what would happen next. Here is what he wrote
"I beg to assure Miss Chambers, solemnly, that nobody about whom she is interested and over whom the undersigned can exercise benevo­lent control, shall come to any harm. If she will look at the number published tomorrow, she will see that Laura is not murdered, and in another week she will know that Anne Catherick is caught. In the same two numbers, Miss Halcombe's whereabouts is satisfactorily ascer­tained, and Miss Halcombe's recovery positively asserted.
If this categorical explanation be only half as acceptable to Miss Chambers, as the perusal of Miss Chambers's note was to the lucky indi­vidual who has excited her interest in his story, that individual will consider these few lines as the most agreeable literary composition in which he has been engaged for many a long day past.
(Signed) Wilkie Collins"
This mock formal letter (in fact all written in Wilkie's own hand) was typical of the letters he wrote to close young friends.
When we are introduced to the selfish old bachelor Mr Fairlie he is annoying and unpleasant but seems mainly there to be a bit of comic relief. Then he becomes the key to Laura making her unwise marriage. And now that same selfish egocentricity, once amusing, becomes a key to the direction the plot takes. If he had behaved differently here the rest of the story would have been very different. In this book, small details often return to take an important role.
The question of identity is of course central to the book. And it is In this part and the next that the question of how you prove your own identity comes to the fore. This was a time before fingerprints were used never mind DNA. There is something very unnerving about the thought that you know who you are but cannot prove it. Though in truth it is Marian and Walter who know who Laura is; she seems rather vague about it. Does anyone share my slight niggling shadow of a doubt about who the rescued woman in fact is? I am sure Wilkie intended us to. Perhaps they are being duped.
Note how the phrase 'the woman in white' has returned with Walter. And I really do wonder how Marian managed to cart around her diary through all these troubles and journeys – it must have been so big – or her writing very, very small indeed. It is like a reference work to the complex plot – the kind that is written by fans of Lord of the Rings or Harry Potter.
I mentioned last week that the part ended in the middle of what would become a chapter in the book version. And the section headed III in this part begins a chapter in the book. Whether these breaks were deliberate here or whether it was just the pressure he was working under – more on that below – we will never know. And certainly where this part ends leaves you wanting more rather desperately. Would that visit prove the key? Or as blind an alley as asking Mr Fairlie for help?
'back-room' is the one real printing error in this part – no hyphen needed. And there is another 'recal'. A superfluous comma is detailed on the website.
WILKIE
On 24 May Wilkie wrote to a doctor, George Gregory, whom he knew well who lived in Stroud in Gloucestershire. The letter is mysterious to us now as someone has erased 13 lines in such thick blank ink that they are illegible. The suspicion is that they refer to Caroline, Wilkie's live-in lover. The heavy cancellation also affects the legibility of some of the text on the other side of the sheet.
The letter expresses the pressures under which Wilkie is working. By now he is not just writing the story with all the proof reading and correcting that involves but revisiting the whole thing for the book version and then proofing that. Alterations were slight and few on the whole. But there is, for example, a whole paragraph inserted in the book before the paragraph in this part that begins 'I next instructed Marian…'
Here is his letter to Gregory (note the final sentence of the final main paragraph contains a detail or two about the future plot – not really spoilers but purists may want to skip over it).
My dear Gregory,
Your kind letter has followed me to this house, where I have got bet­ter lodgings than I had in New Cavendish Street, and where I heartily wish there was a chance of our seeing you this summer.
Your invitation could not have arrived at a more welcome time. I have been working ever since last autumn, at a periodical story ("The Woman In White") in All The Year Round, with the press clattering close behind me, all the time. The story has proved to be by far the greatest success I have made yet, both here and in America – but the perpetual strain of it has almost knocked me up, in spite of all encouragements to go on. I shall have done, I hope and believe, some time in August – and, after that, the prospect you offer of blessed country quiet, and comfortable talk, without the dismal ceremonies, chatterings, and general confusions of the London Tower of Babel and its "Society", is the holiday of all oth­ers that I shall like best.
[thirteen erased lines]
holidays, before I break loose from my desk.
I shall know the period of my emancipation more certainly, as the summer advances – and I will then write again, and tell you exactly when we can come, so as to be quite sure of suiting your convenience. I don't like to "halloo till I am out of the wood" – but if I don't see the [hare] in September, at latest, I shall never see it at all. My main ambi­tion now is to [roll in] "The [Green], Stroud". I have two characters to kill and a character to marry – and an intricate story to wind up in a neat point, before that time.
Meanwhile, many thanks again. When I next write I hope it will be to propose the day.
Very truly yours | Wilkie Collins
This Part once more shows Wilkie's love of lawyers. Mr Kyrle de-plots the elaborate story we have been told, challenging its weaknesses at every point. Who on earth would believe a daft tale like that? Where is your proof? I spoke of fine writing two weeks ago. But for me the clear, concise and cogent way Wilkie reduces complex matters to simple intelligible paragraphs is one of his great talents. Compare it with the lucid explanation of Laura's inheritance prospects in Part 9. There is also a very fine speech by Hartright in response – beginning 'There shall be no money motive…'.
Does Walter Hartright have a beard since he returned from South America? I ask because both the Harper illustrations and those published in 1875 in the Piccadilly edition show him with one after his reappearance in the story. But the text so far makes no mention of it, even in this Part where recognition of Walter by the agents is crucial. If he had he grown the very bushy facial hair that is depicted surely he would be at least slightly harder to recognise and the beard would be worth mentioning?
In so many ways Wilkie's work sets down the structure for crime and adventure stories of the future. The chase, including the use of the cab to escape, is such a classic that we must remember that in 1860 no-one had read such things before.
Dates are crucial to establishing Laura's identity and that is made very clear to us as this crucial plot detail is explained to us again. In fact Wilkie got the dates wrong in the original parts. The thirtieth of July in this part (when Laura was received into the Asylum) becomes the twenty-seventh in the book, taking all dates back three days.
Note the way Wilkie depicts the poverty of the trio – they only burnt one candle at a time. Finally note that, once more, the phrase 'the woman in white' appears in the text.
The New-road mentioned by Walter is what we now call Marylebone Road – it was renamed in 1857. Wilkie would have known that as his mother was living in houses off it at that time and it was part of the address he used for some correspondence when he still nominally lived with her. Chancery-lane, where Kyrle has his office, is still in the heart of the legal district of London and some solicitors have offices there today. It is now written Chancery Lane of course.
WILKIE
Busy as he was Wilkie manages to get out on many evenings. On 11th – next Monday – he agrees to go with his friends the Lehmanns to hear Beethoven's Sonata for violin and piano No.9 in A – the Kreuzer – at a party at the home of the conductor Charles Hallé. Next week I will tell you how he liked it.
In 1856 Wilkie wrote and performed in a play called The Lighthouse. Last Saturday (2 June) he wrote to his friend and fellow writer John Palgrave Simpson refusing permission to Lady Charlotte Stacey to stage an amateur production of the play.
"The Lighthouse (like my other plays) has never been printed – my perverse object being to keep my dramas off the stage, in all cases (public or private) in which I could not superintend their repre­sentation myself. The only copies of The Lighthouse in existence are my own copy, which is illegible to anyone but myself, and "prompt copy" at The Olympic Theatre. I have declined so many applications for permis­sion to transcribe this last, that I am afraid I can hardly alter my resolution (however I might wish to do so in the present case) without giving reasonable cause for offence in other quarters. Will you therefore make my apologies to Lady Stracey, and assure her that if I see any future reason to alter my determination, as far as to print my play pri­vately, I will take care to make atonement by sending her one of the earliest copies."
In fact he never printed it. But the Wilkie Collins Society hopes to do so later this year.
Wilkie's brother Charles was still writing his Eye Witness series for All The Year Round and another episode – part II of 'Our Eye-Witness Among the Buildings' – appeared this week. In it Charles refers for the first time to 'Lumbago Terrace' where he says he lives and describes as 'a certain row of stuccoed houses in the parish of Marylebone, and in the postal district N.W.' The phrase is a key to identifying some of Charles's later contributions to the periodical. And at this time plans for his wedding were being laid.
This part and several that follow consist of the master story teller giving us another view on events we have already seen. In one sense Wilkie is filling in the outer parts of the complex jigsaw of the plot. Partly, I almost sense, to let us know that all the pieces really are there to make the full and complete picture. And partly to give us that odd hint of a clue which Walter pursues to lead the story on. Walter is like a man taking part in a complex computer game where the clues come one at a time, sometimes faintly, as he follows them to their conclusion. Remember again that this was a genre that Wilkie was making up as he went along. But do note as you pass the sheer unadulterated wickedness of Fosco.
I find the characterisation of Marian and, especially, of Laura very disappointing. Laura is completely infantilised – and it gets worse. And Marian suffers from a real crisis of confidence in her own abilities. Walter, meanwhile, grows in stature. Perhaps it is the beard.
WILKIE
I promised to tell you Wilkie's view of Beethoven's sonata for violin and piano No.9 in A – the Kreuzer. Here is what he wrote to his friend Nina Lehmann – who had arranged the visit to the performance at the house of the conductor Charles Hallé. Wilkie wrote this the next day, Tuesday 12 June.
"In one respect only, I have been the worse for the delightful party at Hallé's -- the "Great Kreutzer Sonata" has upset me about classical music. I am afraid I don't like classical music, after all - I am afraid I am not the Amateur I once thought myself. The whole violin part of "The Great K.S." appeared to me to be the musical expression of a varying and violent stomach-ache, with intervals of hiccups."
The same day he wrote to a J Bunting writing from America in praise of The Woman in White
"Dear Sir,
Your kind letter was forwarded to me a day or two since. Pray accept my sincere assurances that I have read it with great pleasure. I should be insensible indeed, if I did not feel gratified and encouraged by such a rec­ognition as you send to me of the appeal which I am now trying to make to the sympathy and interest of readers in your country and in mine – and I am especially pleased to find that the part of my story which was perhaps the most difficult to write, is exactly that part which you think the most successfully written. "The Woman in White" has made me many friends both in England and America – and I am glad to know that I number you among them.
Believe me, | Dear Sir, | Faithfully yours | Wilkie Collins
J. Bunting Esqre"
On Friday 15th Wilkie had a dinner engagement which he planned to 'slip away' from 'in good time' to make a visit to Nina Lehmann's sister Eliza and her husband William Priestley.
Wilkie's brother Charles was still writing his Eye Witness series for All The Year Round. This week his 'Our Eye-Witness At The National Gallery" followed directly after this episode of The Woman in White. Another reference to Lumbago-terrace is in it. You can see the first half page or so on the website if you look at the image of this edition of All The Year Round.
Top Part 1 Part 2 Part 3 Haunted House Part 4 Part 5 Part 6 Part 7 Part 8 Part 9 Part 10
Part 11 Part 12 Part 13 Part 14 Part15 Part 16 Part 17 Part 18 Part 19 Part 20
Part 21
Part 22
Part 23
Part 24
Part 25
Part 26
Part 27
Part 28
Part 29
Part 30
Part 31
Part 32
Part 33
Part 34
Part 35
Part 36
Part 37
Part 38
Part 39
Part 40
This part begins the last quarter of the story, by parts at least. Wilkie leads us gently by the hand towards the break-up of the Cathericks. And then Walter rivals Sherlock Holmes in his refusal to accept the obvious scandal which has been laid – and kept – as a smoke-screen to hide the real Secret. You can almost hear Watson intervening with the obvious but false answer. What the truth is remains a tight mystery – but note that at one point Mrs Catherick is referred to as the 'clerk's wife'. Mmmm.
I wonder if Victorians would have been as shocked as I think they would by the calculations 'into which I need not enter' that point the harsh finger of illegitimacy at poor Anne. Not the sort of thing a respectable parent would want their young daughter to read! As part of those enquiries Major Donthorne's address goes into the pocket-book. It is fast becoming almost as useful a repository as Marian's diary. And after Mrs Clements's final warning where else will we go next week but – Welmingham.
EDITIONS
There are a few misprints in this part. A stop omitted after 'Mrs' – 'year old' for 'years old' – a 'with' that should be 'by', though that may have been Wilkie's error rather than the printer's – and the spelling 'cruelest' which looks strange to modern eyes but was not uncommon in the past. It remained unchanged in 1860 and 1861 book editions – and indeed in Harper's. Page references on the website.
As well as Harper's Weekly which carried the story re-typeset and illustrated, each issue of All The Year Round was exactly reprinted in New York from an electrotype. Although the body text was identical the issue was priced 5 Cts on the masthead not 2d; there was no double line border framing each page of type; and the printer's name at the end was J. M. Emerson & Co. Publishers, 37 Park Row, N.Y.
WILKIE
He is getting desperate about finishing the book. Around this time he writes to his friend Charles Ward (who also works for Coutts bank and runs Wilkie's mother's account). Neither letter is dated but logically must be late June.
"My dear Ward,
Has Caroline written to ask you to come here and take pot-luck on Monday at six? I don't know - she has gone out. Come on Monday---and please bring with you a £10 note, a £5 note, and five sovereigns - which I will exchange for a £20 note, which is no use to me in its present form - Also look at the Voltaire next to the fire-engine place in Chandos Street - and tell me what you think of it.
Ever yours │ W.C
I am slaving to break the neck of The Woman In White - and get done in 5 numbers more - I shan't have finished the number I am now doing till Sunday night"
And a letter dated 7 o'clock Sunday confirms that timing
"My dear Ward,
I have just done – and I write to say that I will call on you at Coutts's tomorrow, to change the £20 note – and to bring you back here to din­ner, so that we may look at the Other Voltaire, and secure that before it is gone. I am sorry about Miller's it was the best-bound of the two.
Ever yours | WC
I will call a minute or two before 4. We don't dine till six – so there is plenty of time to hunt Voltaire, unless you want to go home first?"
A 70 volume set of Voltaire's works dated 1784 was in Wilkie's library on his death.
This part begins with the most embarrassing sequence of what critics have called the infantilisation of Laura. But I wonder if Wilkie is not telling us a deeper truth here. Otherwise why give Laura the words 'don't treat me like a child' just before she is treated exactly like that? People who wonder why Walter loved her (and why the saintly Marian did not get exasperated – even once – with her ridiculous half sister) may in fact be reading a parody of the blonde, empty-headed, incompetent but essentially 'good', innocent heroine. Perhaps 'why on earth…' is exactly the question Wilkie wants us to ask. His next novel has a tremendously strong woman character who risks all – including that most precious thing her 'character' – to right a wrong. And his novels are peopled with such women both before and after TWIW. A couple of pages later don't miss the lie to Laura as he leaves for Welmingham.
This part begins with the most embarrassing sequence of what critics have called the infantilisation of Laura. But I wonder if Wilkie is not telling us a deeper truth here. Otherwise why give Laura the words 'don't treat me like a child' just before she is treated exactly like that? People who wonder why Walter loved her (and why the saintly Marian did not get exasperated – even once – with her ridiculous half sister) may in fact be reading a parody of the blonde, empty-headed, incompetent but essentially 'good', innocent heroine. Perhaps 'why on earth…' is exactly the question Wilkie wants us to ask. His next novel has a tremendously strong woman character who risks all – including that most precious thing her 'character' – to right a wrong. And his novels are peopled with such women both before and after TWIW. A couple of pages later don't miss the lie to Laura as he leaves for Welmingham.
Again Walter ponders disguise. Again I ask why he was bearded in the illustrations when the text is silent on the topic but the mention of disguises implies he was not? I am grateful to one of our number, Susan Walton, for a paper on the start of the 'beard and moustache movement' in Victorian society of which Wilkie became such a bushy member. In a fascinating analysis she puts it at 1853/54 just before the start of the Crimean War rather than at the end in 1856 as other commentators have.* That is still rather ahead of Walter's time here which is set in 1851. Wilkie we know had a very large beard by 1861 but his portrait by Millais indicates he did not have one at all in 1851. On this website you can see a chronological sequence of all the known images of Wilkie.I say 'all' – in fact new ones do come to light occasionally and are added.
Wilkie's description of new Welmingham harks back to his description of new squares in Basil
"we reached a suburb of new houses, intermingled with wretched patches of waste land, half built over. Unfinished streets, unfinished crescents, unfinished squares, unfinished shops, unfinished gardens, surrounded us. At last they stopped at a new square, and rang the bell at one of the newest of the new houses. The door was opened, and she and her companion disappeared. The house was partly detached. It bore no number; but was distinguished as North Villa. The square--unfinished like everything else in the neighbourhood--was called Hollyoake Square. I noticed nothing else about the place at that time. Its newness and desolateness of appearance revolted me…"
I really enjoyed the portrayal of Mrs Catherick. And the minimal change from slate grey to black lace as she went into mourning. Wilkie's minor characters (in the sense of making only a brief appearance – they are all crucial to the plot) are superb.
A shilling is 5 pence in today's money and half a crown is two shillings and sixpence or 12.5 pence. Multiply by about 100 to get today's values – so £5 and £12.50. Quite a lot for an abandoned woman to put in the plate.
And is there a hint of every episode of Columbo here as Walter gives his parting shot?
"I walked to the door, waited a moment before I opened it, and turned round to look at her again."
TEXT
An odd collection of misprints and non-misprints this week. 'carcases' and 'story' (as in height of a building) look wrong but are both acceptable. A couple of question marks that were subsequently changed to a stop and an exclamation as they strictly should be. And two broken fonts. One which is not reproduced has the two ls of 'will' damaged. And another which is reads 'nave' instead of 'have' though the original is more an 'h' with a missing riser rather than an actual 'n'. Full references on the website for obsessives.
I enclose part 33 of The Woman in White dated 30 June 1860 and first published 150 years ago on 4 July 1860.
The part begins with Walter being followed. And the silent chorus of the followers will be with us until next week, lending a quiet and at times overt menace to Walter's journey. Almost casually Wilkie sets up the idea of a meeting between Walter and Sir Percival Glyde. But when and where and how?
Then Walter goes through the evidence so far and tries to draw conclusions – a technique that helps the reader stick to the path that Wilkie wants but does not help them find the answer to the Secret. The Vestry. That is where it is. But what is it? What could it be? And note the care with which Wilkie writes "I left my bag at the hotel". More on the need for that next week. And from last week note how Wilkie again prefers the old to the new when he arrives at the dilapidated Old Welmingham.
Every detail of the visit to the vestry is important. The clerk – who is a genuine comic cameo – guides us round them – from the unlocking of the door to the crates packed with straw; from the worm-eaten presses to the anecdote about his former boss.
And then just on the brink of discovering a clue – there is none. But Knowlesbury beckons and – oh dear I keep finding modern tropes from film in this writing – Walter will be back.
One quibble. Parish registers were written on parchment following an order of Queen Elizabeth in 1597. Parchment is not paper but is an animal skin – sheep I think – and much stiffer than paper. It lasts forever (ish) and was used so that these records had a permanency. But the clerk turns over the leaves "carefully wetting his finger and thumb" (and those of us who have looked at old records wearing white cotton gloves to protect them will wince at that point) but then we will wonder whether wetting your finger would help in turning the pages of a book of parchment leaves. I am not sure Wilkie had actually seen or handled a parish register. Or perhaps he assumed his readers would not have done.
And as for the copy he goes off to find I am not sure Wilkie knew either that from the same date in 1597 a copy of every parish register was made by the parish clerk and sent to the diocese. These so-called 'Bishop's Transcripts' were made for exactly the reason that Mr Wansborough made his copy. In case of loss of the original, though it has to be said the transcripts were not always completely accurate. Transcripts were made right up to 1837 – when civil registration of births marriages and deaths began – and up to the 1850s in many cases
TEXT
No misprints in this part though 'wormeaten' without the hyphen was old-fashioned and corrected in the book editions. And I am sure that the clerk would have added the word 'sir' after his rather peremptory 'Which year did you say?' and that word was indeed added in the three volume book edition.
WILKIE
Wilkie was getting pretty desperate about finishing the book. On Thursday (tomorrow in 1860) he writes to his friend and banker Charles Ward
"12. Harley Street, W.1 | Thursday July 5th
My dear Ward,
I am obliged to end the story in August to avoid running into a new volume – and with the prospect of one double number at least to write, I have less time to spare than ever. Will you kindly pay my insurance for me (I enclose the paper)? and will you also, in going home, ascertain the right address for the enclosed letter (at Hachette's London shop) – write the address – and send the letter (paid) to Paris, with your French correspondence?
Lastly will you come and take pot-luck here at six on Monday next, when I can pay you the insurance money – I have no evening before Monday.
Ever yours | WC
I hope these commissions won't trouble you – I am half distracted with the hurry about ending the book"
Note the old English typeface for the address. This is the first extant letter written on paper with a printed heading – the address centred and in black engraved old English type. So he (or Caroline) has been ordering that in the last week or two.
Wilkie anticipates at least one 'double number' and part 68 and 70 would indeed be twice the length of a normal part to try to squeeze the story into its confines. The reference to another volume is a bit of a puzzle. The All The Year Round volume ended on 6 October and there was little chance of him extending beyond that. Though it is possible that Dickens – already committed to publishing the next serial – may have told him it would be September just to hurry him up. Alternatively Wilkie may have meant that he was trying to keep the word count down so that he would not overrun the third volume of the book edition. That was already being set in type so the size and format were by now fixed. But that seems less likely.
Note too that despite the desperate work load Wilkie has 'no evening free until Monday'.
There is almost nothing to say about this part except – read and enjoy. And then read again to admire.
I pointed out last week that Wilkie carefully lets us know Walter left his bag at the hotel in Welmingham. Now we realise it is so he is not encumbered by it in his flight. The purpose of all those details in the Vestry now becomes plain. Even the dilapidated buildings of Old Welmingham take a key role in the plot. And note how the gentleman Walter is the man of action while the lower orders merely crowd round to gawp or are unable to act for fear or despair. A nice example of the Victorian class system in action! The chorus becomes more active – threatening, then holding off violence, then threatening it again.
But…although this part is an admirable adventure does the plot have holes in it?
Why did Walter not drive to Knowlesbury and back – especially back when the threat was so plain? Perhaps there was not a fly available though of course there was one earlier to fetch Dawson.
Could the young lad really have heard a match being struck (even an 1850s Lucifer) through a door made of the hefty oak we have been told forms the vestry door?
And what is the effect on a fire of breaking a window? It lets in oxygen and feeds the flames. So was Walter in fact responsible for the death? Perhaps we were supposed to believe that. Walter's description of the effect of his actions (letting the flames out) was right but his implicit explanation was wrong.
And we end with the meeting presaged last week. But when! Where! and How! As I said, admire. And look at the Piccadilly illustration of this part – attached – which depicts this moment.
TEXT
This long part – not the length of the double numbers referred to in last week's letter to Ward but 50% longer than some – takes us to well over 200,000 words in the novel. But don't despair there are a lot more to enjoy!
There are three errors of the press. A 'be' that has lost the riser on the 'b' and an 'i' in 'sir' which has lost its dot. A comma is omitted when the entry in the copy register is found.
WILKIE
Next week Wilkie's brother Charles will marry Dickens's daughter Kate. Wilkie will have been involved in some of the arrangements and certainly the date – 17 July – will be a blank working day.
Wilkie also takes time from his busy schedule to make sure his wine cellar is well stocked. On 11 July – this very day but a Wednesday in 1860 – he writes again to his friend Charles Ward
___
My dear Ward,
Many thanks. In case I can't get to you for a day or two, I write to say that I shall be delighted to have the Lafitte, if I can have it without the Champagne. I say this, because I possess a year's consumption of Cham­pagne at least – and it would be mere superfluity to get more, even of the very best. The Claret is a different matter – and I embrace the opportu­nity if I can get it.
Ever yours | WC
I am a little better – but horribly fagged
___
We can infer from the PS that he has been unwell or tired enough for Ward to enquire about his health.
As for the wine, Wilkie loved dry champagne and claret. Chateau Lafitte is still a fine Bordeaux wine though we learn later he found this one a 'little thin'. We know from later entries in his bank account that he spent a lot on his cellar.
The inquest is concerned with identity of course, which is at the heart of this story, though it is fairly easy to show who had died in the fire. The boy tells the inquest he heard the match struck – through the heavy oak door. That still puzzles me. Walter summarises his account of events. And then we get to the remarkable letter.
Were you as amazed as I was (and how scandalised some Victorians would have been) to read that Mrs Catherick would have let Walter put his arm around her waist and kiss her. Euphemisms surely. The self-serving letter is a device to give us a lot of information. Clearly Sir Percival didn't know – and nor did Wilkie? – about Bishop's transcripts of parish registers – see my notes two weeks ago. Now that the Secret is revealed what remains?
This part ends half way through the letter, tantalising with the rest next week. But in the book version the letter carries on almost without a break to the next page.
TEXT
Part 35 is slightly less than the average length – which is currently around 6000 words. There are three possible misprints identified in it. Wormeaten reappears, changed to worm-eaten in the book. Similarly downfal with one 'l' – but that old spelling is not corrected until the 1861 publication. And there is an odd printed mark by the first letter of 'left me'. Details on the website.
WILKIE
We hear nothing from Wilkie over the next couple of weeks. He is working hard to get finished, writing the double numbers which are needed to cram the story in by the end of August. He is also correcting the book version and probably already planning the holiday he will take once he has finished – see his letter of 5 July to Ward in my introduction a couple of weeks ago (part 33) about a letter to Paris.
On Tuesday of this week brother Charles marries Dickens's daughter Kate. The wedding was on 17 July 1860 at the little parish church of Higham near Dickens's house in Gad's Hill, Kent. Charles was 32 and Catherine Elizabeth Macready Dickens was 20.
Wilkie, of course, was there but wasn't a witness – they were John Forster and Chauncy Hare Townshend. Afterwards Dickens is reported to have shed bitter tears, privately blaming himself for what he apparently considered an inappropriate marriage. Not long afterwards he burned all the letters he had ever received in a bonfire at Gad's Hill. More on my website about this bonfire.
A week later Wilkie described the wedding in a letter dated 23 July to his friend Anne Procter.
"The Wedding was a pattern wedding in two things - nobody made any speeches and the bride and bridegroom had to go away before the breakfast was over. There was also only the most moderate allowance of tears, at the last moment - and they were shed to the accompaniment of cheerful howling from Forster and a shower of old shoes flung after the married pair as they fled into the carriage. They have gone to Calais and they find that intensely dreary town quite delightful. Such is Love!"
Top Part 1 Part 2 Part 3 Haunted House Part 4 Part 5 Part 6 Part 7 Part 8 Part 9 Part 10
Part 11 Part 12 Part 13 Part 14 Part15 Part 16 Part 17 Part 18 Part 19 Part 20
Part 21
Part 22
Part 23
Part 24
Part 25
Part 26
Part 27
Part 28
Part 29
Part 30
Part 31
Part 32
Part 33
Part 34
Part 35
Part 36
Part 37
Part 38
Part 39
Part 40
This part is largely the second half of Mrs Catherick's letter – or confession really. Though her candidness runs out when it comes to Anne's father. She goes to elaborate lengths to deny that it is anyone but her husband but she then drops a broad hint that the truth would only be known after death. So surely that means…
A Dorcas Society – in case you were wondering and away from Google – is an informal group of people, usually from the congregation of a church, who provide clothes for the poor. It returns as a comic theme in The Moonstone when Miss Clack writes
"We had a meeting that evening of the Select Committee of the Mothers'-Small-Clothes-Conversion-Society. The object of this excellent Charity is – as all serious people know – to rescue unredeemed fathers' trousers from the pawnbroker, and to prevent their resumption, on the part of the irreclaimable parent, by abridging them immediately to suit the proportions of the innocent son." (The Moonstone Second Period, First Narrative, Chapter 1)
Towards the end of Mrs Catherick's letter it is made clear again that that neither she nor Sir Percy had any notion of the Bishop's Transcripts – the routine copy of parish registers made for the diocese. But did Wilkie?
I always think Wilkie a remarkably unquoted writer for someone who wrote such quotable phrases. What a brilliant line Wilkie writes to end Mrs Catherick's letter
"My hour for tea is half-past five, and my buttered toast waits for nobody."
I am getting more convinced that Wilkie's later adoption of his own alter ego of William Dawson is based on the good doctor in this story. Unlike most doctors in Wilkie's work he is a kind and honourable man. And Mr Dawson "reiterated the offer I had already received from him of any assistance which I might require at his hands". And the alter ego certainly affords Wilkie the assistance of respectability when he has a family with his unmarried lover Martha Rudd but presents himself as her husband William Dawson barrister-at-law.
Note that in this part Walter DOES hire a fly to get back to Welmingham quickly. But in Part 34 in the dark and rain and being followed by thugs he did not.
We are now left anxious to know what treachery caused Marian's letter. And Wilkie keeps us waiting while Walter ties hp his legal loose ends. Then the Part ends with a great line that makes you want to rush forward yourself to the next part – but you can't. Indeed you must wait until Monday 2 August.
TEXT
This part and the previous one are very differently divided when the text is republished as a book. Here Mrs Catherick's letter is part of Walter's narrative and is divided between the two parts when she turns to a fresh page. In the book her letter is given a separate section 'The Story Continued by Mrs. Catherick' and it continues without a break for the new page which follows in the same paragraph
"Well! my gratitude refuses you nothing. I will turn to a fresh page, and give you the answer, immediately. But you must excuse one thing – you must excuse my beginning with an expression of surprise…" (1860 III p.207)
Walter's narrative is then formally resumed at the end of her letter.
One the same page 365 of All The Year Round that this part ends we get the start of another of Charles Collins's pieces – 'Our Eye-Witness at School'. This piece had been written before Charles left for his honeymoon on 17 July. He was to stay away travelling in France for some months with his bride, living very cheaply and working while he was there. He clearly kept extensive notes of their lengthy trip which he turned into his most successful book A Cruise upon Wheels, the only one of his publications to run to several editions and to be reprinted long after his death.
WILKIE
For Wilkie the end is in sight. On 23 July he writes to his friend Anne Proctor
"My dear Mrs Procter,
Except the day of the Wedding (when I was tied to my sister-in-law's petticoat string) I have been tied to The Woman in White's petticoat string, like a dog to his kennel. The reward of this solitary confinement under a female turnkey is not far off. I hope and believe I shall finish the book (by dint of writing double numbers at the end) this week! So I accept your kind invitation with the greater pleasure, in the firm faith that the strain of the last ten months will have been taken off me, when I sit at your table on Monday the 30th .
ever yours │ Wilkie Collins
"
The long PS to that letter – which describes the wedding – was included in the notes to part 35. And Wilkie was right – he would finish the story this week. He wrote this letter on Monday and then on Thursday the job was done. I will send you the letter where he says that next week.
I did despair again at how Laura is treated by the two who love her – cotton wool would be too harsh a wrapping for the poor soul. But I cheered up when she was at least told that her husband had died. I enjoyed the heavy-handed double or was it triple exposition of what Walter meant by 'another reason for waiting….'.
Fosco returns – smoother, deadlier and more ruthless than ever. I wonder if Wilkie intended anyone to wonder – just wonder – if his love for Marian would be reciprocated somehow, somewhen? Especially when Walter says in this wonderful quote "The best men are not consistent in good—why should the worst men be consistent in evil?" I love the way Walter now turns detective again, finding out if Fosco is staying in England.
But then, gosh, the paternity of Anne is also, perhaps again slightly heavy-handedly, revealed. First coyly, then openly for those innocent souls who may not have got it. One can imagine the Victorian gasps. At least Wilkie makes it clear that Anne's father was not married when he took advantage of the servant.
Towards the end I did feel Wilkie rather gloated about how perfectly the machinery of his plot fitted together referring us back (he almost could have given footnotes with page references) to earlier moments to remind us of the clues he left to the current revelations.
TEXT
Only one printing error – though I did look up 'meaningly' in the OED where it safely resides. 'hearing' is split over two lines with no hyphen. And note that the asterisks at the end of the part and the following four lines are not present in the book versions.
This part at 5118 words is the last of a normal length – the next three parts will be whoppers averaging nearly 10,000 words each. Clear the diary for the next three Sunday mornings!
WILKIE
Wilkie has now finished writing the story. On 26 July he wrote this congratulatory letter to his mother.
"12. Harley Street, W. │ London │ Thursday, 26th July 1860 │ five o'Clock. P.M.
Hooray ! ! ! ! !
I have this instant written at the bottom of the four hundred and ninetieth page of my manuscript the two noblest words in the English language
--- The End ---
and, what is more, I have wound the story up in a very new and very pretty manner. We shall see if the public are of my opinion
Send me a line to say how you got to Maidenhead - and give my kindest remembrances to the Langtons - and tell me if you are better.
I can't write any more - I must go out and walk off the work and the excitement of winning the battle against the infernal periodical system, at last.
Ever affectly yours │ W.C
"
From this letter we know that he finished the ms of this great novel at 5pm on Thursday 26 July 1860. That is almost exactly four weeks before the final episode would be published. So for nearly a year Wilkie has kept up with the demands of the periodical system of publishing – as he would with all his books for the rest of his life. His only previous book published this was The Dead Secret but it only lasted six months and he did in fact miss a week in the middle.
There are more letters but I leave those to next week.
I enclose – slightly early – part 38 of The Woman in White dated 11 August 1860 and first published 150 years ago on 8 August 1860. Please keep it to open on Sunday! I also enclose again part 37. There was a misdirected apostrophe in col 333a 7 lines up from bottom. Valerie Lillington from Australia also asks if the use of 'quick' rather than 'quickly' (same col, four lines up) is correct. It was not changed in the 1860 or 1861 book versions nor in Harper's Weekly. It is unusual but OED online confirms that 'quick' can be used as an adverb (quick, adv. C.1a).
THIS PART
Part 38 falls into three distinct parts, headed I, II and III.
Section I makes me more sympathetic to Laura. It is clear that she is the victim of abuse – by her first husband – and is still suffering from the shock of her forced marriage and its subsequent end. One wonders what Glyde did – or didn't do – to her. I thought Wilkie's treatment of the re-blossoming of the relationship between Walter and Laura very touching. Now it is Marian's turn to be the foil and for Walter to explain to her – aka the reader – why her (their) daft ideas will not work. Only one course is possible and it is Walter's (Wilkie's) course. There is a nice irony when Walter identifies the date discrepancy as being 'the weak point' but in fact Wilkie gets the dates wrong and has to bring the dates printed here (Anne dying on the 28th and Laura travelling to London on 29th) back by three days to 25th and 26th in the book version. The Times later claims these dates are themselves wrong and should be the 9th or 10th of August. But despite a letter from Wilkie to his publisher in October saying the critic is right and the dates should be changed they never were.
First Fosco, now the comical Pesca returns in section II – but he comes back as a much darker character with a hidden past and a secret side. Wilkie uses his return to fill in a few of the edge pieces in his jigsaw (Pesca, mother, sister) which have not been seen before just to let us know the whole picture is there, really.
He mentions 'The Regent's Park'. Nowadays called simply Regent's Park (and often without the apostrophe), this old usage reminds us it was named after the Prince Regent – later George IV – who ruled from 1811 to 1820 when his father was, as they thought, mad and then in his own right from 1820 to 1830. George asked architect John Nash to redesign the park and surround it with new buildings which he did. Wilkie lived in one of those grand Nash houses in Hanover Terrace with his mother and brother from 1850 to 1856. Brother Charles painted a picture from the house called May in the Regent's Park which is now in the Tate Gallery and can be seen here www.tate.org.uk/servlet/ViewWork?workid=2474&searchid=20163. New Road – mentioned later – is now called Marylebone Road and Wilkie's mother lived on it, too, briefly.
I remain unconvinced that Fosco, having followed Walter in the past, albeit at night, would not have recognised him either near his house or at the theatre. He certainly would have noticed the attention Walter was giving him in the theatre. He was that sort of man.
Part III thunders along with Fosco on the loose and Pesca finally repaying his debt to Walter by putting his own life in Walter's hands. It clocks neatly in place with the detail at the start which all seemed a bit unnecessary. A shilling coin has a diameter of 23mm – just under an inch – though McLenan's illustration makes the brand look rather larger, more like a half-crown.
Finally, at the end Pesca hopes to be 'like myself again' when next they meet. Needless to say…
TEXT
The final three parts of the story were very long as Wilkie struggled to squeeze it all in by the end of August. Part 38 is almost 9650 words compared with the average of around 6000. Although Dickens was happy to allocate more space in All The Year Round, Harper's Weekly in New York could not or would not do so. As a result the US serialisation took an extra two weeks, ending with the issue dated 8 September. This week the Harper's Weekly text finished at the end of section II with the words 'We started for the Theatre'.
The only error this week comprised a couple of missing commas: 'as if it felt like the land the glow and freshness of spring.' is much easier to read with the commas 'as if it felt, like the land, the glow and freshness of spring.' They were inserted for the book version. There is also another example of 'fulness' but this is archaic rather than an error and remained in the book in 1860 and 1861.
At the end of this issue the story to follow Wilkie's is advertised:-- "A new Serial Tale, entitled A DAY'S RIDE: A LIFE'S ROMANCE, by Charles Lever, Will be commenced on the 18th August (in No.69), and continued from week to week until completed."
WILKIE
Wilkie has finished the text (see last week's letter to his mother) and is now catching up on correspondence. On 27 July he wrote to the Rev. Hely Hutchinson Smith on the Isles of Scilly
"I must begin by apologising for not having answered your letter ear­lier. All my correspondence has latterly fallen sadly in arrear, through the pressure of my literary engagements – and I have really and truly not had time to write to you before today."
Wilkie went on to tell Smith, politely, that the poem he had asked if Wilkie could place in a London periodical was unpublishable but he would see what he could do. Wilkie had arranged a celebratory party for tomorrow, Thursday 9th August. On 1st he had written to his friend Holman Hunt
"I have done my book. We dine here (in celebration of the event) on Thursday August 9th at ½ past 6. I hope you will be in town then and able to come. Send me a line to say Yes."
And on 3 August he wrote this to his friend Edward Ward
"My dear Ned,
I have done! (except my varnishing days, in respect of proof sheets which publisher and translators are still bothering about) – we dine here at ½ past 6, on Thursday the 9th, to drink success to the book in Eng­land, Germany, America (United States) and Canada in all which places it will be published this month. Will you come? – No evening dress – everything in the rough – Hunt and Egg are coming and Walker – and perhaps Gregory and Lehmann and H. Bullar. Cast respectability to the winds and write me a line to say you will come!"
'varnishing days' borrows a term from painting used for the final touch up and coat of varnish to oil paintings hung in an exhibition – particularly the Royal Academy. His reference to Walker could be to Frederick Walker who designed the striking poster for the dramatic version of The Woman in White in 1871.
Wilkie is also busy arranging trips and engagements to see friends. He writes on 7 August to Richard Monckton Milnes
"Pray accept my best thanks for your kind invitation. I have an engagement – unluckily in Somersetshire – for the 20th of this month. If I can in any way manage to defer it for a week, and so avail myself of the chance of paying you a visit, I shall most gladly do so. In the event of my succeeding I will write a day or two before the 18th, and report myself a free man at the time when you kindly propose to receive me."
But perhaps the most important letter of last week was a formal one to Charles Dickens dated 7 August in which Wilkie accepted a renewal of his contract with All The Year Round for two years from 31 July 1860 at a salary of seven guineas a week plus one eighth of the share of the annual profits of the periodical. For that he had to
"…write for "All The Year Round" during my two years engagement, one serial story of about the same length as "The Woman In White". The copyright of that story, on the completion of its periodical publication, to be my property.
I am also, when not engaged on the serial story, to write articles (the copyright of which is conceded to me) for "All The Year Round", as I can, and to suggest, as I can, and to assist you in any joint periodical production of which I may feel myself able to undertake a share…
…I am not to write, during the term of my engagement, for any other periodical."
The next serial story would be No Name which ran from 15 March 1862 to 17 January 1863. Wilkie made few known contributions to All The Year Round between now and the start of No Name. He contributed to the Christmas numbers in 1860 and 1861 but only two other pieces during this period have been definitely identified as his. Several others are ascribed to him in bibliographies but are in fact by other people including his brother Charles. Wilkie left All The Year Round at the end of this contract and wrote his next novel, Armadale, for Cornhill Magazine. He wrote to his mother in July 1861 "Smith & Elder have bought me away from All The Year Round under circumstances which in Dickens's opinion amply justify me in leaving." He was paid £5000. In today's terms that is between £400,000 and more than £1 million depending how the sums are done.
THIS PART
Walter confirms in his thoughts that Pesca has gone native – he likes his quiet life in London and shies away from reverting to the ruthlessness which his role in the Brotherhood demands. Walter then rather brutally excludes Marian from the final showdown – reminding us of the opening lines "THIS is the story of what a Woman's patience can endure, and of what a Man's resolution can achieve." Marian is as patient as Walter is resolute. As so often happens Wilkie deals with an objection that readers may have had in the previous week, explaining why Fosco did not notice Hartright at the Opera.
Wilkie describes the way Fosco writes 'with great noise'. A quill pen on laid paper makes a loud scratchy noise and the harder you press the noisier it is, and the sooner the pen is worn beyond use. Writing in the nineteenth century was a physically demanding task. Fosco is up to it, of course. The wonderful ego of the man comes through so strongly – negotiating, writing, sleeping, donating his pets, there is nothing at which the man does not excel! As with many characters who reappear but are seen in a different light, the Countess speaks just one line to Walter – but how chilling that line is.
I do wonder though why, once he has retrieved and burnt Walter's letter to Pesca, Fosco did not then scatter Walter's brains about the fireplace. Perhaps it was too late.
At the end Walter lets us know we will read the Count's account next week. But he of course has already heard it – read to him by the Count. Though next week its contents seem to come as a surprise to him.
TEXT
At 7912 words this part is 1800 words longer than the average but is the shortest of the three final long parts. Readers in the USA had less to read. This week they had section III, held over from last week, and then only some of Part IV – up to the short paragraph "When I entered the bedchamber…my wife was asleep." It is an odd place to end. A better place to break the story would have been 500 words later at "not a minute to lose". Perhaps that was originally the intention as the second illustration by John McLenan relates to those paragraphs. In London there is one part left – a monster of more than 11,000 words. It is a grand and fitting finale which achieves Wilkie's purpose of ending the story in the last edition of August.
Part 39 is followed by this paragraph
"IN pursuance of the plan announced at the commencement of THE WOMAN IN WHITE, we have the pleasure of presenting to the reader a New Story by MR. CHARLES LEVER. After the completion of The Woman in White next week, A DAY'S RIDE: A LIFE'S ROMANCE, will occupy its place of the first page of each weekly number, and will be continued from week to week until finished. "
In fact after TWIW ended sales of All The Year Round plunged so disastrously that Dickens brought forward his next story – Great Expectations – which began on 1 December 1860 and Lever's story was confined to the back pages for its last 17 episodes.
There are four or five errors. On one occasion an 'i' without a dot is used in the word 'is'. Slightly earlier the word 'plainly' appears to be 'piainly' but in fact what looks like a wrong 'i' is in fact just a 'l' with a broken riser. You can see it at col.433a of the original text – images of which are on the website. And when you read 'accomplishments that man can possess' and wonder if it should have been 'accomplishments that a man can possess' – you are correct; it should have been and was changed to that in the book. It was Wilkie's Neil Armstrong moment! And see if you can find the sentence with an extra " in the middle. And when Mr. Rubelle tells Walter to wait for half an hour, the punctuation should be a ! not a ?. Details on the website as ever.
The word 'ouf' is not in the OED. But the word 'viperish', which is used three times to describe the Countess, is one of the few words in the OED which cites Wilkie Collins in its usage. Meaning venomous or spiteful, its first appearance was in Smollett in 1755; just over a century later Wilkie revives it here, and then it was taken up by M E Braddon in 1880.
WILKIE
Last Thursday Wilkie celebrated the end of his labours with an informal dinner at his house for half a dozen friends. Charles Ward did not make it – Wilkie wrote to him on 14th "I wish you had dined here on the 9th. The Genoese cook really did wonders. I never eat a more perfect dinner in Paris." The cook was Emanuel Grondona aged 48 who lists himself in Kelly's Directory as 'Italian & French cook' and whom the 1861 Census records as born in Genoa and a 'master cook employing 2 men'. Wilkie used him several times over the next three years paying him a total of £15-12s-6d.
And, before you ask, 'eat' is an acceptable though archaic past tense for 'ate'. Dickens was not at the dinner. Instead, Wilkie spent a long weekend with him at his house Gadshill in Kent. He went on 11th and returned on 14th. He is out to dinner today – the 15th – and is off to Yorkshire to spend five days with Richard Monckton Milnes. After that he is planning a cruise to the Isle of Wight and other trips. Eventually, after all this travelling, he will take Caroline to Paris.
The three volume book version of the story is just being published by Sampson Low – probably today Wednesday 15th August 1860. The whole edition of 1000 copies sold out that day. Wilkie was paid his first £500. The second edition was published at once and another 350 copies were sold within five days. Many of those who bought the book no doubt turned straight to the end to read the conclusion which had not yet been published in All The Year Round.
He is already getting fan mail asking him to write out and sign sections from the book. The first known example of a reply to such a request is dated 20 August to an unidentified correspondent who gets a photograph as well as a paragraph from Part 32 where Wilkie goes to see Mrs. Catherick. There will be many other similar requests for the rest of his life.
I enclose part 40 of The Woman in White dated 25 August 1860 and first published 150 years ago on 22 August 1860. This record double part is 11,281 words long, almost twice the average 6,188 words for the 40 parts and takes our final word count to 247,520.
THIS PART
At last we reach the end. This part is in two halves. First, as promised, is Fosco's account, filling in the details which we always wondered about. And then, in the length of a normal part, Wilkie whisks us to the tale's happy ending – but not without a couple of surprises and some tension on the way.
Fosco's love for Marian is summed up in the wonderful – and for Victorians risqué – phrase which has him admiring from behind "the poetry of motion, as embodied in her walk" which is itself a line of poetry – feel the meter. As Fosco observed in Part 37 "The best men are not consistent in good—why should the worst men be consistent in evil?". And here he is risking everything to protect the woman he admires more than any other – notwithstanding his devotion to his wife. He even refuses to deliberately expose Laura to infection, though he would not have prevented her from doing it herself.
I wondered what exactly Fosco meant when he complained that Glyde's moral courage "required perpetual stimulants". We know he drank too much. But was that all? And I did wonder about the width of the doors in his house when Fosco carried Marian in her bed without waking her through them to the disused wing.
And of course I loved this mid 19th century plot about a 21st century obsession "I might have taken Lady Glyde's life. At immense personal sacrifice, I followed the dictates of my own ingenuity, my own humanity, my own caution—and took her identity, instead." Identity theft at the heart of a novel 150 years ago.
Finally Fosco wants more than our admiration – which he sees as his by right anyway. He wants our sympathy if not our love. He doesn't quite get it. But Collins goes on to achieve a truly evil but sympathetic and, to some, lovable villain in Miss Gwilt in his next book but one Armadale.
There is less to say about Walter's final adventures. The missing bits slot into place – there will be no duel with Fosco, Pesca fulfils his old duty and condemns Fosco to death (though Walter tries to take the credit), and, although Walter has refused to know anything about his wife's financial affairs (the hero doth protest too much, methinks), the fortune finally is theirs as well as justice.
Note the reappearance of the 'chain' of events just after the start of II. We first met it in part 5 and then part 8 and Collins has recently promoted the chain to the first paragraph of the preface of his three volume novel, written nearly three weeks ago on 3 August.
"The story of the book is told throughout by the characters of the book. They are all placed in different positions along the chain of events; and they all take the chain up in turn, and carry it on to the end."
TEXT
Although this is the final part as published in London, readers of Harper's Weekly in New York had to wait another two weeks. The periodical could not cope with the three final very long parts and split them into five. I attach a spreadsheet which gives the final words in All The Year Round and Harper's Weekly for the last six parts. This week New York readers get to the end of London's part 39. And then over the next two weeks they get Fosco's narrative in part 41 and the final half of this part in week 42. A small spreadsheet is attached which summarises the part divisions.
I also attach the pdf of the Harper's Weekly illustration by John McLenan for Part 40. The cumulative pdf is on the website womaninwhite.co.uk along with images of the original pages in All The Year Round. Although the text stretched over another two weeks, no more engravings were commissioned and the last two parts in Harper's Weekly were not illustrated.
Several errors this week. A missing hyphen from the Victorian way of writing to-day. A missing comma about the Count's clothes. And a missing opening quote about his life. Even a missing stop after the Mr. before Fairlie. Watch out for final appearances of villany and recal. Summut is a perfectly acceptable word (meaning somewhat) and the baby's coral is his teething ring.
PUBLISHING
The three volume book edition was published by Sampson Low in London on 15th or 16th of August. Low's adverts all say the former; Wilkie's own account (dated 4 October 1860 and appended to the manuscript) says the latter. And in a letter of Tuesday 14 August he writes to Ward "The book…is done to the last fragment of correction, and will certainly be finished this week." For some reason two early bibliographers (Sadleir 1922 and Brussel 1935) claimed that the London edition was not published until September. That is simply not true. Apart from the clear evidence it is highly unlikely that the US edition preceded the UK edition as that would have endangered Wilkie's copyright. However, the Harper book was almost certainly published well before the concluding part appeared in New York. The final illustration published in Harper's Weekly on 25 August did not appear in Harper's book edition. It is possible that it was omitted because it was commissioned too late.
The book would run to eight editions (arguably more) in three volumes and the one volume edition was published in April 1861. It is thought to be the first edition of any novel to have the author's photograph pasted on to the front endpaper. It may have sold 50,000 copies or more.
Read Andrew Gasson on editions of The Woman in White. The pages also contain that October 4th statement in manuscript and transcribed. It also has a lot of illustrations of early editions.
WILKIE
The author is busy travelling and seeing friends now the burden of his book is finished. On Tuesday 21 August he returns from a five day visit to Monkton Milnes's house in Yorkshire and on Friday 28 he goes to Shanklin on the Isle of Wight for a week to visit his old friend Frederick Lehmann.
On 23 August he opened his own bank account at Coutts finally breaking free from using his mother's account. £300 of Low's first payment goes straight in and various amounts are credited over the next ten of months. One that is positively identified to The Woman in White is £19-15s-1d (after conversion from 500 French francs) on 27 April 1861 from the Paris publisher Hetzel for the French translation. Another approved translation appeared in Germany (and another that may have been a pirate appeared at much the same time). There was an authorised edition in Canada dated 1860 which used the English rather than the US text.
I mentioned last week the first of many letters from fans wanting signed extracts. On 28 August he replies to another letter of the sort which would plague him forever – someone wanting more details of his fictional characters – in this case Marian Halcombe. His correspondent is Nugent Robinson, an Irish born but US based collector of signatures who later claimed the enquiry was made merely to obtain his signature. Wilkie replied to his letter
_____
"Marian Halcombe" is "no abstract personification of my own ideas." The first conception of her character originated in my own observation of many women who personally, morally, and mentally resemble her. In delineating her, I have had these "living models" constantly present to my mind, and have drawn from them, now in one way and now in another, to make the complete picture which I am happy to find has so much interested you. A character in fiction can only be made true to the general experience of human nature, by a principle of selection which is broad enough to embrace many individuals who represent, more or less remarkably, one type. There are many "Marian Halcombes" among us and my Marian is one of the number.
_____
After at least six other trips Wilkie did eventually get round to taking his live-in lover Caroline Graves away – having first secured a boarding school place for her daughter Elizabeth Harriet. He took her "to Paris – and first class all the way, with my own sitting­room at the best hotel when I get there – and every other luxury that the Capital of the civilized world can afford." That in a letter to his mother (not mentioning Caroline of course) dated 3 October when he was just back from a sailing trip. They travelled out on 14 October and returned two weeks later. Caroline was very sick on the way out but they stayed at the Hotel Meurice (in the Rue de Rivoli and still one of the best) and ate at top restaurants which he and Dickens favoured. It was probably Caroline's first trip abroad. There is more detail in Dickens's letter (24 October) to Collins while he was in Paris. NB 'her elder sister' is Caroline and 'the butler' her daughter Elizabeth Harriet'.
_____
Your account of your passage goes to my heart -- through my stomach. What a pity I was not there, on board, to present that green-visaged, but sweet tempered and uncomplaining spectacle of imbecility, at which I am so expert under stormy circumstances; in the poet's phrase
As I sweep
Through the deep
When the stormy winds do blow.
What a pity I am not there, at Meurice's, to sleep the sleep of infancy through the long plays where the gentlemen stand with their backs to mantelpieces. What a pity I am not with you to make a Third at the Trois frères, and drink no end of bottles of Bordeaux without ever getting a touch of redness in my (poet's phrase again) "innocent nose"!... In consequence of her gallant conduct on the Ocean, I crave liberty evermore to hail the Butler's elder sister, as Albania Nelsona. I beg to send her my kind regard. I hope she will be able to report to me that you came up to the Parisian Scratch like a man, in respect of Pears in the Neapolitan manner, hard by the Bourse, and Truffles at the Provincial Brothers.

_____
Top Part 1 Part 2 Part 3 Haunted House Part 4 Part 5 Part 6 Part 7 Part 8 Part 9 Part 10
Part 11 Part 12 Part 13 Part 14 Part15 Part 16 Part 17 Part 18 Part 19 Part 20
Part 21
Part 22
Part 23
Part 24
Part 25
Part 26
Part 27
Part 28
Part 29
Part 30
Part 31
Part 32
Part 33
Part 34
Part 35
Part 36
Part 37
Part 38
Part 39
Part 40
---
Go back to Woman in White front page
Go to Wilkie Collins front page
visit the Paul Lewis front page

e-mail Paul Lewis on paul@paullewis.co.uk
---
All material on these pages is © Paul Lewis 1997-2010
---