THE WILKIE COLLINS PAGES
---
This site has been selected as a Web resource by the BBC.
And as a two star site by Encyclopaedia Britannica
---
Wilkie Collins was born on 8 January 1824 and died on 23 September 1889. In those 65 years he wrote 30 novels, more than 60 short stories, at least 14 plays, and more than 100 non-fiction pieces. A close friend of Charles Dickens from their meeting in March 1851 until Dickens's death in June 1870, Collins was one of the best known, best loved, and, for a time, best paid of Victorian fiction writers. But after his death, his reputation declined as Dickens's bloomed. Now, Collins is being given more critical and popular attention than he has for fifty years. Most of his books are in print - and all are now in e-text - he is studied widely, and new film, television and radio versions of some of his books have been made. All his known letters have been published. And new book length studies of his work or life appear frequently. But there is still much to be discovered about this superstar of Victorian fiction.
---


Find out more about The Public Face of Wilkie Collins - the Collected Letters

Join the Wilkie Collins Society
---
---
Back to TOP
The Public Face of Wilkie Collins - the Collected Letters
"Anybody seriously interested in Victorian literature...will appreciate the materials collected here...The meticulously edited volumes will serve as...a great service to those interested in Victorian literature in general. Highly recommended." Benjamin F Fisher, Professor of English, University of Mississippi.
"Editorially, it is a much better work than its precursor [the editors] have markedly improved both textual reliability and the quality of annotation." John Bowen, Times Literary Supplement 3 February 2006.
The definitive collected edition of Wilkie Collins's letters was finally published in June 2005. The book is a comprehensive, chronological sequence of 2987 letters by Wilkie Collins drawn from public and private collections all over the world. More than 2500 are published in full while the 434 or so letters transcribed in Baker and Clarke's 1999 Collected Letters are listed in their correct chronological place.
Every letter has comprehensive footnotes and the four volumes contain a 26 page introduction, a 12 page chronology, four contemporary photographs, images of eight letters, and two indices. Of the letters published in full for the first time in a modern edition, more than 2100 have never been published anywhere before.
You don't know Wilkie Collins until you have read this book.
The Public Face of Wilkie Collins - the Collected Letters, ed. William Baker, Andrew Gasson, Graham Law, and Paul Lewis, Pickering & Chatto, London 2005 ISBN 1851967648. £350/$540.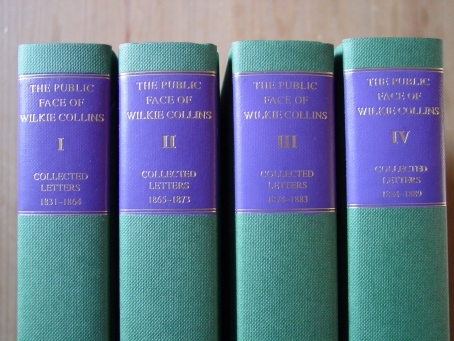 Treat yourself. Order it from Pickering and Chatto
---
Go to Paul Lewis pages
You are visitor number



to my sites
---
All material on these pages is © Paul Lewis 1996-2013
---