1853 was a quieter year than 1852 for the 29 year-old Wilkie Collins. He had no publications out at the turn of the year and his only published work dated 1853 was 'Gabriel's Marriage' which was published in Dickens's weekly Household Words 16-23 April 1853 and was then pirated in the USA by Littell's Living Age appearing on 28 May. It is a story of poverty, murder, superstition, a death-bed secret, and Christian forgiveness set in Brittany at the time of the persecution of the Catholic religion during the French revolution. It is notable for Wilkie's use of the weather and landscape to set the scene. And perhaps most remarkable to us now for the sentence "The White Women! the grave diggers of the drowned are out on the sea!". In 1856 Wilkie republished it in his collection of short stories After Dark.
Basil published late in 1852, was going "pretty well" Wilkie wrote in March "our first edition being nearly exhausted. It has been vehemently objected to as immoral by some of those virtuously inflammable ladies and gentlemen of Modern Times...As I have never written for these people and never will, then their condemnation is infinitely more acceptable than their approval." During March, Wilkie was put in touch with the French literary critic Émile Daurand Forgues to whom he sent a copy of Basil. In 1855 Forgues wrote one of the first literary criticisms of Collins's work and later translated two of his books into French.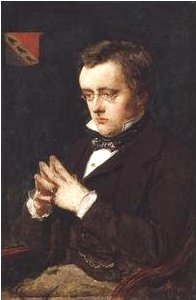 Wilkie Collins by Sir John Everett Millais, 1850.
Oil on panel, 10.5 in. x 7 in. (267 mm x 178 mm).
The portrait is currently on display at the National Portrait Gallery.
This image is courtesy of the National Portrait Gallery which holds the copyright in it and forbids reproduction in any form without permission.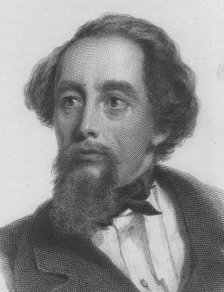 Engraving by R Graves of a portrait of Dickens by William Powell Frith painted in 1859.
In May and June Wilkie fell ill. On 25 June he wrote that he was "much better but not strong enough to get to do more than toddle out for half an hour with a stick...illness and long confinement have muddled my brains dreadfully". Two weeks later he went to Maidenhead. Clearly believing that dissipation lay at the heart of his illness he told his mother he was drinking less and getting up earlier. He spent much of the rest of the year in the company of Charles Dickens. At the end of July he went to Chateau des Molineaux, a rented house in Boulogne where Dickens had himself been recovering from illness. Collins thought the change of air would help him recover and being with Dickens would give some discipline to his work. He was writing Hide and Seek and by the end of his visit in early September had finished the first two thirds. Writing in August about the book to the publisher Richard Bentley he said "I am piping quite a new tune this time, and expect to make the readers of Antonina and Basil prick up their ears." But he confessed to Bentley that the delays caused by his illness and the plans he had to visit the Continent at the end of the year would delay the book into 1854. It was not published until June that year.
By the autumn of 1853 Dickens and Collins had recovered from their illnesses and on Monday 10 October 1853 they set off from Boulogne with the artist Augustus Egg (1816-1863) for a trip to Switzerland and Italy which was to last for two months. On Saturday 8 October Egg wrote to Holman Hunt that he had arrived in Boulogne, probably with Wilkie, after "a capital passage, not being in the slightest degree ill". The three odd companions went via Paris, Strasbourg - where Collins saw the famous Strasbourg clock which in 1866 was to feature in Armadale - Basle and thence to Lausanne where they arrived on Saturday 15 October. Collins wrote that "we travel in a state of mad good spirits". They went to Genoa, across the Simplon Pass, which was to feature in No Thoroughfare in 1867, then on to Milan, Naples, Rome, Florence, and Venice. One account of the trip is found in Collins's letters (Letters of Wilkie Collins Baker & Clarke 1999 I 98-119). Dickens also wrote a full account in his letters (Pilgrim VII 162-226), often in contrast to those of Collins. He mocked attempts by Egg and Collins to grow "emulative moustaches" which were "more distressing, more comic, more sparse and meagre, more straggling, wandering, wiry, stubbly, formless...than anything nature ever produced." (To Georgina Hogarth 25 October 1853) and Dickens got rather fed up with Egg and Collins going on about art. They returned via Parma and Turin to Paris and then London around Tuesday 12 December. The trip had cost £380-10s-0d or £126-16s-8d each. Collins hoped to recoup some of this by a series of six pieces on the trip for Bentley's Miscellany including "unconventional opinions on the subject of art...Papist ceremonies...[and] a true love story". But early in 1854 Bentley turned them down and it seems they were never published.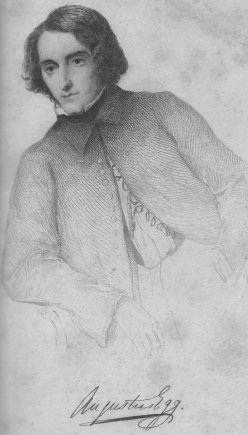 Engraving by J Smyth of a portrait by William Powell Frith painted between 1849 and 1861