IOLÁNI
Wilkie Collins's first novel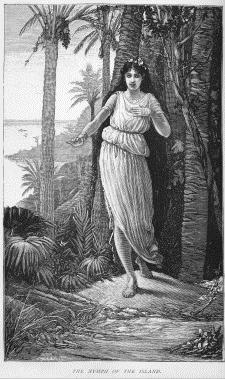 New information about the early work of Wilkie Collins became available in 1999 with the first publication of Collins's first novel, Ioláni, or Tahiti as it was: A Romance (1). The book was never published in his lifetime and was long thought to have disappeared altogether. But in October 1991 it surfaced with a New York book dealer and in Spring 1999 it was published by Princeton University Press with an introduction and notes by Professor Ira B Nadel of the University of British Columbia.
In 2007 with the kind permission of Princeton University Press the text was made available and the full text of Ioláni, or Tahiti as it was: A Romance is now published on the internet, exclusively on this site.
Early references
Until 1991 the evidence for the first novel was as sparse as it was tantalizing.
March 1845
The first reference is in a letter nominally from Wilkie's father, William Collins RA, which informs us that a publisher (identified by Peters (2) as probably Longman's) kept the manuscript for six weeks and would originally only have published the book if William had borne part of the cost. In March 1845, in a bad-tempered reply, the letter offers to pay a third of the costs (3). Presumably the offer was declined. This letter is now thought to have been drafted by Wilkie Collins for his father to sign. (Read the text of this letter).
September 1845
Later that year, Wilkie himself makes a reference to it in a letter to his mother from Paris dated 13 September 1845. Collins says his friends "want me to go to Nice with them. Could you not send me £100, upon the strength of my M.S. and Chapman and Hall?" (4). As this was before his first published novel Antonina was begun (a note on the manuscript of Antonina puts that at 23 April 1846 (5)) it is assumed that the letter refers to Ioláni.
1857
In 1857 Collins told Edmund Yates of the book when Yates interviewed him for his series 'Men of Mark' in the short-lived periodical The Train.
"While on the books of Lincoln's Inn as a student, he wrote a novel of the most wildly impracticable kind, on the subject of savage life in Polynesia, before the discovery of the group of islands composing that country by civilized men. This curious work was offered to all the publishers in London, and, it is needless to say, declined. Glimpses of promise having, however, been discerned in it by some of the publishers' "readers," Mr. Collins was encouraged to set to work again with spirit, and this time with a good historical subject—the siege and subjugation of Rome by the Goths." (6)
1863
Collins refers to the book again in 1863 in a new preface to the one volume edition of his first published novel Antonina which was originally published in 1850.
"Two years previously, I had tried my hand at writing a romance; had offered it to every publisher of fiction in London; and had, in each case, received my manuscript back, with a letter in which my proposals were politely declined. I am wise enough, now, to know that the publishers were right, and that my earliest effort, as a novelist, was made in the wrong direction. But, at the time, the remembrance of my first failure hung ominously over my mind, and darkened the fair white pages of my historical romance which were still to be filled with writing." (7)
1870
In 1870 Appleton's Journal of Literature Science and Art published an account of Collins's life. In it were a few passages in quote marks. The author, American journalist George Towle who knew Collins, says at the first of these 'he writes in a letter' and it is assumed that much of the information in the piece came from Collins himself. Towle writes
"The novel which he began, with which to beguile his time in the cosy but not wholly congenial retreat of Lincoln's Inn...was, when completed, offered for sale among the London publishers. Wilkie Collins had to undergo the same rebuffs and to experience the same terrible sinking of the heart, which Thackeray, Chatterton, and hosts of others, have suffered before and after him. The publishers would not venture to publish his first ambitious work. One after another declined to make the experiment; and one and all gave excellent reasons for their decision. The best reason in the world is given in the author's own words."
Towle then gives the longest quote ascribed to Wilkie Collins in the whole piece.
'"The scene of the story" says he "was laid in the Island of Tahíti, before the period of its discovery by European navigation! My youthful imagination ran riot among the noble savages, in scenes which caused the respectable British publisher to declare that it was impossible to put his name on the title-page of such a novel. For the moment I was a little discouraged. But I got over it, and began another novel."' (8)
1887
In another reminiscence published in 1887, Collins remembers it slightly differently.
"While in the tea-merchant's office, I completed a wild extravagant story, the scene of which, I remember, was laid in Tahiti before its discovery by the English. The manuscript of this tale I induced my good father to submit to Messrs. Longman, whose reader presently returned it with an intimation that the story was hopelessly bad, and that in his opinion the writer had not the smallest aptitude for romance-writing, and had no possible prospect of succeeding in a literary career. I met the worthy man years after at a dinner party, when 'The Woman in White' was running through Household Words, and I remember that neither of us could forbear from bursting out a-laughing at the rencontre." (9)
1912
That story was also told by Collins to his friend the actress Frank Archer. In his reminiscences An Actor's Notebooks he writes
'Collins, alluding to his first or one of his early novels, said: "There was a man who came down upon me heavily, and prophesied that I should never make a novelist. Many years afterwards I met him, and we had a hearty laugh over his prediction. Though I must honestly say," he said, "the story was anything but a good one. The scene and period of it were very remote."' (10)
Lost
These few references led five of his twentieth century biographers to refer to this early work and then, understandably, to say
"his first novel, of which all trace has disappeared." (11)
"a now lost romance" (12)
"the total disappearance of the ms." (13)
"No trace of it remains." (14)
"The manuscript has not survived." (15)

Provenance
Despite Collins's disparaging description of the work we now know he valued it enough to keep the manuscript for more than thirty years. By 1870 Collins was the most famous living writer of English fiction. The Woman in White, No Name, Armadale, and The Moonstone, published between 1860 and 1868, had secured his place. But Collins was always trying to maximise the value of his work. One way he did that was to turn his books into plays. And it was through this that he met Augustin Daly, a New York playwright and impresario.
Daly put on at least two of Wilkie Collins's novels as plays in New York. They were clearly well suited - Collins the master of the sensation novel and a successful writer of stage melodramas. And Daly, the man who is credited with the invention of what was to become a staple of the film plot - the hero tied to the railway track. In his 1867 production of Under the Gaslight hero Joe Snorkey is bound hand and foot and placed on the lines. His friend Laura looks on hopelessly from a locked shed but manages to free herself just in time to release him before the train dramatically enters the stage. However, their relationship got off to a bad start when Daly insisted on rewriting Collins's version of Man and Wife before producing it on Broadway. The play was a success and during his visit to the States in 1873 Collins took a bow during Daly's production of The New Magdalen. The success of these productions - and other collaborations that were at least talked about - may have led to Collins giving Daly the manuscript of Ioláni, probably during his visit to London in 1878.
What is known (16) is that on Daly's death in 1899 his extensive collection of pictures, books, manuscripts, and letters was consigned to the American Art Association and sold in 1900. The manuscript of Ioláni was catalogued almost as an afterthought between lot 605 and 606, numbered lot 605*. It was bought by a New York bookseller George D Smith for $23 and he put it in his catalogue a year later at $100 noting that the novel "would well repay publication".
The manuscript was bought by Howard T Goodwin, a Philadelphia collector. After his death in 1903 the manuscript appeared, in a new binding he had commissioned, at an auction held by Stan V. Henkels. The binding calls it IOLANI AND IDIA apparently taken from the title of the first chapter. Collins's title page has it as Ioláni; or Tahíti as it Was. A Romance. It was purchased by Joseph M Fox a Philadelphia lawyer and apparently remained in his family until it passed into the hands of New York book dealer Glenn Horowitz, who acquired it for sale in October 1991. His undated sale catalogue offers it for $175,000 (then about £106,000). Who bought it from him, when, or for how much, Horowitz will not reveal.
Context
Wilkie Collins was born in January 1824 and so was around 20 when he was writing Ioláni. We know that he was writing other things at that time while he was confined in an office supposedly learning how to be a tea merchant. In January 1844 his father, the artist William Collins, began his own journal by saying "...I think it quite possible that my dear son, William Wilkie Collins, may be tempted, should it please God to spare his life beyond that of his father, to furnish the world with some memoir of my life...". (17) Towle's piece in Appleton's states that he wrote "unassuming little articles and stories, some of which found their found their way modestly into the small periodicals of the time" (18). In April that year William was staying with the President of Corpus Christi College, Oxford. He wrote to his wife asking her to cut Wilkie's stories out of various publications and send them to him (19). The only published piece of this period that has been identified is a story in the August 1843 number of The Illuminated Magazine called 'The Last Stage Coachman'. It was a slight fantasy about a meeting with a stage coachman who defied the railways to the end and finally takes the reins in a heavenly carriage "with a railway director strapped to each wheel and a stoker between the teeth of each of the four horses" (20). No other periodical publication by Collins has been identified until March 1851.
Sources
Several sources of this first romance by Collins have been suggested by Peters, in the Horowitz sale catalogue and now, more completely, by Ira Nadel in the published edition. Peters points out that Collins's library, sold at his death, contained the 1831 edition of Polynesian Researches by the missionary William Ellis (21). If this four volume account of the civilisations of the South Seas had been owned by Collins in his youth it could have been part of the extensive research he was later known to do for his books. Nadel has examined Ellis carefully and finds in it characters, names, pronunciation, religion, infanticide, and even plot used in Ioláni.
Peters also identifies a narrative poem by Mary Russell Mitford. Christina, The Maid of the South Seas (1811) is a story of the romance between Fletcher Christian, the mutineer of the Bounty, and "a native woman Iddeah who is terrified of losing their baby to ritual sacrifice" (22). Horowitz (23) quotes from the Mitford poem and those interested are referred to Canto 2, Verse xxiv. Horowitz also points out the connection with the mutiny on the Bounty. Captain Bligh's Narrative, published in 1790, "mentions a character named Iddea...and details the practice among a Tahítian sect of killing the firstborn child at birth."
Whatever his sources, Collins did not use the British Museum. Its archives show he was introduced as a reader there by his father on 26 March 1846 and his ticket was renewed until 13 July 1850 (24). After that he put historical novels behind him. But he did his research well. The tallest mountain on the island of Tahíti is Orohena, 2,236m. Lake Vahíria exists. And the people still live on the low lying coastal plains away from the mountains and lakes.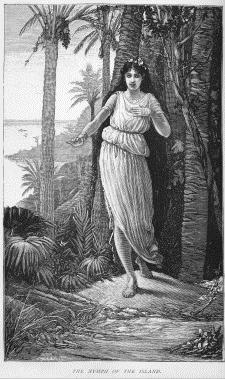 The word 'Ioláni' means Royal Hawk. Ioláni Palace, in Waikiki in Honolulu, was built in 1882 by the last King of Hawaii, David Kalakaua. The Palace is now a focus for the movement to restore Hawaii's independence following its annexation by the United States of America in 1898 (it became the 50th state in 1959).
Although Collins did not publish Ioláni in his lifetime, he did write a melodramatic love story using the same South Sea Island setting and borrowing two characters from Ioláni. 'The Captain's Last Love' was published as the first of twelve annual Christmas stories for the New York sporting periodical Spirit of the Times (25). It was republished in Belgravia in January 1877 (26). The story was illustrated with a striking full page engraving by Walter Jenks Morgan (1847-1924) titled 'The Nymph of the Island.' Morgan did illustrations for a number of periodicals at this time including The Graphic and The Illustrated London News both of which also published Collins's work. The Nymph, called Aimata, was the beautiful young daughter of a powerful priest. The Captain has a brief relationship with her before she dies when her island disappears under the sea after a volcanic eruption. The story was first published about a year before the date Collins is thought to have given the manuscript of Ioláni to Augustin Daly. It is possible that he rediscovered it - or at least re-read it - at that time. The story was republished with minor alterations in 1887 as 'Mr Captain and the Nymph' in Collins's late collection of short stories, Little Novels.
Plot summary
Ioláni is a villainous High Priest and Idía a young woman who has borne his child. Afraid of the local custom of killing first-born children Idía, accompanied by her friend Aimata escapes with the baby to a neighbouring village. In the ensuing chase by Ioláni they are subject to sorcery, war, visions, sacrifices, and mystery. Eventually Ioláni drifts out to sea in a canoe to meet his death. Horowitz suggests a parallel in the manner of his death with the burial at sea of Wilkie's godfather Sir David Wilkie, which was painted by Turner in 1842.
The three epigraphs
The manuscript is divided into three books. At the head of each is an epigraph.
Book I

"In secret we met—
In silence I grieve,
That thy heart could forget,
Thy spirit deceive."
Byron
Lord Byron (1788-1824) died in the year of Wilkie Collins's birth. But Collins was a fan of his. His friend Edmund Yates, writing in 1879, quoted Collins as saying "Lord Byron's letters are the best English I know of - perfectly simple and clear, bright and strong." (27). Collins acquired Life, Letters and Journals of Lord Byron by Moore in 1843. There was also a tenuous connection with Byron through Beppo, the Italian gondolier and servant engaged by the Collins family in Venice during their two year tour of Italy and France when Collins was 12. Beppo has been Byron's cook.
The lines are from the last stanza of 'When we two parted' which concludes
If I should meet thee
After long years,
How should I greet thee? -
With silence and tears.
Book II

—"Thirst of revenge, the powerless will
Still baffled, and yet burning still!
Desire with loathing strangely mixed
On wild or hateful objects fixed,
Fantastic passions! mad'ning brawl!
And shame and terror over all"!
Coleridge
Samuel Taylor Coleridge (1772-1834) was a friend of Collins's father who painted a portrait of his daughter Sara. Coleridge's addiction to opium is well known. William Winter in his book of reminiscences includes a story told to him by Wilkie Collins about the occasion when Coleridge arrived at his parents' house in distress that he could not shake off his addiction. Harriet Collins, Wilkie's mother, told him that if it did him good and he must have it then why did he not go and get it? Collins is reported by Winter as saying "I was a boy at the time, but the incident made a strong impression on my mind, and I could not forget it" (28)
The extract is from 'The Pains of Sleep' written in 1803, lines 21-26.
Collins would certainly have agreed with Coleridge's attack on critics "Reviewers are usually people who would have been poets, historians, biographers, &c,. if they could; they have tried their talents are one or that the other, and have failed; therefore they turn critics." (29)
Book III
"The web is woven—
the work is done"
Gray
Thomas Gray 1716-1771, perhaps most famous for his Elegy on a Country Churchyard. This line is from The Bard 1857 and Collins appears to have altered the punctuation. He was given a copy of Grays' Poetical Works which he signed on his 16th birthday. The book was in his library on his death (30).
The text
The text is a 160 page, quarto holograph manuscript by Wilkie Collins. It contains some corrections but far fewer than his other manuscripts show and is thought by Peters to be a fair copy, quite possibly the one that the publishers rejected. The paper on which it is written is water-marked 1844 and Peters surmises that he started on it late that year on his return from his trip to France with Charles Ward.
It is a short book. At around 54,200 words it is shorter even than the 62,700 word The Haunted Hotel, barely a third of the length of the 141,000 word The Dead Secret and barely a fifth of the 247,000 words in The Woman in White (Armadale is even longer at 299,000 words)
Transcription
This transcript of the first page of chapter one shows that of two questionable spellings - checquered and releived - one was kept and the latter silently corrected in the Nadel edition.
Click to open the first page of the ms in a separate window
---
The last days of summer were near at hand, as one night, (while Tahíti
was as yet undiscovered by the voyagers of the North) the desolation [ ]
of the great lake Vahíria was brightened by the presence of two human
beings - a man and woman - who were listlessly wandering along
its rugged and deserted shores.
It was a strange and, to most hearts, an unalluring place.
Looking upward from the spot occupied on this particular occasion by the
woman and her companion, the eye encountered a long and almost unbroken
range of mountains, whose jagged sides, though occasionally checquered
by a clump of dwarf trees, or a patch of parched scanty verdure,
were for the most part bare and precipitous in the extreme. The different
masses that formed the chain, were generally but little distinguishable,
the one from the other, [ ] either in form or eleva
=tion, but were releived from absolute sameness, by the presence of the
immense Orohena (the loftiest mountain in the island) that farther
in the distance, rose like a beacon over the tops of the inferior ranges.
Lower, between the mountains and the lake, stretched large, dense tracts
of forest land; and beneath there again, lay in the utterest confusion,
mass upon mass of basalt rock, wild and jagged in form and reaching
down almost to the water side. While the waves of the Lake, but partially
lightened by the rays of the young moon and preserved [ ] at
most points from the wind by their natural guardians of forest and
rock, looked wilder and gloomier than all beside, as they stretched
forth dull and stagnant - here utterly lost in darkness, there faintly
gleaming in the pale and fitful light. Truly it was a desert and
fearful spot. Hardly could the mind imagine from the appearance
of those barren mountains that their farther sides overlooked every
variety that nature could bestow - every charm that the seasons
could dispense, and the blessed sunlight watch over and adorn.

Not a human habitation was to be seen on the borders of
Vahíria. The natives generally had a dread of the place and

[thick rule]

*It may be necessary, perhaps, at the outset of the narrative, to
inform the reader that the vowels of the Polynesian language are sounded
in the same manner as in the Italian. Thus the proper names at the
head of the present chapter should be pronounced as if written
- Eolahne and Edeah.
---
NOTES
(1) Ioláni; or, Tahiti as it was. A Romance by Wilkie Collins edited and introduced by Ira B. Nadel, Princeton University Press 1999 ISBN 0-691-03446-X.
(2) Catherine Peters, The King of Inventors - A Life of Wilkie Collins, London, Secker and Warburg 1991, p65.
(3) The Public Face of Wilkie Collins - The Collected Letters, Addenda & Corrigenda 2 p[1] and British Library Add.ms 42575
(4) William Baker and William Clarke The Letters of Wilkie Collins I 28
(5) Peters, op.cit. p447n41.
(6) The Train June 1857 pp352-357
(7) Wilkie Collins Antonina or the Fall of Rome Sampson Low & Co, London 1863 piii
(8) Appleton's Journal of Literature, Science, and Art, 3 September 1870, IV pp278-81.
(9) Men and Women - A Weekly Biographical and Social Journal Vol.III No.36. Saturday 5 February 1887 pp281-282
(10) Frank Archer An Actor's Notebooks – being some memories, friendships, criticisms and experiences London [1912] p301
(11) Robinson, Kenneth, Wilkie Collins, London, Bodley Head, 1951 p34.
(12) Robert Ashley, Wilkie Collins, Arthur Barker, London 1952 p20
(13) Dorothy L Sayers, Wilkie Collins, Ed. E R Gregory, Friends of the University of Toledo Libraries, 1977 p56
(14) William M. Clarke, The Secret Life of Wilkie Collins, London, W.H.Allen, 1988, p46.
(15) Peters, op.cit. p65.
(16) Horowitz, Glenn, Wilkie Collins, Ioláni; or Tahíti as it Was. A Romance, The Original Autograph Manuscript, Horowitz, New York [1991] pp12-14. These two paragraphs rely entirely on this catalogue.
(17) Collins, Wilkie, Memoirs of the Life of William Collins Esq., RA, 1848.
(18) Appleton's 1870, op.cit.
(19) William Collins to Harriet Collins 16 April 1844 "Pray send to Dr Thorne for Willy's stories and cut them out of their publications and send them by Post directly as well as any other letters or information" (Morgan MA3154 73) also in Peters, op.cit. p56; Robinson, op.cit. p35
(20) The Illuminated Magazine, ed. Douglas Jerrold, I, No.4 August 1843, pp209-11.
(21) see also William Baker Wilkie Collins's Library - A Reconstruction Greenwood Press 2002 p104 no.187
(22 Peters, Catherine, The King of Inventors - A Life of Wilkie Collins, London, Minerva 1992, Appendix C p442.
(23) Horowitz, op.cit. p8.
(24) Clarke, op.cit., p212n17.
(25) Spirit of the Times, New York 23 December 1876
(26) Belgravia January 1877 XXXI, No.123 pp257-274
(27) Edmond Yates Celebrities at Home, 1879 p146.
(28) Winter, William, Old Friends, New York 1909 p214
(29) Coleridge, S.T., Lectures on Shakespeare and Milton
(30) Lot 171 - see Baker 2002, op.cit. p113 No.236
---
version 2.00 16 September 2007
prepared for the e-text publication.
---
All material on these pages is © Paul Lewis 1996-2007
---