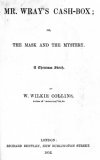 Title page of the first edition of Mr Wray's Cash-Box, published by Richard Bentley. Although dated 1852, the book was published on 13 December 1851. And the preface is dated December 1851. A second edition with a shortened preface was published later in 1852.

He wrote to a friend earlier that year

"On Friday morning last, an idea came into my head for a Christmas Book - I tell it you, mind, as a profound secret - don't say a word about it to anybody. If I am to put this new notion into shape and form this year, I must work night and day; and I mean to do so."