1884
Recollections and Experiences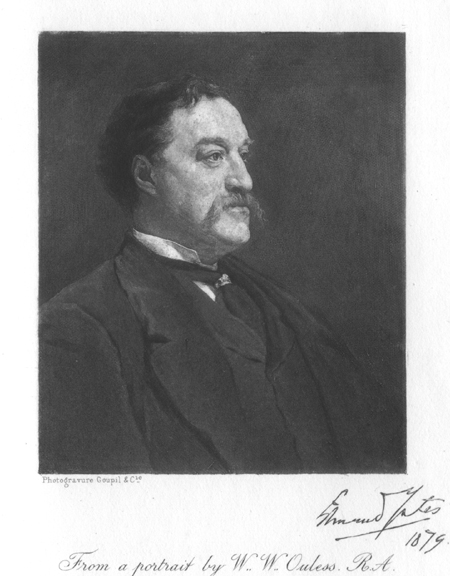 Collins's friend Edmund Yates (1831-1894) gives relatively few mentions and stories about him in Edmund Yates: His Recollections and Experiences published in 1884. These extracts give them all with their context, including references to Household Words, The Lighthouse, Yates's expulsion from the Garrick Club, Dickens, his departure for America, and a letter from Elizabeth Braddon.
---
And just about then appeared the first numbers of Household Words, which I devoured with extreme eagerness, and the early volumes of which still appear to me, after a tolerably wide experience of such matters, to be perfect models of what a magazine intended for general reading should be. In them, besides the admirable work done by Dickens himself—and he never was better than in his concentrated essays—there were the dawning genius of Sala, which had for me a peculiar fascination; the novels of Mrs. Gaskell; the antiquarian lore of Peter Cunningham and Charles Knight; the trenchant criticism of Forster; the first-fruits of Wilkie Collins's unrivalled plot-weaving; the descriptive powers of R. H. Horne, who as a prose-writer was terse and practical; the poetic pathos of Adelaide Procter; the Parisian sketches of Blanchard Jerrold; the singularly original " Roving Englishman " series of Grenville Murray; the odd humour of Henry Spicer. (I 215-216)
…
Visiting relations had, in the mean time, been established between us and the Dickens family, and we were invited to Tavistock House, on the 18th of June, to witness the performance of Wilkie Collins's drama, The Lighthouse, in which the author and Dickens, Frank Stone, Augustus Egg, Mark Lemon, and the ladies of the family took part. My mother, who went with us, told me that Dickens, in intensity, reminded her of Lemaître in his best days. I was much struck by the excellence of Lemon's acting, which had about it no trace of the amateur. At the performance my mother was seated next a tall gray-haired gentleman—a most pleasant talker, she said who proved to be Mr. Gilbert a'Beckett, the magistrate and wit; and in the drawing-room afterwards there was a warm greeting between her and Lady Becher, formerly Miss O'Neil, whom she had not seen for many years. It was a great night for my mother. She renewed her acquaintance with Stanfield and Roberts, and was addressed in very complimentary terms by the great John Forster. Thackeray und his daughters, Leech,. Jerrold, Lord Campbell, and Carlyle were there. (I 279-280)
…
It was in the third volume, too, that I first began a series called "Men of Mark," which in style and treatment was really the forerunner of the "Celebrities at Home," and the first examples of which were Dr. Russell and Mr. Wilkie Collins. (I 337)
…
The General Meeting was held the next day. Neither Thackeray nor I attended; but the Committee were there in full force, and, with the exception of Dickens, voted to a man in their own favour. As an amendment to a resolution declaring that the Club had nothing to do with the subject at issue between Mr. Thackeray and myself, the following resolutions were proposed by Mr. James Cornelius O'Dowd, now holding an appointment under the War Office, but at that time assistant-editor of the Globe, which was then a Liberal journal:
"1st. That it was competent to the Committee to enter into Mr. Thackeray's complaints against Mr. Yates.
"2nd. That it is the opinion of this Meeting that Mr. Thackeray's complaints against Mr. Yates are well founded.
"3rd. That the practice of publishing such articles, being reflections by one member of the Club against any other, will be fatal to the comfort of the Club, and is intolerable in a society of gentlemen.
"4th. That this Meeting is at once prepared to support the Committee in any step they may consider necessary for the suppression of this objectionable practice.
"5th. That this Meeting trusts that a most disagreeable duty may be spared it by Mr. Yates making such ample apology to Mr. Thackeray as may result in the withdrawal of all the unpleasant expressions used in reference to this matter.
"6th. That with this expression of opinion, the Meeting refers the whole question back to the Committee."
The speakers who supported me at the meeting were my friends Mr. Charles Dickens, Mr. Wilkie, Collins, Mr. Robert Bell, Mr. Samuel Lover, Mr. Palgrave Simpson. These may have been influenced by personal friendship; but there were other men of mark, with whom I had no kind of acquaintance, but who were entirely actuated by a sense of justice in defending my cause. Among them I may name the late Mr. Justice Willes and Sir James Ferguson, now Governor of Bombay, then an officer in the Guards, who, on reading of the case, was so struck with the bad feeling of the cabal against me that he hurried home from Palestine, where he was travelling, to speak and vote at the Garrick in my favour. But my enemies were too numerous and too powerful, and on a division Mr. O'Dowd's resolutions were carried by a majority of twenty-four, the numbers being seventy and forty-six. (II 26-28)
…
The nineteen years' seniority was not reflected in the terms of our companionship or our converse. "Fancy my being nineteen years older than this fellow!" said he one day to his eldest daughter, putting his hand on my shoulder. The young lady promptly declared there was a mistake somewhere, and that I was rather the elder of the two. And certainly, except in the height of his domestic troubles, Dickens, until within a couple of years of his death—when, even before he started for America, his health was, to unprejudiced eyes, manifestly beginning to break—in bodily and mental vigour, in buoyancy of spirits and keenness of appreciation, remained extraordinarily young.
This, I think, is to be gleaned from the Letters, but is not to be found in Forster's Life. The fact, I take it, is that the friendship between Dickens and Forster, as strong on both sides in '70 as it was in '37, was yet of a different kind. Forster, partly owing to natural temperament, partly to harassing official work and ill-health, was almost as much over, as Dickens was under, their respective actual years; and though Forster's shrewd common sense, sound judgment, and deep affection for his friend commanded, as was right, Dickens's loving and grateful acceptance of his views, and though the communion between them was never for a moment weakened, it was not as a companion "in his lighter hour" that Dickens in his latter days looked on Forster. Perhaps of all Dickens's friends, the man in whom he most recognised the ties of old friendship and pleasant companionship existing to the last was Wilkie Collins; and of the warm-hearted hero-worship of Charles Kent he had full appreciation. (II 92-93)
…
In the following week I accompanied Dickens and his daughters, Wilkie Collins, Arthur Chappell, and Charles Kent to Liverpool, whence he sailed next day in the Cuba, which, five years later, took me to New York. Leave-taking, as is always the case, was difficult; we had inspected Dickens's cabin, looked round the ship, and were uncomfortably uttering commonplaces, when the knot was cut by Dickens suddenly turning to me, as standing nearest to him, and saying, "It must be done!"—then in his heartiest tone, and with his warmest hand-grip, "God bless you, old fellow !" (II 113-114)
…
Some of the wittiest and most amusing letters I have ever received came to me during my editorship of Temple Bar from Miss BRADDON, several of whose earlier attempts made their appearance under my direction, and who has always honoured me with a steady friendship…
Hear her again as to the style in which these same three-volume novels are very often written
"The Balzac-morbid-anatomy school is my especial delight, but it seems you want the right-down sensational; floppings at the end of chapters, and bits of paper hidden in secret drawers, bank-notes and title-deeds under the carpet, and a part of the body putrefying in the coal-scuttle. By the bye, what a splendid novel, a la Wilkie Collins, one might write on a protracted search for the missing members of a murdered man, dividing the arms not into books, but bits! 'BIT THE FIRST: The leg in the gray stocking found at Deptford.' 'BIT THE SECOND: The white hand and the onyx ring with half an initial letter (unknown) and crest, skull with a coronet, found in an Alpine crevasse!"
Seriously, though, you want a sensational fiction to commence in January, you tell me. I cannot promise you anything new, when, alas, I look round and find everything on this earth seems to have been done, and done, and done again! Did not Jules Janin so complain long ago in a protest against romancism, i.e. sensationalism? I will give the kaleidoscope (which I cannot spell) another turn, and will do my very best with the old bits of glass and pins and rubbish.
There they all are—the young lady who has married a burglar, and who does not want to introduce him to her friends; the duke (after the manner of ——) who comes into the world with six-and-thirty pages of graphic detail, and goes out of it without having said 'bo!' to a goose; the two brothers who are perpetually taken for one another; the twin-sisters ditto, ditto; the high-bred and conscientious banker, who has made away with everybody's title-deeds. Any novel combination of the well-known figures is completely at your service, workmanship careful, delivery prompt." (II 171-173)
---
From Edmund Yates: His Recollections and Experiences London 1884.
---
go back to Wilkie Collins front page
visit the Paul Lewis front page
---
All material on these pages is © Paul Lewis 1997-2007
---