1924
Memories of Ninety Years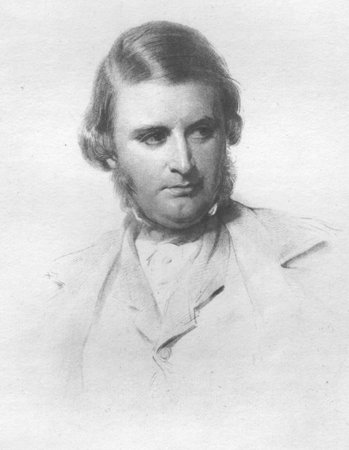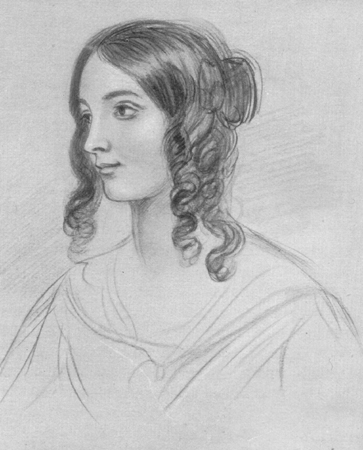 Henrietta Mary Ada Ward (1832-1924) married Edward Matthew Ward (1816-1879) a month before her 16th birthday on 4 May 1848. He was sixteen years older than her but the marriage lasted happily until his death in 1879 and she never remarried. Technically she was too young to marry without her parent's consent but once married the union was lawful. It was arranged by Ward's friend, Wilkie Collins as was the honeymoon. This anecdote is one of several in Memories. She tells of the amateur dramatic performance of The Good Natur'd Man at Wilkie's family home, his mother's advice to her as a wife, the performance of Not So Bad As We Seem with Collins and Dickens, Wilkie's letter on Edward's death, and mentions Wilkie's brother Charles.
---
It probably may appear strange to the present generation that at this early stage his mother should have been thinking ahead for Edward's matrimonial future, but such was actually the case, as I afterwards heard. While it was no uncommon thing for parents to say to each other "It is quite time 'John' settled down-let us see who would suit him," and plan accordingly, I think it was extremely premature to form designs about a child of ten or eleven, as my future mother-in-law actually did. However, I was in advance of my age, and had attended grown-up parties ever since I could walk, so I considered myself quite old enough to accept Edward when he proposed to me when I was only fourteen and a half. My parents, whose sole objection was that I was too young, gave their consent to an engagement which should end in matrimony two years later. Edward and I were blissfully happy, and he insisted on celebrating our engagement by a ball at his studio in Berners Street. I was still a mere child, and my delight knew no bounds at the prospect. With "youth at the helm and pleasure at the prow," how we enjoyed that evening More than a hundred and fifty guests were present. I wore a yellow tarlatan frock with white roses, and carried a bouquet given to me by my fiancé. A well-known singer had been engaged, named Russell, who electrified the company during supper by his song "The Maniac," a most gruesome one, but everyone was in such good spirits that it was regarded as a capital joke.
Never did two years seem so long as the time of probation set by my parents. They said it was to prove our affection for each other, to allow us to make certain that we had those qualities which would ensure a happy life together. It fully convinced us that life apart would be impossible, and we felt confident that the wedding would take place as promised when I was sixteen. But my mother was inclined to break faith with me, excusing herself by saying I was too young to know my own mind, and she wanted us to wait on indefinitely. My poor mother was jealous at my affection being given so fully to my future husband. She adored me and hated the idea of my leaving home, and I was high-spirited and spoilt. Everything I had desired had been lavished on me up to this time. The "rift in the lute" became greater, then both my parents became estranged from me, and visited their anger on poor Edward, against whom they had nothing save that he was determined to marry me. My grandfather understood the true position, and sided with the lovers. He tried to make my mother see reason, but she was an invalid, beset with nervous fears. I was constantly in disgrace, and for many months there was a strong current of friction. I was never allowed to go out with Edward unless a chaperone came too. I could not see or talk to him alone at home, and this strict supervision coming after a life of freedom proved most irksome to one of my nature. My mother finally pulled the reins too tightly, and I kicked over the traces. I found out that a letter Edward had sent to me had been opened at home. After thinking the matter over very deeply, I determined to persuade Edward to arrange matters for ourselves. We were at the Royal Academy one day, and settled our plan of campaign in the Octagon Room. We decided to make sure of not being parted altogether by my parents, and we chose the same church they were married at for our secret wedding. Wilkie Collins played an important part in our plot; he impressed great caution and secrecy, as he planned out the whole affair with zest and enjoyment. My sister-in-law, wife of Charles Ward, was another conspirator who fell in with his arrangements for uniting our destiny. My sister-in-law gained permission for me to spend a day with her at her home in Grove End Road, St. John's Wood; she called for me, and we walked to the Church of All Souls, Langham Place. It was May 4, 1848, and I was not yet sixteen years of age. The first person we saw was Edward, gaily attired in bridal array—wearing a conspicuous white waistcoat, and a lovely gardenia in his coat. He had further advertised his intentions of getting married, as he frankly admitted to us, by patrolling backwards and forwards outside the Church. We hastily demanded the flower from the dear unworldly soul, and I put it in my pocket, asking if he did not realise that even at the last minute my parents might be informed and come in time to stop the service. Edward, however, was in a jubilant mood, and seemed in no way sorry for his rash act. Wilkie Collins arrived soon after, well in his element. The spice of romance and mischief appealed to him; he gave me away to the best of men, with a hearty good will. All the time I was in a tremor of fear, lest my parents should arrive suddenly and make a disturbance. My sister-in-law and Wilkie Collins saw us into a cab for her home, and off we started. The cab was held up for some time by a crowd surrounding a belated May-Day "Jack-in-the-Green," a man dressed in fantastic attire with green boughs and leaves, walking on stilts. He looked into our window and grinned with delight, as we waved him away, in our anxiety to escape notice, and at last we arrived at my sister-in-law's house.
I spent the rest of the day quietly with Edward, drawing my little nieces in the nursery, till my parents arrived for dinner. Wilkie Collins was present, and his brother Charles (who in 1860 married Dickens's daughter Kate), and Mr. Piggott the art critic. With such good company the time passed quite naturally and gaily, and I walked back home after dinner with my parents (and Edward), outwardly demure, but with a fast beating heart, thinking how furious they would be when they found out that I had disobeyed them. But I felt, as events afterwards proved, that I had done a wise thing. The marriage had made it impossible for them to separate us, a thing my mother was quite capable of doing, thinking she knew best for my happiness. It was strange that the news never reached my parents, through acquaintances or some ill-natured relatives. The banns were duly read for three weeks, but the loyalty of friends, my grandfather, and sympathisers remained firm.
It was not until August 2, a day I shall never forget, that I left my home on a runaway honeymoon. I had suffered from nerves owing to all the worry over my engagement, and the doctor prescribed walking in the garden of the Square between six and seven every morning, and in the evening my parents, my husband, and I used to go to Regent's Park from eight till half past nine; then came supper and bed. In the early morning, on August 2, a cab was waiting on the opposite side of Fitzroy Square, and my husband was pacing up and down by the railings as I passed out of the house, carrying a few possessions. We drove to Iver, near Slough, for our honeymoon, to rooms which Wilkie Collins, who played the part of fairy godmother, had found for us. I threw the key of the Square over the gate as I passed out, and sent a boy with a letter announcing my flight as we took our departure. The bird had flown from the nest, one who, up till now, had been held up as a model of obedience. I heard afterwards of the scene which ensued on my leaving. There was a terrible disturbance, and my poor mother never really forgave me. In after years I used to go and spend a day once a month with her; my husband insisted on it—but I cannot say I enjoyed it.
We had an ideal honeymoon at Iver. The vicar, whose name was Ward, proved very friendly, and I sketched several parts of the country. We went on to Antwerp, gay Brussels, and Bruges, the pearl of Flanders. My first experience of Continental cities, seen under the glamour of youth, with the companionship of my husband, who had studied the history of those lovely places, was a halcyon time. In crossing to Antwerp, I noticed that we were the centre of interest. Everyone met us with a smiling face. The Captain ordered champagne, a toast was proposed, and all drank our healths. By this time I was firmly convinced they were mistaking us for some celebrities, and I whispered to my husband: "Is this usual on board ship?" "It is because you are a bride," he answered, laughing. I wondered how they knew, as we thought we had been careful not to proclaim the fact. We, had to avoid Paris, which was then in the throes of the Revolution of 1848.
I never regretted the decisive step I had taken, which would not have been taken in that way if life had not been made impossible for me by my father thinking it his duty to uphold my mother's point of view. And Edward would never have consented to the course we took if he had not clearly seen that it was the only thing to do. My godmother, Miss Henrietta Wetherby, a wealthy woman who intended leaving me her fortune, cut me out of her will owing to my undutiful conduct, and friends of my mother took her part. There was a vendetta against me for years, and when they wanted to relent I refused to be forgiven, and ignored the tardy hand of friendship. (pp36-41)
….
We often entertained in those early days of married life, and saw a great deal of the Collins family, who lived, as far as I recollect, in Dorset Square, near us. Mrs. Collins was the widow of William Collins, R.A. Her son Wilkie was a writer of great fame, and Charles inherited his father's gifts, and was one of the first members of the Pre-Raphaelite Brotherhood. It was at his mother's house that Wilkie arranged some private theatricals with Frith, Millais, and my husband, who designed all the costumes. One day, just before the play was to be produced, the leading lady told Wilkie that she declined to act, unless the leading gentleman was changed. Her reason was that he was so "hideous." Shortly after, the leading man appeared, begging to resign, on the plea that the lady in question was like an ogress. Wilkie Collins was by this time well aware that they detested each other, and accepted both resignations with good-humour. This play, Goldsmith's Good-natured Man, which was a great success, suggested a picture to Frith, which now hangs in South Kensington Museum. I remember the date that this took place, for it was the day my eldest child Alice was born, a matter of rejoicing, and our little girl was the consummation of our happiness. Of course Wilkie Collins, our good genius, was godfather, and acquitted himself well at the ceremony, as he always did. My next child, and eldest son, Leslie, later to be famous as the cartoonist "Spy," was born in November, 1851.
Later I received a lecture from old Mrs. Collins on my maternal duties, which I was foolish enough to take to heart for a time. She told me I was very wrong not to make my child's clothes and give all my time to domestic matters, and that if I did my duty to my husband and home there would be no time left to paint. I listened to her, and said
"If you think so, I will do it for a year"; and a very miserable time it proved to be without my art. At the end of the year my husband insisted on my taking apartments in Bloomsbury to be close to the Art School, as we then lived at Slough, and he came up to town each week from Saturday to Monday, and so I studied anatomy and drawing for six months assiduously. How I enjoyed it! Soon after this, I exhibited two pictures at the Royal Academy, "The Pet Hawk" and "Rowena," and the following year, 1852, "The Antwerp Market," Leslie being my model for the baby. Two persons wanted to purchase the latter picture, one of whom, finding it was already sold, commissioned me to paint "The Queen of the May," which was exhibited some years later. (pp52-53)
…
In my young days most people would have agreed with Mrs. Collins that a wife and mother had no right to be a practitioner in paint, and I think in most households it would have been rendered impossible by the husband's and relations' combined antagonism to the idea. Edward was greatly in advance of his age in broadmindedness, and this fact spurred me on to success. My work required great concentration, and orders were strictly enforced that I was not to be disturbed during certain hours of the day. And Edward observed the rule, being also immersed in his own artistic problems quite to the exclusion of the whole world. But there were exceptions: I was occasionally confronted by an alarmed servant coming to tell me of a domestic tragedy; some knotty point that could only be solved by the mistress of the house. (p124)
…
I can hardly express the goodness and kindness of my friends at this time. On the day of Edward's funeral, the President, Sir Frederick Leighton, and nearly all the Royal Academicians stood by me, my father was with me, and such a crowd of people who had loved and respected my husband and were determined to do honour to his memory. There were students from the Royal Academy unknown to me, porters and models, and many others I had never seen, but to whom Edward had endeared himself by many acts of courtesy and kindness, as was his invariable rule. The blinds were drawn all over Windsor as a mark of respect. All this sympathy touched me deeply, and I was glad to remember it afterwards. Constant inquiries during Edward's long illness had come from many-Wilkie Collins, Tom Taylor, and William Powell Frith, among others.
"January 14, 1879.
"MY DEAR MRS. WARD,
"I have only this moment heard from Charles that Edward is seriously ill. Your residence in the country and my busy life in London have been great obstacles in the way of our meeting for too long a time. But I do not forget the old friends, and the old times, and I take this way, rather than no way, of assuring you of my sympathy and my most earnest hope for better news before long of the health of my old friend. At this time of anxiety pray don't think of answering my letter. If there is improvement, and if Alice will write just one line to say so, I shall be rejoiced to hear it.
"With love to you all.
"Yours always truly,
"WILKIE COLLINS."
(pp194-195)
…
Lord Lytton's comedy Not so Bad as We Seem was produced and acted, first on May 16, 1851, at Devonshire House, and afterwards at the Hanover Square Rooms and in provincial centres. These performances were in aid of the "Guild of Literature and Art," whose aims were "to encourage life assurance and other provident habits among artists and authors, to render such assistance to both as shall never compromise their independence, and to found a new institution where honourable rest from arduous labour shall still be associated with the discharge of convivial duties."
The ticket of admission for the performance was designed by Edward, and the card was extremely large, being seven by nine inches. On one side Richard Wilson was to be seen just entering a pawnshop, carrying under his cloak a picture he was obliged by necessity to part with. On the other side was Daniel Defoe, returning from the publisher's with his rejected book.
The cast was a very remarkable one, composed of amateur actors, and at the same time representative of the most famous men in the world of art and letters. For example: Charles Dickens, Wilkie Collins, John Tenniel, Frank Stone, A.R.A., Mark Lemon, John Forster, R. H. Horne, Charles Knight, Mrs. Compton, the famous actress, Peter Cunningham, Robert Bell, Augustus Egg, R.A., and Douglas Jerrold.
A specially constructed stage was made, which was first used at Devonshire House and afterwards in the provinces. Artists of note painted the scenery Stanfield, David Roberts, R.A., Clarkson, Telbin, Pitt. The splendid "drop" scene was painted by David Roberts, R.A., and was a real work of art.
In 1921 Not so Bad as We Seem was revived again, some of the parts being played by relatives of the actors of 1851. Mr. H. C. Dickens, grandson of the great novelist, with Miss Rebecca West, Miss Tennyson Jesse, Mrs. Asquith, Mr. W. L. George, Mr. Neville Lytton (grandson of the author), Mr. Ivor Novello, Mr. Pett Ridge, Sir Gilbert Parker, and Mr. Harold Terry were in the cast. (pp235-236)
…
In the early stage of our acquaintance with Millais he invited us to meet his parents at his studio. His mother had an unbounded admiration for her son, and did not hesitate to declare him to be the greatest artist in England. At that time the Pre-Raphaelite craze had not broken out, to become the one topic in all artistic circles. Later on, Millais, with Holman Hunt, Rossetti, Luard, Stephens, and others, became ardent exponents of this remarkable "cult," and they found patrons of their own—amongst others, Mr. Comb of Oxford, who was one of the first to encourage them all the way along.
Charlie Collins was chosen to air their views at Oxford, where his works of art can still be seen. It was a youthful movement, Millais being little more than a boy when it began. They wrote P.R.B. after their names, for were they not the "Pre-Raphaelite Brothers"? For several years the members adhered to their principles. Gradually the Brotherhood dissolved.
In 1854 my grandfather wrote to a friend: "Can you tell me how it comes that Millais, a Pre-Raphaelite, has been elected an A.R.A.? I am told, too, that the young gentleman is not more than two or three and twenty at the most."
Millais once came to my studio to give instruction to my classes, and I showed him a drawing he did some years previously, a pencil portrait of Wilkie Collins's niece. He looked at it attentively, and said "I have done some very bad things, and this is one of them." I replied, "No. It is beautifully drawn; it is only in the manner that you have altered to a great extent." He then said, "My work has brought forth good work, but what they are doing now will lead to nothing." Which proved only too true. (pp291)
---
From Memories of Ninety Years by Mrs. E. M. Ward ed. Isabel G McAllister, London [1924].
---
go back to Wilkie Collins front page
visit the Paul Lewis front page
---
All material on these pages is © Paul Lewis 1997-2007
---