1872
Vanity Fair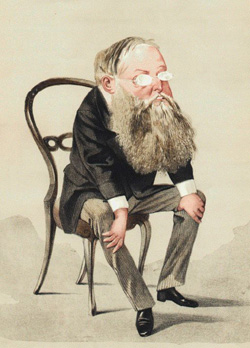 This short essay accompanied a caricature by the Italian artist Adriano Cecioni (1838-1886). Its author is unknown. The essay and picture were published on 3 February 1872.
---
MEN OF THE DAY. No. 39.
———
MR. WILKIE COLLINS.
———

THE appetite for that union of Love and Fiction which once was called the Romance, and is now known as the Novel, has always been strongly developed among the idle people of all ages and all countries. The aspects of the Romance have been however as varied as the aspects of those passions of mankind which it professes to present or at the least to translate. Love—as the most vulgar relation of the sexes is termed, in a desperate attempt to disguise it—has always been the central object, but it has been associated successively with the high-flown sentiment of chivalry, with theories of morals, with the matters of fact of politics, with the greed for money, and with all the thousand meannesses which have been recognised in human nature. Every romance that is written makes the next more difficult to write, and, deluged as England has been in modern times with works of this class, it must have seemed almost impossible twenty years ago, when Mr. Wilkie Collins first took up the pen, to strike out any distinctly new line of treatment of the old subject.

Especially difficult must it have seemed to secure the attention of jaded readers for any attempt to puzzle or to horrify them. They had been puzzled and horrified by millions of volumes, and knew every trick and every spring so well that it appeared to have become impossible to raise any other feeling but mirth with any puppets acting in any conceivable way. Mr. Wilkie Collins, however, recognised the rudeness of the contrivances hitherto in vogue, and by a far more artistic and conscientious treatment than had yet been attempted, he essayed to revive once more the interest in horrors. He is entitled to be called the novelist who invented Sensation. "The main elements in the attraction of all stories," he holds, "is the interest of curiosity and the excitement of surprise," and he has so succeeded in working his materials that curiosity and surprise succeed each other in each one of his pages without ever being relieved until the last. He has struck the note of that vast Superstition which lies in all of us as a recognition of the mystery of the world with a happy hand, and piling incident upon incident in the most lavish profusion, keeps his readers in a perpetual state of "jumps" till he chooses to release them. Many of his characters are revolting, some are impossible, but many, like Fosco, are ingenious and startling; and some, like Fairlie, are exquisite His best work is perhaps "Armadale," and his special merit is that he treats a labyrinthine story in an apparently simple manner, and that the language in which he writes is plain English.
---
From Vanity Fair 3 February 1872
---
go back to Wilkie Collins front page
visit the Paul Lewis front page
---
All material on these pages is © Paul Lewis 1997-2006
---