1909
Charles Dickens and his Friends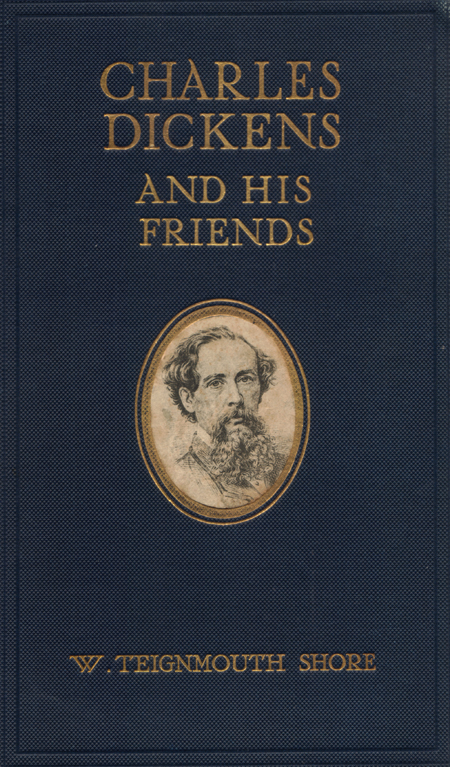 William Teignmouth Shore (1865-1932) collected anecdotes and stories from people who knew Dickens and his contemporaries. He alos uses printed reminiscences so some of the material is familiar but some is not. He is the only source for Collins's entertaining letter to Mrs Milnes of 1862.
---
XXVIII
WILKIE COLLINS
OF Wilkie Collins, who will make further appearances in these pages, it now behoves us to say somewhat. William Wilkie, to give him his full name, was the eldest son of William Collins, the painter, and the elder brother of Charles Allston Collins—whom we shall meet later on—and was born in the year 1824 in Tavistock Square. He was called after his father's old friend Sir David Wilkie. His early travels with his parents in Italy supplied him with material for his first novel "Antonina," which work so pleased his father that he was freed from "durance vile" in the tea-warehouse in which he had been employed. Of his first coming into contact with Dickens the following is the record. On February 10, 1851, Dickens wrote asking W. H. Wills to take a small part in "Not So Bad As We Seem." Wills could not or would not, so Dickens reminded Egg that he had said that Wilkie Collins would be glad to play any part in the piece and suggested for him the character proposed to Wills. "Will you undertake," he wrote, "to ask him if I shall cast him in this part?....I knew his father well, and should be very glad to know him."
In 1849 a landscape of his was hung at the Royal Academy, and "Antonina" was published in 1850. He was a skilful painter of landscape. Holman Hunt states that in his early days he had thought of being an artist, and describes him in 1851 thus:—"He was a man now, slight of build, about five feet six inches in height, with an impressive head, the cranium being noticeably more prominent on the right side than on the left, which inequality did not amount to a disfigurement; perhaps indeed it gave a stronger impression of intellectual power. He was redundant in pleasant temperament…"
He was highly gifted socially, blessed with unbounded good humour and with a happy facility for relating good stories. He was fond of foreign travel, including trips to Paris; was a bon vivant. A friend tells us that he gained his impulse to write fiction from the perusal of French novels, the art of which appealed strongly to him. From the same source we gain two anecdotes which throw light upon his habits. He was not a punctual man; Dickens was, and had not only ordained that breakfast should be at nine o'clock, but that those who were late for it might, or rather should, 'go without.' The result was that once when staying at Boulogne with Dickens, Collins was discovered breakfasting in solitary state at the Casino off pâté de foie gras! Convivial customs were more honoured in the observance than the breach in those days. At a christening party Collins arrived very late, after an excellent dinner. The happy infant was produced by the mother for his admiration; Collins steadied himself, looked solemnly at it, and said,
"Ah! Child's drunk. He's very drunk!"
Rudolf Lehmann tells us that "in his moments of good health he used to be a ready, amiable talker, but unfortunately they were rare. He had found laudanum most efficacious in soothing his excruciating nervous pains. Like the tyrant of old who, to make himself proof against being poisoned, swallowed a daily increased portion of poison, Wilkie had gradually brought himself, not only to be able, but absolutely to require, a daily quantity of laudanum a quarter of which would have been sufficient to kill any ordinary person."
It was he who said of Forster's "Life" that it was "the Life of John Forster, with occasional Anecdotes of Charles Dickens," a cynicism with just sufficient semblance of truth to give it stinging power.
Holman Hunt writes of him about 1860, "No one could be more jolly than he as the lord of the feast in his own house, where the dinner was prepared by a chef, the wines plentiful, and the cigars of the choicest brand. The talk became rollicking and the most sedate joined in the hilarity; laughter long and loud crossed from opposite ends of the room and all went home brimful of good stories."
He sometimes would burst out, "Ah! you might well admire that masterpiece; it was done by that great painter Wilkie Collins, and it put him so completely at the head of landscape painters that he determined to retire from the profession in compassion for the rest," and so on in good-humoured chaff of himself.
Motley describes him—at a dinner at Forster's in 1861—as "a little man, with black hair, a large white forehead, large spectacles, and small features. He is very unaffected, vivacious, and agreeable."
The following amusing story is told anent Dickens's fondness for clothes more "coloured" than "plain":—
A well-known artist was one day made a present of a very gorgeous piece of stuff, and was puzzled as to what use he could put it. "Oh, send it to Dickens," said Wilkie Collins, "he'll make a waistcoat of it."
He died in 1889. Whether his novels will live is a matter which future generations only can determine, but the past and passing generations Wilkie Collins helped to spend many hours pleasantly over the pages of "The Moonstone," " The Woman in White," and other tales distinguished chiefly for the clever contrivance of their plots. (pp195-198)
….
Sir Wemyss Reid gives an amusing letter from Wilkie Collins to Mrs Milnes
"12, HARLEY STREET, W., May 17th, 1862.
"DEAR MRS MILNES,—I have always had a foreign tendency to believe in Fate. That tendency has now settled into a conviction. Fate sits on the doorstep at 16, Upper Brook Street, and allows all your guests the happiness of accepting your hospitality with the one miserable exception of the Doomed Man who writes this letter. When your kindness opened the door to me on the occasion of your 'At Home,' Fate closed it again, using as the instrument of exclusion a neuralgic attack in my head. Quinine and patience help me to get the better of this, and Mrs Milnes (with an indulgence which I am penitently conscious of not having deserved) offers me a second chance. Fate, working with a postman for an instrument on this occasion, sends me a dinner invitation for Thursday, the 22nd, one day before I receive Mrs Milnes's kind note. No guardian angel warns me to pause. I accept the invitation, and find myself engaged to dine on the 22nd, not in London, for I might then have asked permission to come to Brook Street in the evening, but at Richmond, where there is no help for me.
"I think this 'plain statement' really makes out my case. I have not the audacity to ask you to accept my apologies. My aspirations are limited to presenting myself as a fit object for your compassion. The ancients, in any emergency, were accustomed to mollify Fate by a sacrifice. I am quite ready to try the experiment. If I presented myself on the doorstep of your house with a portable altar, a toga, a live sheep, and a sacrificial knife, would it be convenient? I fear not. A crowd might collect; the Animals' Protection Society might interfere at the moment of divination, and Mr Milnes might be subjected to annoying inquiries in the House of Commons. My only resource left is to ask you to exercise the Christian privilege of forgiveness, and to assure you that I deserve it, by being really, and not as a figure of speech, very sorry." (pp209-210)
….
In 1854, on Twelfth Night, and in 1855, there were theatricals with the children as the "company," "supported" by a few grown-ups; Henry Fielding's burlesque "Tom Thumb" was one of the pieces performed, and "Fortunio" another. "Uncle" Mark Lemon was the giantess Glumdalca in the former, and Dickens the ghost of Gaffer Thumb. Thackeray, who was among the audience, rolled off his seat in uncontrollable laughter, so great was his amusement at one of the songs. In "Fortunio" Lemon appeared as the dragon, and Dickens as the irascible Baron. The "bill" contained many funniments, such as the announcement of the "Re-engagement of that irresistible comedian Mr Ainger," and such names for the performers as Mr Passé (Dickens), Mr Mudperiod, Mr Measly Servile, and Mr Wilkini Collini.
Of the year 1855, Edmund Yates writes, "Visiting relations had …been established between us and the Dickens family, and we were invited to Tavistock House, on the 18th of June, to witness the performance of Wilkie Collins's drama, The Lighthouse, in which the author and Dickens, Frank Stone, Augustus Egg, Mark Lemon and the ladies of the family took part. My mother, who went with us, told me that Dickens, in intensity, reminded her of Lemaître in his best days. I was much struck by the excellence of Lemon's acting, which had about it no trace of the amateur…It was a great night for my mother. She renewed her acquaintance with Stanfield and Roberts, and was addressed in very complimentary terms by the great John Forster. Thackeray and his daughters, Leech, Jerrold, Lord Campbell, and Carlyle were there."
Stanfield was the scene-painter, and Dickens, who was "Mr Crummles, lessee and manager," writes to him, "I have a little lark in contemplation, if you will help it to fly. Collins has done a melodrama (a regular old-style melodrama), in which there is a very good notion…Now there is only one scene in the piece, and that, my tarry lad, is the inside of a lighthouse…We mean to burst on an astonished world with the melodrama, without any note of preparation. So don't say a syllable to Forster if you should happen to see him."
After the show, "we then turned to at Scotch reels (having had no exercise), and danced in the maddest way until five…"
The most famous performance was the production of "The Frozen Deep," by Wilkie Collins, on Twelfth Night, 1857, the birthday of Charles Dickens the younger. (pp229-230)
…
It was a time of great rejoicing when, in the summer of 1860, Miss Kate Dickens married Charles Alston [sic] Collins, younger brother of Wilkie. He was born in 1828. He had studied art, joining the Pre-Raphaelites, and given proofs of rare abilities, but his health was not strong, and he turned to literature, contributing some charming essays to All The Year Round. He died in 1873, and, as Forster says, "until then it was not known, even by those nearest to him, how great must have been the suffering which he had borne, through many trying years, with uncomplaining patience."
Among those present at the wedding were Holman Hunt, as best man, Mary Boyle, Marguerite Power, Fechter, Edmund Yates, Percy Fitzgerald, W. H. Wills and his wife, Henry Chorley, Chauncey Hare Townshend, and Wilkie Collins. (p274)
---
From W. Teignmouth Shore Charles Dickens and his Friends London 1909
---
go back to Wilkie Collins front page
visit the Paul Lewis front page
---
All material on these pages is © Paul Lewis 1997-2007
---