1892
Nina Lehmann writes...in 1866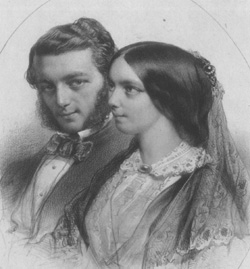 Nina Lehmann was a close friend of Wilkie's from before the time she met her husband Frederick. She and Frederick (above on their wedding day) remained his closest friends until his death. In 1866 Nina was in Pau in France for her health and she wrote many letters to her husband. This paragraph is from a letter to him dated 30 October 1866. It refers to a letter from Wilkie which is dated 26 October 1866. Their son Rudolph Chambers Lehmann collected some of their letters in a privately printed book in 1892.
---
I have a charming letter from Wilkie to-day that I will send you in my next after I have answered it. I wish I could go, as he desires, to Rome next month and meet him in the Forum. You may read part of his letter to — (you will easily discover what part), and ask him if that isn't a good friend to have. Ah me! yes, steady friendship that continues for nearly twenty years, always the same, always kind, always earnest, always interested, always true, always loving and faithful—that is worthy the name of friendship indeed. I value my Wilkie and I love him dearly.
---
From Familiar Letters N.L. to F.L. 1864-1867 Privately printed 1892 p45
---
go back to Wilkie Collins front page
visit the Paul Lewis front page
---
All material on these pages is © Paul Lewis 1997-2006
---