5 February 1887
Men and Women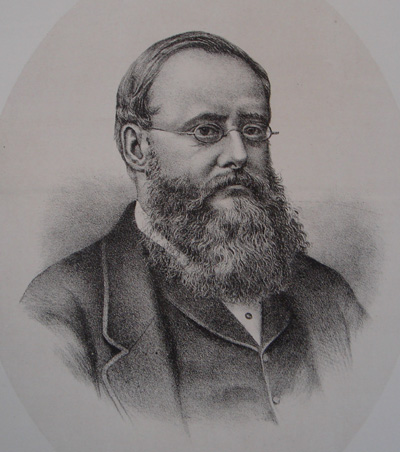 This interesting biography contains a great deal of unique autobiographical accounts apparently quoted verbatim by an unknown interviewer. Men and Women was a short-lived periodical (1886-1887) which published a feature biography in Our Portrait Gallery with a full page photograph. Other pages contained shorter biographical details together with the whereabouts and doings of the famous. Wilkie Collins's biography appeared in the issue of 5 February 1887 and was the 36th in the series. The full page portrait was "taken from a photograph by Elliott & Fry".
Our Portrait Gallery.
MR. WILKIE COLLINS
We can hardly imagine a greater surprise than awaited us on our first introduction to Mr. Wilkie Collins. How often, in years gone by, had we been thrilled by the weird creations of his fertile brain. The figures on his canvas had become to us familiar beings, a part of our very lives. To this day we can never pass the Acacia-road without expecting to meet Count Fosco, and more than one of his heroines are to us the living ideals of all that is loveliest and most loveable in womanhood. Somehow we had come to suppose that the writer who had opened for us a new world of sensational fiction would reflect in his person and surroundings something of the strange and often fearsome realm through which he had led us. So far from this, we find him seated in the most modern-looking of drawing-rooms, which extends the whole depth of his house in Gloucester-place. It is only redeemed from the prosaic character of similar rooms all over London by the profusion of exquisite paintings and engravings with which the walls are covered. This, explains the author of "The Woman in White," is his workroom. But if we expect some well-filled bookshelves, the only suggestion of literary labour is a sloping desk which stands on an old-fashioned library table. In this room Mr. Collins finds something like the space of an American liner's deck in which to pace up and down, as is his habit, when weaving the tangled plot of his exciting stories. Personally he is of the most winning and gentle manners, somewhat below the middle height, with hair and beard whitened with the snows of sixty winters. His face is of a singularly refined type, the nose small and aquiline, while the full, somewhat prominent grey eyes betray the imaginative faculty with which he is so richly endowed. Such in the flesh is Mr. Wilkie Collins, who proceeds to chat with you in the most pleasant and unaffected manner of his work, of the struggles and vicissitudes of his early life, and of some among his contemporaries whose names have added an unfading glory to English literature.
"I am," he remarks, "as you probably know, a son of the great painter whose portrait you see facing us. No one could have had the happiness of possessing kinder or more indulgent parents than myself. My mother was a woman of remarkable mental culture, and from her I inherit whatever of poetry and imagination there may be in my composition. I was educated at private schools, and my father wished me to go to Oxford, but I had no inclination for a University life, and if it be not heresy to say so, I am no great admirer of University life now. It became necessary, however, that I should decide upon some career in life, and I told my father that I thought I should like to write books, though how to write, or on what subjects, I don't believe at the time I had the smallest conception. However, I began to scribble in a desultory kind of way, and drifted, I hardly know how, into tale-writing.
This went on for sometime, till an intimate friend of my father's remonstrated with him on the folly of allowing me to waste my time on a pursuit which could never lead to anything but the traditional poverty of the poor author, and he mentioned an eligible opening in a tea-merchant's office as a suitable position for me. My kind father proposed that I should accept the berth. I assented readily, and was soon duly installed in my new post. But I could not resist the temptation of reverting, even in office hours, to my old pursuit. This was discovered by my master, the tea-merchant, who, on several occa1sions, reprimanded me. I was, however, quick at my office work, and whenever he found me tale-writing, I was always able to show that I had finished everything he had given me to do. Thereupon he would give me extra work, but still I managed to spare an hour or two in the day for my favourite pursuit. While in the tea-merchant's office, I completed a wild extravagant story, the scene of which, I remember, was laid in Tahiti before its discovery by the English. The manuscript of this tale I induced my good father to submit to Messrs. Longman, whose reader presently returned it with an intimation that the story was hopelessly bad, and that in his opinion the writer had not the smallest aptitude for romance-writing, and had no possible prospect of succeeding in a literary career. I met the worthy man years after at a dinner party, when 'The Woman in White' was running through Household Words, and I remember that neither of us could forbear from bursting out a-laughing at the rencontre. Everybody seemed to conspire to shut the gates of the realms of fancy in my face. Tea, however, seemed to lead to nothing, and another friend of my father's suggested that I should go to the Bar, which would make me eligible for the many Government appointments open to barristers, one of which my father's influence would easily procure for me. I assented at once to the proposition and was accordingly entered as a student at Lincoln's Inn. Those were the old 'mutton days' at the Bar, when learning was not at all essential to becoming 'a gentleman learned,' as they are called, 'in the law.' I was, however, placed with an eminent conveyancer, who set me to study Blackstone's Commentaries. I worked hard and conscientiously; but at the end of two months I had conceived such a complete disgust to the law, that I was obliged to tell my father that I could endure the drudgery no longer, and to beg him to allow me to enter on some other occupation. I felt that he was disappointed; but with his usual indulgence, he forbore to force my inclinations. So I returned to my tale writing once more, and to the dreamy sort of existence at home, which was so much more congenial than poring over musty books of law in the chambers of my legal pastor and teacher. To make some sort of pretence of legal learning, it was usual for every candidate for a wig and gown to read a thesis, which usually consisted of some such conclusion as this :— 'I hold that the widow should take the estate.'
"I remember that, just after I was called, a Senior Wrangler had occasion to pass the very easy legal ordeal necessary in similar circumstances. With a spirit of mischief not very commendable, I fear, I suggested that he should take special care in getting up the case he had to argue before the Benchers, as their requirements as to the legal qualifications of candidates for the Bar were, in our Inn, unusually strict. Some of my newly-fledged fellow barristers fell readily into the joke, and endorsed my opinion. The Senior Wrangler expressed his thanks for my advice, and spent, I believe, some days in diligent study of the law applicable to the case he had to argue. On the appointed day he duly appeared before a venerable Bencher, who listened with ill-concealed amazement to the learned argument of half an hour's length which he addressed to him in supporting the proposition that 'the widow should take the estate.' But he said nothing. Our friend remarked, when we met again, that the Bencher seemed rather puzzled at the harangue he had made to him in Hall, when we felt compelled to acknowledge the practical joke we had played on him, and to say that we were at his mercy, when he joined, like a good fellow, the laugh at his own expense.
"And so, with the slenderest possible acquaintance with law, I became a barrister. But instead of looking out for briefs, I was busy writing a novel, which at length brought me the name and reputation for which I had so ardently longed. The story was 'Antonina.' I sent the first volume to Colburn, who promptly returned it with a chilling 'Declined, with thanks.' Next I tried Bentley, who, to my surprise and delight, accepted the first volume, all I had completed, eagerly; and, with a liberality unheard of in those days to an unknown beginner, actually gave me £200 on the completion of the book. My dear father, unhappily, only lived to see the dawn of my success in2 literature. I read to him the first volume of 'Antonina,' when his death intervened, and I busied myself for some months with writing his life before resuming my work on that novel. Mr. Bentley took a great fancy to 'Antonina' and to me. He insisted on binding my virgin book, as he called it, in gold and white, and he used to invite me to his little dinners, where he would introduce me to many of the eminent literary men of the day, as the rising young novelist he had discovered. Not long afterwards I became acquainted with Dickens, who threw open to me the pages of Household Words, and placed such confidence in my work that he would read nothing I wrote for him until he saw the proof. Between the Dickens family and my own there existed the closest friendship till his untimely death, hastened very much, I believe, by his Readings, which passed the borderland which divides reading from acting, and were a terrible physical strain upon his constitution. I remember his asking me to be one of a select party to hear him read 'Oliver Twist,' in which he wrought himself up to a pitch of fearful excitement. His pulse was eighty when he came into the room, and before he had concluded it was up to a hundred and twenty. Remarking that I did not come on to the stage and congratulate him like the rest of his friends on the conclusion of the Reading, he came down and said to me—
"'Why, Collins, don't you like it?'"
"'Yes,' I replied, 'it is magnificently done; but I believe if you attempt that reading in public you will fall on the stage from utter prostration.'
"Dickens did attempt it, but with such serious results that his doctor—he happens to be mine now—who was summoned, insisted on taking him off to London with him, and leaving the entertainment which was already announced, to be abandoned. Indeed, his last book, or rather fragment, 'Edwin Drood,' showed that his great powers were terribly weakened."
The families, indeed, were very closely connected, Wilkie Collins' brother, the author of the charming "Cruise upon Wheels," having married Dickens's second daughter. To "Antonina" succeeded "Basil," "Hide and Seek," "The Dead Secret," "The Woman in White," and the other well-known works of fiction which have followed it. "And that," said Mr. Collins, "is the story of my literary life."
Of all Wilkie Collins's novels, "Fallen Leaves," which appeared first in the columns of the World several years ago, is, in the opinion of the present writer, the most exquisite piece of literary work he has ever accomplished—as delicate, fragile, and as beautiful as a bit of Dresden china. It was the story of the rehabilitation of a young girl who had been driven, almost in childhood, by a brutal father into vice. The steps by which the innocence of maidenhood was regained, and the girl awakened to the consciousness of a happy and virtuous love, are told with a truth and pathos of beauty which no other novelist could have approached. The marriage of the girl to the man whom accident had made her rescuer completes the first part of the story of "Fallen Leaves," and in his concluding sentence Mr. Collins promised to write the sequel of their married life.
"Why," we ventured to ask him, "have you never given us the promised sequel?"
"Ah!" he replied, with something like a sigh, I found when I came to work out the plot that I should be compelled to kill the girl, and I had grown so fond of her that I could not bear the pain of doing so."
Those who have read this touching story will be grateful to Mr. Collins that he has left it—a beautiful fragment.
Mr. Wilkie Collins's reputation has been gained rather as a writer of sensational fiction, and no other novelist surpasses him in the exciting incidents which form the web of his story, and certainly he is unapproachable in the skill with which he conceals the dénouement of his stories to the very close. But we venture to think that it is in such stories as "Fallen Leaves," or the charming idyll, "The Guilty River," which appeared only at Christmas, that some of his highest qualities as a writer are displayed. The face and figure of "Cristel" in the last seem as familiar to us as we close the book as though we had lived in the same village as the miller's daughter, and seen her grow up from her shy wayward childhood to her glorious womanhood, and yet we shall fail to find a single line actually descriptive of the girl. "No," said Mr. Collins, as we remarked on the wonderful skill and delicacy of touch with which the vivid impression was produced on the reader's mind, "you will find that a writer who attempts an elaborate personal description always fails to produce any distinct impression on the reader's mind. It is created in 'The Guilty River' by what the lovers say to each other." This little story forms the Christmas number of3 Arrowsmith's Library, and it may astonish the accomplished amateurs who can dash off a three-volume novel in a few weeks, to learn that "The Guilty River" took Mr. Collins a month to write, working twelve hours a day. But when completed it is a cabinet picture which we love to keep by us, and admire its beauties again and again, while only Mudie can tell us what becomes of all the three-volume novels.
While on the subject of novels we ventured to ask Mr. Collins if he agreed with us as to the barrenness of the land in new writers of fiction who would leave any mark on the literature of their time. "I quite agree with you," he replied: "'King Solomon's Mines' is by far the best novel I have read for a long time. After all, not one of us, since Sir Walter Scott wrote his immortal novels, has ever approached his marvellous powers of imagination." Reminding Mr. Collins that his distinguished fellow-novelist, James Payn, dictated all his novels, which were taken down by one of his daughters with a type-writer, we asked whether he never adopted some such labour-saving process. "No," he replied; "my ideas vanish with my pens and paper. Every one of my novels has been written with my own hand."
Some twelve years ago Mr. Collins paid a visit to America, "but," he remarked, "their terrible railway journeys, during which I cannot get a moment's sleep, and the stoves, which make their rooms like ovens, nearly killed me. I remember once, after two days' and a night's travelling, I was so utterly worn out that I asked the landlord of the hotel if he had any very dry champagne. He replied that he had. 'Then' I said, 'send a bottle up to my bedroom.' I drank the whole of it, and informed him that though it was only noon, I was going at once to bed, and that all visitors were to be told that I might possibly not get up for a week. I heard afterwards that after twenty-four hours some callers were allowed to come up and peep in at the door, which I had not locked; but all they saw was 'Mr. Collins still fast asleep.'" "Nothing," observed Mr. Collins, "struck me so much as the reluctance of the Americans to walking exercise. I was a pretty good pedestrian in those days, and thought nothing of a daily constitutional from my hotel in Union-square to Central Park and back. Half a dozen times on my way, friends in carriages would stop and beg me to jump in. I always declined, and I really believe that they regarded my walking exploits as a piece of English eccentricity. No, I was not lecturing in America, though it seems strange to hear of any literary Englishman going there for any other purpose in the world. I went there partly for amusement and recreation, and partly to read a short story of mine called 'The Dream-Woman."
Two hours had passed delightfully away with one of the best causeurs among the literary men of the metropolis. Darkness had fallen on Portman Square, and a servant lit half a dozen wax candles, "for," said Mr. Collins, "I hate gas, And now it is too late to show you my father's pictures—some of which are my priceless heirlooms. There is one here which he painted entirely out-of-doors at Sorrento. The water is said by many good judges never to have been equalled by any other artist."
Mr. Collins has been a voluminous writer of fiction. Some twenty-six novels represent the work of thirty-seven years; but he has hardly produced one which is not a masterpiece of its kind, and they will all take their place among the classics of English fiction. Perhaps of no novelist have the works so high a market value as those of Mr. Collin. Five thousand pounds appears a large sum for a three-volume novel: this was the price paid for 'Armadale' by Smith, Elder and Co. before a line of that work was written; but it must be remembered that there are not two men in England who could produce such work. Most of his tales have been translated into the principal European languages, and enjoy everywhere a deservedly wide popularity; and two of them, "The Woman in White" and "The Moonstone," have been translated into Bengalee.
Those who have the pleasure of Mr. Collins's more intimate acquaintance know under what painful physical difficulties his later works have been produced. He suffers from periodical attacks of one of the most prostrating of maladies—gout in the eye, which often condemns him for many weeks together to enforced idleness. But nothing can damp the brightness and geniality of his disposition, or that unfailing sweetness of temper, which are so seldom found in men of transcendent genius. Such qualities have made him dear to that wide inner circle of personal friends, who have the happiness to know him as the man, as well as the novelist.
---
From Men and Women - A Weekly Biographical and Social Journal Vol.III No.36. Saturday 5 February 1887 pp281-282
---
go back to Wilkie Collins front page
visit the Paul Lewis front page
---
All material on these pages is © Paul Lewis 1997-2006
---