1915
Forty Years of 'Spy'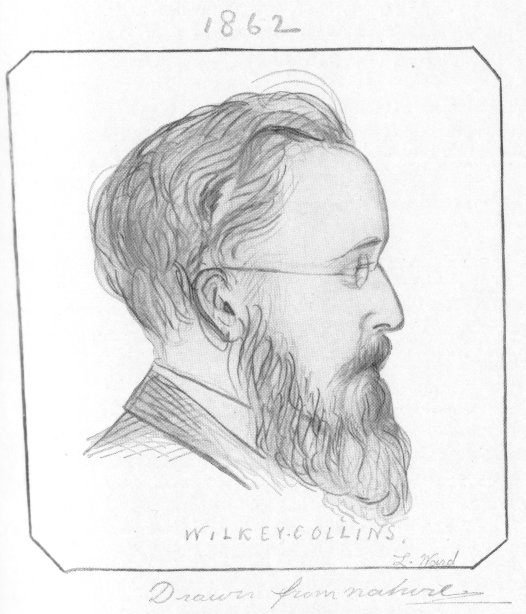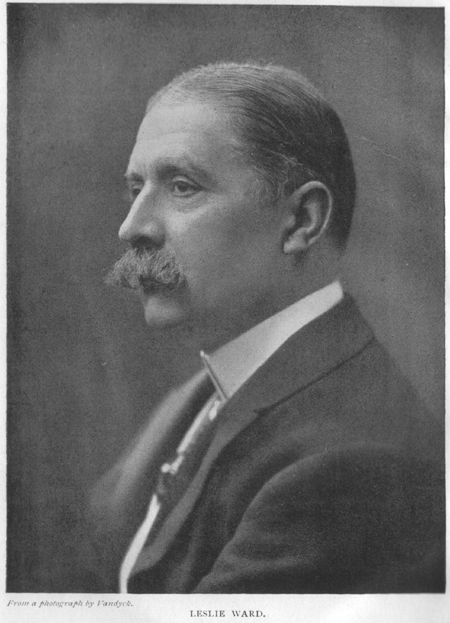 Sir Leslie Ward (1851-1922) was the son of Edward and Henrietta Ward. He is best known as the Vanity Fair caricaturist 'Spy' and produced 1325 caricatures for the magazine between 1873 and 1911. Ward's parents Edward and Henrietta were close friends of Collins – see Henrietta's reminiscences of 1911 and 1924. When he was aged 11, Ward drew the image above of Wilkie Collins. This brief reminiscence contains a couple of anecdotes about Collins and his mother and brother.
---
Wilkie Collins came into my life even earlier than this. I was going to say I remember him at my christening, but I am afraid my words would be discredited even in these days of exaggeration. The well-known novelist, who was a great friend of my parents, was then at the height of his fame. He had what I knew afterwards to be an unfortunate "cast" in one eye, which troubled me very much as a child, for when telling an anecdote or making an observation to my father, I frequently thought he was addressing me, and I invariably grew embarrassed because I did not understand, and was therefore unable to reply.
Other members of the Collins family visited us. There was old Mrs. Collins, the widow of William Collins, R.A.; a quaint old lady who wore her kid boots carefully down on one side and then reversed them and wore them down on the other. She had a horror of Highlanders because they wore kilts, which she considered scandalous.
Charles Collins, one of the original pre-Raphaelite brotherhood, her son, and Wilkie's brother, paid frequent week-end visits to our house, and the memory of Charles is surrounded by a halo of mystery and wonder, for he possessed a magic snuff-box made of gold inset with jewels, and at a word of command a little bird appeared on it, which disappeared in the same wonderful manner. But what was even more wonderful, Mr. Collins persuaded me that the bird flew all round the room singing until it returned to the box and fascinated me all over again. In after years I remember seeing a similar box and discovering the deception and mechanism. My disappointment for my shattered ideal was very hard to bear. (pp6-7)
…
A visit to London, which made a far greater impression on me, was made later, when I went to Astley's Theatre. Originally a circus in the Westminster Bridge Road, started by Philip Astley, who had been a light horseman in the army, the theatre was celebrated for equestrian performances. "Astley's," as it was called, formed the subject of one of the "Sketches by Boz." "It was not a Royal Amphitheatre," wrote Dickens, "in those days, nor had Duncan arisen to shed the light of classic taste and portable gas over the sawdust of the circus; but the whole character of the place was the same, the clown's jokes were the same, the riding masters were equally grand . . . the tragedians equally hoarse. . . . Astley's has changed for the better . . . we have changed for the worse."
Thackeray mentions the theatre in "The Newcomes." "Who was it," he writes, "that took the children to Astley's but Uncle Newcome?"
Mr. Wilkie Collins and Mr. Pigott (afterwards Examiner of Plays) took us; we had a large box, and the play—Garibaldi—was most enthralling.
I was overwhelmed with grief at Signora Garibaldi's death scene. There were horses, of course, in the great battle, and one of these was especially intelligent; limping from an imaginary wound, he took between his teeth from his helpless rider a handkerchief, dipped it in a pool of water, and returned—still limping—to lay the cool linen upon the heated brow of his dying master.
Thrilling with excitement and fear, it never occurred to me that the battle, the wounds, and the deaths following were anything but real; but all my grief did not prevent me from enjoying between the acts my never-to-be-forgotten first strawberry ice. (pp15-16)
…
Wilkie Collins once wrote a play, called The Lighthouse, for some private theatricals in which Dickens acted. My father designed the invitation card, and the original drawing was sold at the Dickens' sale at Christie's, where it fetched a high price. At the last party given by Miss Dickens before he died, I was introduced to the great author, and curiously enough, he said, "I am so pleased to make your acquaintance, and I hope this will not be your last visit." (p66)
---
From Forty Years of 'Spy' by Leslie Ward, Chatto & Windus 1915.
---
go back to Wilkie Collins front page
visit the Paul Lewis front page
---
All material on these pages is © Paul Lewis 1997-2007
---