1962
Ancestors & Friends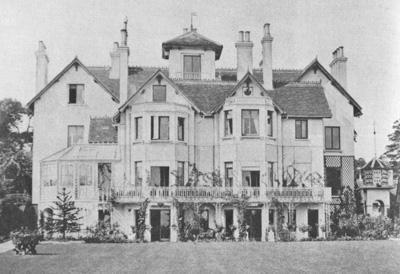 The Lehmann's family home Woodlands in the 1870s
(Rudolph) John Frederick Lehmann (1907-1987) was the grandson of Frederick and Nina Lehmann (nee Chambers) who were among Wilkie's closest friends. John never met Wilkie (he was born 18 years after his death) but his book Ancestors & Friends (London 1962) is based on family papers written by those who did and conversations with some of them, including his father Robert Chambers Lehmann. So it just creeps under the wire for this collection of reminiscences.
John Lehmann prints short extracts from a number of letters by Wilkie to Nina or Fred. The date of these letters is given in [] together with a source for the full published text.
---
NO. 1 DOUNE TERRACE
In the late forties and early fifties of the last century, one of the most distinguished, successful and generally admired men in the intellectual world of Edinburgh was Robert Chambers….
His house at No. 1 Doune Terrace was a lively centre of literary and artistic society, and visitors poured in to the many learned conversaziones and lighter musical parties which were held there Robert Chambers was extremely fond of music and something of a performer on the flute himself, while his wife, as one of her daughters later recorded, "was born with music in her, and enchanted the literary world by her beauty and grace as she played the harp, or sang Scottish ballads to her own exquisite accompaniments on the piano". Among the guests at these evening parties were not only the notables in Edinburgh's university and professional life, but also an international mixture of well-known musicians, including the Hungarian refugee Remenyi, in whom Annie Chambers took an especial interest, Jenny Lind the famous singer, Lichtenstein, patron of many indigent musicians, and the composer Otto Goldschmidt, and many writers who had made or were beginning to make their names, including Thackeray, Edward Bulwer Lytton, Monckton Milnes, G. H. Lewes and the young Wilkie Collins. Eminent tourists from abroad were also constantly arriving with letters of introduction, in the hope of persuading the over-worked but all too kindly savant to provide them with a personally conducted tour of the antiquities of the city.
To this house my grandfather, Frederick Lehmann, was introduced some time in late 1850 or 1851. He had left his home in Hamburg six or seven years before when only just over eighteen, to make a career in commerce. He had started in Huddersfield, and had then gone up to Leith. He had fallen in love with Britain, whose way of life and development as a great world power excited his endless admiration, and in the late forties had taken out naturalization papers. He, too, was passionately fond of music, and owed his entry into the Chambers circle to his skill as a violin player. He rapidly became a favourite with the family, was engaged before long to the eldest daughter Nina, and married her in November 1852. [pp97-98]
A CIRCLE OF FRIENDS IN THE SIXTIES
Before his marriage, Frederick was often in London on business, and made many friends in the musical world, especially among the visiting celebrities from Germany and Paris. There was the great violinist Joseph Joachim, infant prodigy of the forties and in a few years' time to be the favourite of the "Monday Pops"; there was Joachim's patroness, the famous singer Pauline Viardot-Garcia, who played such an important part in Turgenev's life; Carl Hallé, pianist and conductor, driven to England by the 1848 Revolution in France, who first formed his celebrated orchestra for the Exhibition of 1851; and Madame Norman-Neruda, another distinguished violinist of the time, one of the circle of devotees who surrounded Hallé, and who later, in the eighties, married him when her husband and his wife were both dead and he had become Sir Charles Hallé; the ageing composer Meyerbeer, Clara Schumann and many others. To this new circle in London, then, Frederick contributed a great deal on the musical side, all the more fortunate because Nina was exceptionally gifted as a pianist — Wilkie Collins once said that after Nina Lehmann Hallé was the best pianist in England — and her sister Tuckie a very pleasing singer. Frederick himself never lost his love of the violin; he became a member of the well-known amateur musical society. The Wandering Minstrels, and when in Leipzig during the autumn of 1864 took the opportunity to have a series of refresher lessons with the famous violinist Ferdinand David, leader of the orchestra at the Oewandhaus.
From Nina's side came many of the literary friends. Her aunt Janet, Robert Chambers' sister, had married W. H. Wills, who became assistant editor to Dickens on the Daily News, and then on Dickens' own popular weekly Household Words and its successor All The Year Round from 1850 to his retirement in 1869. Wills was immensely capable, energetic and reliable: Thackeray is reported to have said, when looking for an assistant editor for the Cornhill, "If only there were another Wills my fortune would be made!" It was through Uncle Harry Wills, known Dickensianly as "The Dodger" in the family for some reason now lost, that Nina got to know Wilkie Collins, and then Dickens himself a little later when she and Frederick were living near Sheffield. From Edinburgh days she already knew Bulwer Lytton, James Payn and G. H. Lewes — and through Lewes was soon to come to know George Eliot. And through the Household Words circle the friendships spread out, to "stentorian" John Forster and Lord Houghton and Charles Reade; to the Proctors, "Barry Cornwall" who provided a link with the already misty world of Wordsworth and Byron and Charles Lamb, and his wife Anne Proctor who became a close and lifelong friend of Nina's; and many others. On the artistic side their friends included brother Rudolf's growing circle of painter colleagues, and those three great pillars of the Victorian artistic establishment, Leighton, Landseer and Millais; Nina had known Millais at her father's house, in fact on one occasion he remarked that they had known one another so long that they had "rocked one another's cradles".
II
On a Tuesday morning in July 1860, my grandfather overslept — a rare enough event in the life of someone so methodical and reliable. Nina was again in the Isle of Wight, and after a visit alone to the French play Pattes de Mouches he went home to find that his manservant, Spaul, had gone to bed. This was unfortunate, because he had forgotten to tell him that he wanted to be called at seven the next morning, to catch a special train from London Bridge to Higham in Kent: he had been invited to attend the wedding of Dickens's daughter Katie to Wilkie Collins's brother Charles, at which Nina's sister Amelia — "Tuckie" — was to be a bridesmaid.
He did not wake up till quarter to nine, and missed the train. When he eventually reached Higham Station just before midday, the stationmaster told him that the wedding would be nearly over and he'd better make straight for Gad's Hill. On the way, he wrote to Nina, he was overtaken "by the whole party coming in ever so many carriages from Church. First Charlie and Katie, and didn't I give them a cheer. Then Wilkie, Holman Hunt, Tuck and Miss Crawford who insisted on picking me up. When the others joined us at the house, the astonishment at my presence was general, as I had been given up, but Mamie just flew into my arms before everybody and kissing me over and over again, said, "You dear, you darling I am so glad you've come." The wedding breakfast, he told Nina, "was a gorgeous affair and looked so pretty. Everything on the table in the way of decoration was white, none but white flowers." The newly weds only sat down at the table for a moment, then disappeared while the guests played games on the lawn. When they reappeared for the going away, Katie was "crying bitterly on her father's shoulder, Mamie dissolved in tears, Charlie as white as snow. No end of God Bless yous, King John Forster adding in his d—d stentorian voice, 'Take care of her, Charlie, you have got a most precious treasure.' Shaking of hands, a vision of a postilion in red, a shower of old shoes and exeunt Mr and Mrs Charles Collins." After their departure there was an expedition to Rochester Castle and to Chatham, where they listened to a military band, and then back to Gad's Hill about half past six, where they "had time to get warm by a game of croquet, saw the children of the neighbouring people get tea and cake, and went in to dinner at seven. I sat next to old Forster, a most unmanageable wild beast, which I am happy to say I tamed successfully for the evening at least ... Dinner over at nine, a cigar in the garden, Tuck sings to everybody's enthusiastic delight, a country dance and we all fly at eleven to our special train waiting our return at Higham." [pp161-163]
In February 1860 my grandmother describes "a very nice evening with the Dickens's, but such a queer dinner. We were 12. Albany Fonblanque,* an old man with his wife, Mr and Mrs Forster, Charlie and Wilkie, young C. Dickens and myself. Dinner consisted of potato soup, soles, stewed kidneys and pork cutlets, roast mutton and veal and a pudding. No games — nothing but a Chopin and a Mendelssohn from me with Dickens and Wilkie as attentive auditors, and a piece alarmingly played by Mamie herself."
* Born in 1793, Fonblanque, a Benthamite radical, made his name as editor of The Daily Examiner in the second quarter of the century.
[pp166-167]
III
Of all that circle of friends, it was, I think, Wilkie Collins who became the most attached, the most closely enmeshed in my grandparents' own lives, who poured himself out most spontaneously to them — to judge at any rate from the letters — and who appeared the most frequently at the dinner parties and musical evenings, though his taste in music was indifferent. He once wrote to them, "In one respect only, I have been far worse for the delightful party at Hallé's, the 'Great Kreutzer' Sonata has upset me about classical music. I'm afraid I don't like classical music after all — I am afraid I am not the Amateur I once thought myself."
The earliest actual reference to Wilkie I can find in the family papers, is in a letter of 1855 from Janet Wills, in which she describes attending a performance of The Lighthouse in Colonel Waugh's private theatre at Campden House in Church Street. "Last night Florence and I were at the dress rehearsal of the play at the pretty little theatre attached to Campden House, Kensington, where it is played tonight for the benefit of the consumption hospital with the original cast. Mrs Collins sat next to me and got every now and then so excited applauding her son Wilkie that I thought the respectable, comely old woman would explode, he all the time looking and acting most muffishly. Nothing could be better than the drama as drama, but oh, he makes a most unloving and unlovable lover. Dickens and Mark (Lemon) do not act, it is the perfection of real nature."
As Wilkie grew into the Westbourne Terrace household, he quickly made himself a favourite with my father and his brothers. He took them to the Pantomime, gave them presents, helped them with their homework, and told them stories they always remembered. "He took our young imaginations captive," my father wrote, "with stories of Tom Sayers, the prizefighter, with whom he had often conversed, whose face-destroying hand
he had shaken, whose awful arm he had felt ... I can see him now as I used to see him in those early, unforgotten days: a neat figure of a cheerful plumpness, very small feet and hands, a full brown beard, a high and rounded forehead, a small nose not naturally intended to support a pair of large spectacles behind which his eyes shone with humour and friendship; not by any means the sort of man imagination would have pictured as the creator of Count Fosco and the inventor of the terrors of Armadale and the absorbing mystery of The Moonstone." My father also remembered that he had certain old-fashioned peculiarities of speech, pronouncing "really" and "real" as if they had been spelt "railly" and "rail", and "obliged" as "obleeged".
Wilkie used to stay in Highgate with my grandparents, and in fact wrote a great deal of Man and Wife at Woodlands in a succession of visits in 1869 and 1870, and eventually dedicated the book to them. He invited Frederick to a small stag party, with Holman Hunt and Augustus Egg, to celebrate the publication of The Woman in White; he hauled him off to Paris, he joined him on a trip to the Tyrol and Switzerland, where on one occasion when Wilkie was in great pain my grandfather had to go to four chemists in order to get enough laudanum legally for the dose he needed; and he told him all his secrets. "Work, walk, visit to my morganatic family — such is life," [26 April 1876 B&C II 404] he once wrote to Frederick. It is clear from this that his closest friends knew all about Martha Rudd and his children by her, though it was very well concealed from everyone else. The true facts about Wilkie Collins's mistresses, Caroline Graves and Martha Rudd, only began to emerge into the light, and be pieced together, just before the last war, when the reminiscences of Katie Collins (at the end of her life Mrs Perugini) were published by her friend Gladys Storey. One wonders whether Nina, who was no prude in such matters, ever went to visit Martha Rudd — Mrs Dawson as she came to be known; and whether the letter Wilkie wrote to Frederick in 1869 about a mysterious "catastrophe", in which my grandfather had clearly offered financial help — "No man, whatever his disappointments may be, can consider himself other than a fortunate man, when he has got such a friend as you are" [24 April 1869 B&C II 322] — was connected with her appearance in his life at about that time. In any case the existence of Caroline Graves* was no secret to either of them, for in September 1866 Frederick writes to Nina in Pau: "I had invited Wilkie from Paris to dine with me today at the Reform, and found his acceptance on my return. I rushed to tell him it was no go, as the club was shut up. He was still in bed at 11.30. Mrs Graves and Wilkie insisted on Rudolf and me dining at 9 Melcombe Place, which we have just done and a capital dinner she gave us. She had cooked most of it herself I am sure, but you would not have guessed it from her very decolleté white silk gown. She seemed immensely taken with Rudolf. Wilkie was delightful as usual, and sends you no end of love." And when some years later, during his American tour, Wilkie wrote to Frederick, "I hear you have called like a good fellow at Gloucester Place, and have heard something of me there from time to time," [2 January 1874 B&C II 372] it is clear that Caroline Graves was the person who gave Frederick the news.
* In his admirable biography of Wilkie Collins, Mr Kenneth Robinson gives us the curious information that, in spite of the conventional secrecy which veiled the liaison, Caroline Graves's name appeared in the London Post Office Directory as resident at the successive houses where W. Collins himself lived.
Wilkie, it seems, contracted the habit of taking laudanum to deaden the pain of the acute gout from which he began to suffer comparatively early in life. In 1863 he had a peculiarly violent attack, and on Dickens's advice he decided to try a cure at a foreign spa. He settled on Aix-la-Chapelle, and soon after his arrival he wrote to Nina: "Under any circumstances I should have written to tell you all my news, and to ask for all your news in return. But a letter from my brother telling me that you too have been ill, puts the pen at once into my hands."
He insists on a long letter from her as soon as she is well enough to write it, and goes on: "As for me, I am all over sulphur, inside and out; and if ever a man felt fit for the infernal regions already, I (in respect to the sulphurous part of the satanic climate) am that man. The invalid custom here is to rise at seven in the morning, to go out and drink the water hot from the spring, and to be entertained between the gulps with a band of music on an empty stomach. You who know me will acquit me of sanctioning by my presence any such uncomfortable proceeding as this." [29 April 1863 B&C I 221].He describes how he sends his servant out for the water, like "the worst London egg you ever had for breakfast in your life," [to Charles Allston Collins 22 April 1863 B&C I 220] and drinks it in bed. "The next curative proceeding discloses me, towards the afternoon, in a private stone-pit, up to my middle in the hot sulphur spring; more of this hot water is pouring down on me from a pipe in the ceiling; a worthy German stands by my side, directing the water in a continuous shower on all my weak points with one hand and shampooing me with the other. We exchange cheerful remarks in French (English being all Greek to him and German all Hebrew to me); and, oh, don't we massacre the language of our lively neighbours! This great creature has made an entirely new discovery in the science of language — he does without verbs. ' Trop fort? Bon pour vous fort. Trop chaud? Bon pour vows chaud. Promenade aujourd'hui? Aha l Bon pour vous promenade. Encore la jambe — encore le dos —frottement, ah, oui, oui, frottement excellent pour vous. Repos bon pour vous — à votre service, monsieur — bon jour!' What an excellent method! Do think of it for your boys — I would practice it myself if I had my time to begin over again." [29 April 1863 B&C I 222]
It is probable that Wilkie's gout was made more acute by his passion for good food and wine. He concludes this letter: "The hotel provides me with a delightful open carriage to dine out in, contains a cellar of the best Hock and Moselle wines I ever tasted, and possesses a Parisian cook who encourages my natural gluttony by a continuous succession of entrees which are to be eaten but not described." In his trips abroad with Frederick, the cuisine always came first when he was choosing an hotel. In a later letter to Nina, he says: "I look on meat simply as a material for sauces." [4 January 1869 Public Face II 126] When Frederick was off to America, he sent Wilkie some bottles of Stoughton bitters. Wilkie replied, saying: "I suspended an immortal work of fiction, by going downstairs and tasting a second bottle properly combined with gin. Result delicious! Thank you a thousand times!" [25 October 1869 B&C II 326]. Many years afterwards he wrote to Nina, who had sent him some butter: "Your delicious butter came on the very day when I was thinking of keeping a private cow in the back yard, and presiding myself over the pastoral churn ... Oh! I was foolish enough to eat slices of plain joints two days following. The bilious miseries that followed proved obstinate until I most fortunately ate some pate de foie gras. The cure was instantaneous — and lasting." [28 February 1880 Public Face III 270-271].
Wilkie's letters to my grandparents are full of vivid details about his work on whatever the current novel or play might be. In the late autumn of 1866 he was on a trip to Italy, and wrote at length to Nina, who by that time had become his "Dear Padrona", about the coming production of The Frozen Deep at the Olympic Theatre in London, and the plans for putting a French stage version of Armadale on in Paris. "How pleasant it would be," he exclaimed at the end, "if we could all meet in the Forum!" [26 October 1866 B&C II 281]. Nina was in Pau, and suggested that as she couldn't come to Rome he might come to her on his way back. It was all arranged; and then the total failure of The Frozen Deep sent him hurrying back to London. In a letter of apology to Nina — "injured and admirable Padrona" — he writes: "Is my tail put down? No — a thousand times, no! I am at work on the dramatic Armadale, and I will take John Bull by the scruff of the neck, and force him into the theatre to see it — before or after it has been played in French, I don't know which — but into the theatre John Bull shall go. I have some idea of advertising next time that will make the public hair stand on end. And so enough, and more than enough of theatrical matters. Oh, I wanted you so at Rome — in the Protestant cemetery — don't start! No ghosts — only a cat. I went to show my friend Pigott the grave of the illustrious Shelley. Approaching the resting place of the divine poet in a bright sunlight, the finest black Tom you ever saw discovered at an incredible distance that a catanthropist had entered the cemetery — rushed up at a gallop, with his tail at right angles to his spine, turned over on his back with his four paws in the air, 'and said in the language of cats, ' Shelley be hanged! Come and tickle me!' I stooped and tickled him. We were both profoundly affected ... Is this all I have to tell you about Rome? By no means. Then why don't I go on and tell it? Because it is five o'clock — the British muffin-bell is ringing — the dismal British Sunday is closing in. I have promised to dine with the Benzons (where I shall meet Fred) and to take Charlie and Katie (who is in the doctor's hands again) on my way. I must walk to keep my horrid corpulence down, and the time is slipping away; and though I want to go on talking to you, I must submit to another disappointment and give it up." [9 December 1866 Public Face 52-54].
When Nina sent these letters to London for Frederick to read, she spoke with emotion of his friendship that had continued "for nearly twenty years, always the same, always kind, always interested, always true, always loving and faithful — that is worthy the name of friendship indeed".
A comic footnote to the disaster that had brought Wilkie hurrying back to London is found in a letter from Frederick to Nina, of December 1866: "I had a glass with dear Wilkie last night at the Albion. He was very shiny about the nose, but charming as usual. He did not wonder at The Frozen Deep being a failure now that he had seen how badly it was played. My dear he told me that Mamie who is staying with the Forsters has dyed her hair the fashionable colour yellow with a dash of auburn red. What do you say to that?"
Wilkie's irrepressible spirits bubble up as constantly in his letters to Frederick as to the Padrona. When Frederick was on his voyage round the world in 1869 he wrote to him with news of her. "I am to meet the Padrona at Proctor's on Thursday. And I did meet her at Payn's last week — looking very well, and beautifully dressed. But two events occurred worth mentioning. The Padrona — assisting the force of a few sensible remarks by appropriate gesticulation — knocked over her tumbler of champagne, and flooded the table. Shortly afterwards I assisted a few sensible remarks, on my part, by appropriate gesticulation, and knocked over my tumbler, and flooded the table. And Mrs Payn seeing her cloth ruined kept her temper like an angel, and smiled upon me while rivulets of champagne were flowing over my dress trousers and her morocco leather chair. Excellent woman!" [25 October 1869 B&C II 326].
Another glimpse of Nina's relations with Wilkie and his brother Charles, is given in her letter, dated April 1864, from Hastings where Charles and his wife Katie Dickens were staying in lodgings near her: "Wilkie turned~up for a couple of hours from Tunbridge Wells, and has just gone back. We agreed we should take a snack together at their lodgings at 3, so over I went with my contribution of a lemon tart and 3 sponge cakes (the former turned out to be deceptive and aged, and was bestowed upon the maid of all work subsequently, in company with a Madeira cake provided by Charlie). They had ham in slices, which also proved fallacious, but it didn't matter as Wilkie had lost the train and didn't appear till 4.15. Then I carried them over to the hotel where I got a charming refection of cold beef and pickles for the Wilkie of my old affections washed down by brandy and water. That proved a success. He looks so well, and is delightful as ever ... Charlie and Kitty and I agreed not to separate the whole day, and as they had chops for dinner and I a joint of lamb (at the hotel) we agreed to stick to the hotel. Do come back my darling, soon soon. Katie and Charlie miss you as much as I do, we know now what you were. You kept us all up. You are one of the youth of England who have already burst into your vigour and energy."
Wilkie's letters are full of painful references to the illnesses which tormented him and against which he struggled so bravely to keep on writing. "I am all over pain today — obliged to shift the pen from my right hand to my left to get a dip of ink" [11 March 1869 B&C 319-320] — "I am so weak I can hardly write even a note" 20 June 1870 B&C II 342] — "My knees tremble on the stairs and my back aches after half an hour's walking — no, tottering — on the sunny side of the street" [22 June 1881 B&C II 436] — and so to the end of his life. [pp173-180]
IV.
…And on the eve of his departure for America in 1862, Wilkie Collins wrote to Frederick "The one chance for that miserable country on the other side of the Atlantic is that those two blatant impostors, Lincoln and McClellan, will fail to get the 300,000 new men they ask for. If I thought it would be the least use, I would go down on both my knees and pray with all my might for the total failure of the new enlistment scheme. But the Devil being the ruling power in American affairs and I not being (I venture to hope) on particularly good terms with him, it seems hopeless on this occasion to put any trust in the efficacy of fervent aspirations and cramped knees." Frederick, however — and presumably his partners in Naylor Vickers — remained convinced that the cause of the North was not only just but would prosper, and he set forth undaunted to conclude his business deals with what Wilkie called "your customers for light steel and my customers for light reading". [28 July 1862 B&C I 209] [p184]
…Nobody seems to have been excessively embarrassed by these performances. Sometimes he [Chorley] would arrive at a friend's house for dinner in a very confused state, assume that he was in his own house and start ordering the servants about. There was one notable occasion when Chorley was staying with my grandparents in Highgate. Nina gives a graphic picture of the first evening: "He seemed well when he came — drank two glasses of sherry at one gulp, and (the sherry could not have done it) got queer. At last he didn't in the very least know where he was, and asked me confidentially if I could tell him. I said he was at Woodlands. He said 'Where's that?' Well, dinner came ... He had settled in his own mind that he was at home. Consequently he kept on ringing the bell, giving Martin all sorts of orders, and calling him Drury — his own man's name. He got huffy at me for ringing once and giving an order myself! At the end of dinner, he tottered up, held on for a moment as if the chair was a mast and he was crossing the Channel, asked me if I would be good enough to take care of his guests for him, and particularly to see that Mr Collins got what wine he liked, feebly said, 'Drury!' whereat Martin took his arm, and so vanished to bed. Afterwards when I went up, I took a peep at him through the door, and saw him asleep in a large highly coloured turban."
Worse was to come the next morning, when my grandmother gave a dinner party especially in his honour. To this she had invited Charles Reade, her sister Tuckie, Wilkie Collins, Anne Proctor and among others a certain Mr Bockett. When dinner had started, Chorley's delusion that he was at home came on him again. Nina continues her hilarious account: "We were all known to him except Bockett. I saw him now and then puzzling over Bockett, unable to account for Bockett — but in his old-fashioned chivalrous way with the greatest stranger, sending all the dishes round to Bockett, pressing things on Bockett — 'Take the champagne to Mr Bockett, please,' and so on. During the evening afterwards, in the music-room, he said: 'I shall certainly ask Mr Bockett again. He's ver-ry nice.' 'But,' said Kitty, 'have you ever seen him before?' 'Well,' said Chorley, meditating, 'No — but then (with a little important snigger) this little dinner of mine has been a complete—' perhaps he meant a complete surprise to him, but he waved off the end of the sentence. Every now and then he quite recovered himself, and told us how confused he had been. During one of these intervals, he went up to Wilkie and most touchingly apologized to him." The background to this apology seems to have been that Chorley had refused to allow Wilkie to light his cigar, saying that he never allowed smoking in his dining-room. [pp212-213]
VI.
…Chorley "very wrong' and tottery", and Kitty Collins in one of her bad moods: "the little hussy could hardly get herself to bow to me and to exchange a few words, but sidled up at once to Sartoris and remained stationed in the cool and refreshing shadow of the idol for the rest of the evening …
At that time Joachim was very excited about a new Bach discovery. "I dined with the divine Joe," wrote Frederick, describing a family party which was attended by Browning and Wilkie Collins, at 11 Orme Square, at which Tuckie, as usual, refused to sing alone. "Joachim was more gracious and played a new thing, l'Eclair, and a Siciliana and my own particular Bach which you have heard once or twice from me. Just think, Rietz the concert director in Dresden, in mooning about the Hofkirche noticed an old 'Schrank' of which the key had been lost for years. He got permission to force it open and found in it a whole set of manuscript Violin Sonatas of Bach. Undoubtedly genuine, and have never seen the light of day. Joachim has just got copies and is going to play them immediately." [p219]
…
Meanwhile, "poor old Fred in Japan" was exploring scenes curiously different from those that Nina described from the West End of Victorian London.
Wilkie Collins had written to him in October, in a strain typical of the anxieties of his friends when he was off on his travels: "Where will you be when this reaches you? I am told you have got to San Francisco. That will do. Come back. Leave well alone, and come back. I will describe Japan to you, and take you to see the manufacturers afterwards at the Baker Street Bazaars." [25 October 1869 B&C II 327] Frederick, however, could not resist the opportunity of travelling home East-West, via Japan and India. [p221]
VII.
My grandmother kept her circle together above all, I believe, because she had a quite unusual gift for friendship. I have already described how Chorley was ready to watch by her bedside when she was ill. Wilkie Collins became more and more devoted to her, and wrote her his freest, most amusing and most affectionate letters. Towards the end of his life, when he was utterly broken in health, my grandparents were among the very small circle of friends he still cared to see. In one of the very last of his letters, written to my grandfather only two or three weeks before his death, he concluded with the words: "My grateful love to the best and dearest of Padronas." [3 September 1889 B&C II 566]
Anne Proctor was another among her intimate friends whose affection seemed to grow greater as the years went by. They kept up a long and intimate correspondence until Anne Proctor's death, as a very old woman, in 1886.I have a letter from her to Nina, written a few years before, in which she says: "I have many faults, but I am not ungrateful. I do not forget all you have done for me — kind welcomes, happy days, beautiful gifts — the most precious things I have I owe to you." To Sir George Grove at the end of his life she became his "dearest old friend", and when my grandfather died in 1891 Pauline Viardot wrote to her from France: "My darling Nina, is it not dreadful to lose one's true and only real companion of life? Oh, I know that so well, I have felt it, and feel its still so keenly ... I send you all the love and sympathy of a faithful heart."
Before that, when the news of Wilkie Collins's death came to Nina at St Andrews, she had written to my father at Cambridge "And so our poor dear genial delightful matchless old Wilkie is gone. It made one very sad but he could never have enjoyed life again if he had recovered ... Wilkie was almost the very last link left that bound us to the glory of departed days. Dickens, Lytton, Houghton, Wilkie, Charles Collins, poor old Chorley — it seems like a former life, not on this earth at all." [pp232-233]
FREDERICK IN AMERICA
…When they first went to Cannes, in the seventies, Wilkie Collins had written to "The Padrona": "I am charmed to hear that the Cannes climate has done you so much good. Thirty years ago, I remember it as a delightfully snug, small, cheap place, with two English people only established in it — Lord Brougham and another Britisher whose name I forget. It is plain that I should not know Cannes again if I saw it now." [28 December 1877 B&C II 409]. He was right: it had become a prosperous, smart winter resort, full above all of English sunseekers. On this visit Nina found many old friends, including Dr de Mussy and his wife, the latter looking like "a feather bed tied in the middle", and there were "callers" every day…[p271]
…a further source of happiness was promised by the arrival of Freddy at Monte Carlo. A "delicious letter" had arrived from "our dear Wilkie, just like his old self", and "we are both looking forward to your coming whenever business claims allow you to think of it". Then, a few days later, the earthquake occurred. [p273]
---
From Ancestors & Friends by John Lehmann, London 1962
---
go back to Wilkie Collins front page
visit the Paul Lewis front page
---
All material on these pages is © Paul Lewis 1997-2006
---