1895
My Lifetime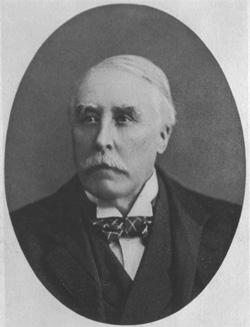 John Hollingshead (1827-1904) journalist and theatrical manager was originally one of Dickens's 'young men' on Household Words and a close acquaintance of Wilkie Collins. Later Hollingshead campaigned on copyright for authors of fiction which was adapted for the stage by others. In My Lifetime (London 1895) he mentions Collins a few times in the course of other stories.
My rapid success on Household Words in a few weeks produced an invitation to dinner at the office in Wellington Street, Strand, to meet the master for the first time. I had received several letters from him, but had not yet been introduced to him, having only seen the late Mr. W. H. Wills, the working editor. The office, as regards the architectural front, still exists untouched, although the interior has been lately gutted, and altered for the purposes of the Gaiety Theatre.
It was the day, in January 1858, on which the Princess Royal was married. London was crowded with visitors, and at night the whole town was illuminated. The party consisted of Wilkie Collins, Mark Lemon, Mr. Wills, the Honourable Mr. Townshend, Charles Dickens, and myself. The master, dressed in a velvet smoking coat, as part of his dress suit, received me in a very friendly manner, and made me a companion in five minutes. I noticed, as I thought then, a slight lisp, the deep lines on his face almost furrows, and the keen twinkling glance of his eye. The room we dined in was on the upper floor. If I had taken a brick out of the south side wall then, I should have opened a communication with the Exeter Arcade, which must not be confounded with Exeter Change in the Strand where the mad elephant was shot at Cross's Menagerie about 1827. That building stood at the mouth of what is now called Burleigh Street, and the only remains of this Change is the scroll stonework and the upper part of the house next to the Lyceum Tavern, occupied now by Mr. Hall, the "pannus-corium," or tender-footed bootmaker. Exeter Arcade was a failure commercially, and its unlet shops became the haunt of literary tramps, who started a new journal every week, and slept under the counters over which they attempted to sell them. If I had taken a brick out of the south side wall of Dickens's office dining-room ten years later than the date of my first dinner with the master, I should have made a hole in the Gaiety Theatre, which had swallowed up the Arcade, and much besides.
Our dinner was simple and good. We began with oysters, brought in fresh from Old "Rule's" in Maiden Lane, near to where Congreve lived when Voltaire visited him, and told him he came to see an author, not a coxcomb. The principal dish was a baked leg of mutton, the bone of which had been taken out, and the space supplied with oysters and veal stuffing I always understood that this was an invention of Dickens, who, without being a gourmand, was fond of eating and drinking. As I was helped twice to this novel delicacy, I remembered some of the master's descriptions of humble but savoury dishes in two or three of the Christmas books. He saw I was enjoying myself, and appeared to be delighted. The conversation, if not remarkable, was amusing. The Hon. Mr. Townshend was a man of title and property, and a minor poet. He was quiet and refined. Wilkie Collins discoursed pleasantly about food, and thought there was little or nothing in cookery—although he knew and understood French and Italian dishes—that could beat a well-made; well-cooked, apple pudding. Mark Lemon had just come from an exhibition of horse taming by the celebrated Mr. Rarey, in whom he was evidently an enthusiastic believer. I timidly suggested the possibility of some stupefying drug being concealed under the palm of the tamer's left hand glove, but was rather snubbed, at least, I thought so, for making the suggestion—although it was a theory well known amongst circus people. Mark Lemon was a fat, cheery man,' not very refined, with eyes not as keen as Dickens's, but with a similar twinkle. Wilkie Collins wore glasses, and was very quiet and amiable. Theatrical matters were, touched upon, and Dickens, complaining of the star system, and the spread of scratch companies, said he almost regretted that he took a leading part in the abolition of the patent theatre monopoly. Dickens's principles were sound, but they were not deeply rooted, and he was swayed by every breath of feeling and sentiment. He was a Liberal by impulse, and what the " DRYASDUST " school would have called a "wobbler."
When the cloth was removed, Dickens treated us to another of his table inventions—his celebrated "Gin Punch." This was another Christmas Carol production, and I believe he was as proud of it as he was of "Pickwick." The preparations for this drink were elaborate and ostentatious. The kettle was put on the fire; lemons were carefully cut and peeled; a jug was produced, and well rubbed with a napkin, inside and out; glasses were treated in the same manner; the bottle was produced, the gin tasted and approved of, and the brew then began. The boiling water was poured in, the sugar, carefully calculated, was added the spirit, also carefully calculated, was poured in, the lemon was dropped on the top, the mouth of the jug was then closed by stuffing in the napkin rolled up like a ball, and then the process of perfect production was timed with a watch.
Dickens's manner all this time was that of a comic conjurer, with a little of the pride of one who had made a great discovery for the benefit of humanity. It was this interest in common things-this enjoyment of life-this absence of all apparent knowledge of his commanding position amongst the world's greatest authors, which gave Dickens one of his principal charms. No man, in his inner mind, felt so sure of Westminster Abbey and immortality, and no man kept that inner mind more carefully concealed. He lived above and beyond the opinion of his contemporaries, and was always a cheery companion for young and old. When the grog or Punch was served out, he waited, with a wink in each eye, for the verdict, which was favourable. "What do you think of it?" he asked, addressing me, as if he would be glad to have a new opinion for what it might be worth. "It is as comforting," I said, "as flannel, and I should like to give it a name." "Certainly," said the master. "Five shillings and costs," I replied, and chanced it. The master accepted the title, but Mark Lemon did not show any anxiety to engage me for Punch, of which he was then the editor. [vol I pp97-101]
About this time the Master had got somehow into a public discussion with William Howitt on the question of " Haunted Houses." Mr. Howitt was an avowed spiritualist, and had the habit, too common at that period, of calling everyone an Atheist who did not quite agree with him. I came to the rescue of my distinguished employer with a bona fide offer. I was ready to occupy any house, in any part of the town, no matter how "haunted," on one condition—I was to have a moderate lease of the house, rent-free, giving an undertaking to live in it, and test it as a tenant.
This offer was duly made to Mr. Howitt, and it is surprising how his supply of "haunted houses" decreased immediately. Before that, they were supposed to exist in every street; now, they were as difficult to find as the site of the Holy Sepulchre. The house in Berkeley Square, which was a mystery for many years, until it was recently converted into flats and residential chambers, was spoken of, but possession was not, at that time, to be obtained at any price. A tumble-down pot-house in Holborn was one of the rookeries on order; but when inquiry came to be made, it was only haunted by the claims of brewers and distillers, and it was not to be given away, either with or without a demoniac license.
At last, after much correspondence, a house was found, or supposed to be found, at Cheshunt, Herts—if "Dickens's young man "would not object to that healthy but haunted township? "Dickens's young man" did not object to Cheshunt, and an excursion was arranged, to visit the property. Wilkie Collins and W. H. Wills were sent down in a brougham, wisely provided with fish, as Dickens did not care to trust altogether to the local hotel or inn. Dickens and I walked down—a fair toe-and-heel walk of sixteen miles, through Stoke Newington, Stamford Hill, Tottenham, etc. I had only recently recovered from a rheumatic attack, and was a little stiff on my "pins," but when I got warm I was quite equal to the task, although the mechanical pace, marked by milestones and a watch, rather bored me. Many people passed us at intervals, who recognised the Master; one or two saluted him, and he replied with an extra twinkle of the eye.
We arrived at Cheshunt, and began to make inquiry. No one had heard of any "haunted house," or anything so disreputable in the town. Cheshunt rather prided itself on its trim respectability. At last, we had to fall back upon the oldest inhabitant. He was not very old, but quite old enough for our purpose. Diving into the recesses of his memory, he remembered a house, about thirty years previous to our visit, that once had a reputation for ghosts—either masculine, feminine, or neuter, he could hardly say which. I suggested that it might have been the ghost of the unfortunate Greenacre, the "bogie" of my childhood, with whom and one of his "parcels"*
* Greenacre, a small grocer in the Old Kent Road, having had a row with his housekeeper, Mrs. Browne, gave her an unlucky blow, which killed her. In his trepidation he cut her up in sections, and dropped these in various places in the form of brown paper parcels. He was hanged for murder, owing to the parcels; and his name for years was a "bogie" to frighten unruly children.
I believe I once travelled in a Paddington omnibus. He rather thought it might have been; but, anyway, the house had long since been pulled down, and a semi-detached villa, worthy of Bayswater, had been erected in its place. Dickens stood him a friendly quart, and we went to dinner, the Master changing his walking-boots for a pair of shoes, which had been brought down in the brougham. The dinner was a substantial meal, after Dickens's own heart, and the ale was nectar. Thus began and ended the first and only chapter of "Ghosts" according to the gospel of William Howitt. [vol I pp110-112]
With Dickens's love for the theatre, and his theatrical friendships, it is strange that he never became a successful dramatic author. He was a fairly good actor, but not, I think, as great as many of his friends asserted. Practice and study—which are the life-blood of the stage—might have made him one. He played Captain Bobadil, and in Bulwer's Guild Comedy, and he created the part of the deserted lighthouse keeper, in The Lighthouse, a little drama by Wilkie Collins. This piece was ultimately produced at the Olympic—with Robson, the most singular dramatic genius of the century, in Dickens's character. It was only a partial success, and was irreverently described as "Daddy Hardacre at Sea." The subsequent production of a lurid piece at the same theatre by Wilkie Collins, called the Red Vial, was a decided failure, and it was the fashion to throw the blame upon Robson. I was present the first night with Mr. Serjeant Ballantine, and we could not honestly abuse anything but the piece. Robson was not then quite what he was in his younger days at the Grecian, and in the early fifties, when he burst upon the town as a dramatic meteor, at the same theatre; but nothing could have saved the Red Vial. Robson died a few years later of dipsomania. He was a little nervous man with a large head and a small body; his legs and feet were particularly neat. He was a bundle of nerves. When he spoke to you and shook hands, they were damp with perspiration; when he acted, on a first night, he was sick after nearly every scene. No one knows the agony of the stage, except those who are on it. His tragedy was terrific for a few minutes, and his lapses into common-place most comic and startling. His style was his own. He was said to be a small copy of Edmund Kean, whom he probably never saw, and if he did, he could not have had as many years as he possessed fingers, and then it must have been Kean in his decadent days. [pp127-128]
To forward the purposes of our agitation, it was necessary to make an example of one of the small halls to show that the law was actually being broken, night after night, in these places as much as in larger establishments. I selected "Weston's" in Holborn—a popular hall founded by the man whose name it bore, although, like many of his tribe, he had been compelled to sell his birthright for a mess of pottage. It was at this hall that a singer named Stead made a comparatively lasting reputation in the kingdom of ephemera by a song called the "Perfect Cure." Dressed something like a French circus clown with a tall conical hat, he jumped sixteen hundred times, like an india-rubber figure, about three feet from the ground, while he was singing a song of the average standard of music-hall idiocy. This performance so struck Mr. Wilkie Collins, that he wrote an article in Household Words, in which he did his best to preserve the memory of the acrobatic singer. [I pp218-219]
I did not starve for want of encouragement, both from the public and from literary friends. I think I may be excused for quoting the following letter:—
90, Gloucester Place,
Portman Square. W.
4th February, 1869
Dear Hollingshead,
A line to thank you for last night, and to congratulate you on "the show". It is simply—of its size and class—the most comfortable elegant, and beautifully-decorated Theatre I have ever seen anywhere—the approaches to it (lobbies and so on) a model to all theatres, and the people employed to open boxes and take coats, so unobtrusively useful and civil, that I and my friends walked into "box No 8", wondering (with our experience of some other Theatres) whether we were awake or dreaming. You have deserved a great public encouragement—and I really believe you may count, in this case, on receiving your deserts.
I will certainly—as soon as my present dramatic occupations give me time—try and think of something for your stage. I fancy I know what you want—a nice little story, bright and lively, to begin at 8 or 8.30 and end at 10. If I find myself dropping salt on the tail of an Idea, you shall hear from me again.
Very truly yours,
Wilkie Collins.
This, in parts, may seem rather exaggerated praise, but the Gaiety in 1869 stood alone as a model new theatre, and encouraged and stimulated the growth of others. [II pp8-9]
By April 21st I was able to publish the following document, containing abstracts of letters addressed to me in answer to my request for "opinions" :—
COPYRIGHT REFORM,
AS AFFECTING THE
RIGHT OF STAGE REPRESENTATION OF NOVELS.
Opinions in favour of Securing the Dramatic rights of Novelists in their
own Creations.
WILKIE COLLINS.—"My 'Poor Miss Finch has been dramatised (without asking my permission) by some obscure idiot in the country. I have been asked to dramatise it, and I have refused, because my experience tells me that the book is eminently unfit for stage purposes. What I refuse to do with my own work, another man (unknown in Literature) is perfectly free to do against my will, and (if he can get his rubbish played) to the prejudice of my novel and my reputation." [II p52]
In a part of the world where truffles can be had for the asking no one can say that Mr. Byron has violated probability in making one of his characters (I decline to which in this place) behave as he does behave, especially as Mr. Wilkie Collins, whose powers of observation and patient research are universally admitted, has felt justified in using the same physical phenomena with less likely people on less likely ground in his excellent novel and drama called The Moonstone. [II pp152-153]
---
From My Lifetime by John Hollingshead, 2 vols, Sampson Low, Marston & Company, London 1895
---
go back to Wilkie Collins front page
visit the Paul Lewis front page
---
All material on these pages is © Paul Lewis 1997-2007
---