1872
Editor's Literary Record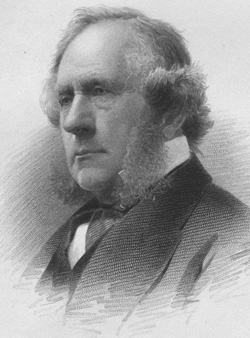 It is not known who wrote this column, which was one of several where the editor could express his views. At the time Fletcher (1806-1877 shown above) who was the oldest surviving brother was in overall editorial control of the company and its periodicals. Poor Miss Finch finished serialization in Harper's Weekly on 24 February and Harper had just issued it as a book.
---
Editor's Literary Record
In Wilkie Collins two characteristics, irreconcilable, appear to struggle for the mastery. He has, when he chooses to exercise it, great power of dramatic characterization. But he also has a genius — we were about to say a fatal genius — for the construction of a mysterious plot, and he is continually tempted to make the higher literary qualities subservient to the creation and elucidation of a mystery. In "Man and Wife" he resisted this temptation; his plot served his characters, and the purpose of his story made it something more than a mere romance. In Poor Miss Finch (Harper and Brothers) he has yielded to his besetting temptation; his characters serve his plot, and violate the simplest principles of human nature in order to entangle themselves in an inextricable maze, that Mr. Collins may depict his skill in extricating them therefrom. It is hardly necessary to say that the plot is original, for Wilkie Collins never conceives one that is commonplace. Poor Miss Finch is blind, and the mystery of the story turns upon her consequent confusion between two lovers (twin brothers), whose resemblance is so great that the unaccepted lover succeeds in palming himself off as his brother. The most strongly marked character in the book is Madame Pratolungo, who narrates the story. There is some attempt at character-drawing also in the two brothers, Nugent and Oscar, but not even the epileptic fits of the latter are adequate to render natural his crazy folly; for he acts as no sane young man could be expected to act even for the sake of conveniently accommodating such a novel-writer as Wilkie Collins with a plot.
---
'Editor's Literary Record' Harper's New Monthly Magazine Vol. XLIV No. 263 April 1872 p780
---
go back to Wilkie Collins front page
visit the Paul Lewis front page
---
All material on these pages is © Paul Lewis 1997-2006
---