1912
House of Harper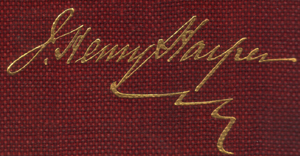 J Henry Harper (1855-1916) wrote this centenary appreciation of the family publishing firm in 1912. He had worked at the firm from the age of 14 in 1869. His recollections are interesting mainly for the details of the relationship between Harper & Brothers and Collins, including letters written to Collins and two quotes attributed to him. It gives some details of what he was paid, how his work boosted circulation, copyright, and the battles with Canadian publishers and pirates.
---
Harper & Brothers paid Charles Dickens as much as £1,250 for Great Expectations; to W. M. Thackeray £480 for The Virginians; to Anthony Trollope £700 for Sir Harry Hotspur. George Eliot was paid as high as £1,700 for one novel.
The payments to Wilkie Collins ran as high as £750 each for The Woman in White, Man and Wife, and The Moonstone. For Charles Reade's A Woman Hater £1,000. (p114)
…
Wilkie Collins's The Dead Secret was begun anonymously as a serial in the first volume of the WEEKLY, but it was not published by us in book form until 1873, when we issued a library edition of his novels on the occasion of his visit to this country. Soon after Collins's arrival in New York he dined with us in Twenty-second Street. In his acceptance of my uncle's invitation he added a postscript in which he warned his host that he drank only extra dry champagne. At that time sweet champagne was almost exclusively bought for this market, and I recall the difficulty we had to find the wine he required. The reason for this rather broad hint was that Collins suffered with gout in the eyes, and, from his experience at other New York functions, he found this precautionary notice necessary.
The best known of Collins's novels is The Woman in White, which made a profound impression at the time it was first issued and is vividly remembered by those who read it. In the character of Count Fosco, Collins made a distinct addition to the world's stock of famous creations in fiction. Already it has lasted for over fifty years, and at least another generation of fame seems to be assured to it. Collins said that he chose a foreigner for this character because the crime was "too ingenious for an English villain." Wilkie Collins's villains were not of the coarse and stalwart type. He knew how to draw a villain who could seem a gentleman and often pass for one, who would appear well in a drawing-room and be au fait astride a horse in Rotten Row. (p134)
…
It is a singular fact that after the conclusion of the Civil War the edition of HARPER'S MAGAZINE for some reason fell off. This shrinkage was so great that Fletcher Harper seriously considered the advisability of terminating its publication. But in June, 1864, Dickens's Our Mutual Friend began as a serial, and in December Armadale, by Wilkie Collins, and with the issue containing the first instalment of Armadale the demand rapidly increased, until before the story was completed the MAGAZINE had reached its former circulation. This is interesting as showing the influence of popular serials upon the circulation of a periodical. (p233)
…
In January, 1868, we began The Moonstone, by Wilkie Collins, in the WEEKLY, and it proved to be a serial of absorbing interest. August 24, 1869, we wrote to Collins
We gratefully avail ourselves of your kind and confidential intimation that no slight difference between the proposals you may receive from us and from others will prevent your personal preference in our favor. We heartily reciprocate your desire for a continuance of our relations, and should the offer we make (we paid £750 for Man and Wife, the story referred to) not seem to you enough, and should you receive a greater one from any responsible house, from whom you are sure of getting your money, we would increase this offer to an amount which would correspond with the offer of any other responsible party. We make the proposition of part advance to relieve you of any embarrassment you may feel in receiving offers nearly alike in amount and accepting ours. (p280)
…
The House…answered Reade as follows
DEAR SIR
Mr. Wilkie Collins, whom we have seen repeatedly since his arrival in New York, seems to be enjoying his American sights and sensations. (p343)
…
In December, 1871, we wrote Wilkie Collins in regard to the book-form publication of Poor Miss Finch, which we had just completed as a serial in the WEEKLY:
We thank you for the information in regard to your Christmas story for the Graphic, and for your endeavor to serve us in the disposition of the early sheets for America. It would have been a disappointment to us not to publish the story quite apart from any financial consideration:—for by the long and pleasant relations between us we have come to be regarded as your American publishers, and we have taken great pleasure in giving as wide a circulation as possible to your deservedly popular novels. In any future arrangements we trust you will bear us in mind, reserving to yourself the control of sheets for America.
Fortunately, in the case of "Miss or Mrs.?" the parties who bought the early sheets and electros of the Xmas No. of the Graphic have transferred them to us, having concluded to stop their illustrated paper (Every Saturday). You will see by our journal which we send you by this mail, that we have announced the story for HARPER'S WEEKLY.
The end of December we wrote to W. E. Tunis, of Detroit, who controlled the book and periodical business on the Canadian railroads
Dec. 29, 1871.
DEAR SIR,—Yours of the 26th is at hand, without the enclosure to which you refer.
We bought Wilkie Collins's story for use in the WEEKLY, which has a circulation in Canada--and it was not Mr. Collins's intention to interfere: in any way with the circulation of our paper, but rather to promote it.
Middlemarch, by George Eliot, belongs to us alike for Canada and the U. S.—the right for both countries having been purchased by us. If you hear of any magazine or paper or publisher doing the story in Canada, let us know promptly. We have taken care that we shall not be subjected to the petty annoyance that we and our customers have had in regard to Hannah and it is likely that any further attempts of the kind will be met by severe retaliation.
Say nothing about Middlemarch, by George Eliot, but ascertain quietly whether any Canadian publisher (and especially Irving Flint & Co.) commences it.
And we also wrote to Mrs. Craik (Dinah Mulock) in regard to the complications in the Canadian market to this effect:
. . . In regard to Hannah, we repeat that we consider ourselves much more aggrieved in the Canadian publication than either you or Messrs. Irving Flint & Co. They have probably omitted to tell you of the annoyance, inconvenience and expense they have occasioned us in the matter-and that we have been obliged to pay £30 $150 gold) through Mr. Tunis, against whom, as our agent, they commenced legal proceedings.Were any legal proceedings authorized by you? Mr. Tunis had inadvertently
sent some copies of Hannah to Canada. Of course inconvenience under the circumstances has been considerable to our customers as well as to ourselves.
During the year 1872 we ran serials in the MAGAZINE by Anthony Trollope, Charles Reade, and Wilkie Collins, also Miss Thackeray's delightful story Old Kensingston.
Wilkie Collins was always punctilious in his transmission of proofs, and we complimented him on his punctuality in our letter of May, 18 1872:
You know that we are always glad of your stories, and we know that there is no author more prompt and thoughtful of the interests and convenience of his publishers than you. Your careful and regular transmission of copy on the various books which we have published for you has frequently elicited the grateful admiration which is naturally felt by us as practical printers for authors who are never behindhand.
Thanking you for your pleasant commendation of our periodicals, we remain, etc.
In November of the same year we wrote to Wilkie Collins
DEAR SIR,-We hasten to acknowledge your favor of the 1st instant and to beg that you will give yourself no uneasiness in our behalf on account of the unexpected length of The New Magdalen. Your stories have become so popular with the readers of our periodicals that we are gratified with the change you have made; and we should not object to the story's running over to our June number, so that the conclusion may be in the beginning of a volume of the MAGAZINE. We only hope that its publication in book form may not anticipate its serial issue, so as to subject us to rival editions in advance of ours, as in the case of Poor Miss Finch, a copy of the rival edition of which we send you by this mail.
We understand, of course, that our payment for The New Magdalen is to continue at the rate originally agreed upon, namely five guineas per page of our MAGAZINE. Of course we do not give this price to authors of stories not so interesting as yours—out of regard to their feelings and for our convenience, therefore, we desire that our pecuniary arrangements should be strictly between us.
And in July, 1873, referring to Anthony Trollope's serial, we wrote
WILKIE COLLINS, ESQ.:
DEAR SIR,-We regret that we are not in a position to avail ourselves of the offer of Mr. Trollope's new novel for our MAGAZINE. We have engaged for the MAGAZINE three serials for the coming year (Castelar, Prof. De Mille, and Mrs. D. M. Craik) and due regard for variety in our contents will not allow us to exceed this allowance of serial matter excepting under some extraordinary and unforeseen pressure. But we should like to add the story to our list of Mr. Trollope's novels—and for the early sheets and electrotypes of the illustrations we should be happy to pay him Two Hundred Pounds . . . Or we would pay Mr. Trollope (£250) Two Hundred and Fifty Pounds if he will give us also the Canada market in book form. Either of these offers would leave Mr. Trollope free to dispose of the serial publication of the story to any magazine in the United States or Canada.
We think you have acted wisely in deferring your trip to September. Our summer is very oppressive, the thermometer having reached during the last few days to 95˚ in the shade, and this excessive heat is not unlikely to extend into the middle of September. But the American autumn, from about the 20th of September, is magnificent—and we hope that upon landing after a safe and pleasant voyage, you will be delighted, refreshed and stimulated by our brilliant foliage, clear, bracing air and our brisk, busy life. We repeat the assurance that we shall be glad to contribute in every way in our power to the pleasure of your visit.
P.S.—You will understand that in thus declining Mr. Trollope's story for our MAGAZINE, we by no means wish to deprive ourselves of any serial you may be about to publish. Whatever our engagements may be, our pages will always be open to your stories, and at prices which shall ever be in every way satisfactory to you.
October 16, 1873, I find the following letter to T. B. Peterson & Brothers
GENTLEMEN,-In reply to your letter of yesterday we beg to say:
I. . . . Your reprinting Mad Monkton and Other Stories, containing the same tales as Queen o f Hearts, published by us, was a direct violation of trade courtesy.
II. Your reprinting Miss or Mrs.?, which we have purchased for a large priority and had announced, was an interference of which we complained at the time.
III. Before commencing our edition we inquired of Mr. Collins if he had received any pecuniary acknowledgment from American editions of his works other than ours. He assured us that he had not, and that nothing which the Messrs. Peterson publish under his name was authorized by him. We have agreed to pay Mr. Collins a royalty on the books now first published by us.
We fail to see, therefore, in view of these facts, that we are under anv obligation to take your plates of The Dead Secret and Basil.
And then in pursuance with trade courtesy we made them the following offer:
NEW YORK, Nov. 15, 1873,
MESSRS. T. B, PETERSON & BROTHERS:
GENTLEMEN,—We will give you one hundred dollars for the plates of your 12mo. edition of The Dead Secret and Basil—which is about fifty per cent. above the price of type-metal. We should melt them, as we have made entirely new plates for our uniform edition of Mr. Collins's novels.
Wilkie Collins visited New York in October, 1873, with a view to giving a course of readings from his own works, as Dickens and Thackeray had done before him. The applications for his readings were very large. The Lotos Club gave Collins an evening reception, one of the most brilliant given in their old club-house. Many of New York's most notable speakers and scholars were present to grace the occasion. In responding to a speech of welcome by the president, Whitelaw Reid, Collins said, among other things
"I am not only gratified but touched by the manner in which you have greeted me, and the cordiality with which the remarks of your president have been received. I venture to say that I see in this reception something more than a recognition of my humble labors only. I think I see a recognition of English literature, liberal, spontaneous, and sincere, which, I think, is an honor to you as well as an honor to me. In the name of English literature I beg gratefully to thank you. On my own behalf I beg to assure you that I shall not soon forget the encouragement you have offered to me at the outset of my career in America. Permit me to remind you that I am now speaking the language of sincere gratitude, and that is essentially the language of few words." (pp346-348)
…
We wrote Miss Amelia B. Edwards February 21, 1873, the following letter in regard to the publication of short collected stories in book form
DEAR MADAM,-We beg leave to acknowledge your esteemed favor of the 7th instant, and to thank you for the offer you kindly make us.
Our experience with volumes of collected stories even by such authors as George Eliot, Lord Lytton, Mrs. Craik or Wilkie Collins, is that they fail to meet with remunerative sale. We should not, in view of this, feel prepared to pay, for the early sheets of your three volumes of short stories, should we publish them, more than £2 S. The sheets should be sent to us, well in advance, through our London agent, Mr. S. Low, 188 Fleet Street. Should we not use these sheets, we would offer them, on your account, to two other publishers.
We should be happy to receive early sheets of your new work of Dolomite travel, for consideration with a view to publication, and to pay you therefor, should we use them. The sheets should be sent to us through Mr. Low; and, should we not use them, we would offer them to two other houses, on your account. (pp351-352)
…
From 1860 to 1880 and thereabouts, English novelists were most prolific, and it was often embarrassing to find room for the strong and attractive serials which poured in upon us. This was the period of great English fiction writers, and not infrequently we would have two and even three foreign serials running at the same time in each one of our three periodicals. We are not so overcrowded today by English novelists, reckoning, say, from Dickens and Thackeray to Charles Reade and Hardy. For example, I give a letter we wrote to F. W. Robinson:
DEAR SIR,-We are glad to learn by your note of Nov. 6 (1875) that we are to be favored with a new story from your pen. We wish, however, that we could have been apprised earlier of your intention, as our limited accommodations (having only three periodicals) will render it somewhat embarrassing for us to provide conveniently for all our distinguished guests for the coming year. There are George Eliot and Emilio Castelar for the MAGAZINE, Miss Thackeray and R. D. Blackmore for the WEEKLY, and yourself and Wilkie Collins for the BAZAR, and we are promised short visits from William Black and Miss Braddon (impossible to conjecture the frequency and duration of the lady's visits)—and we have invited, or have now with us, a number of heavy American swells—and there's our friend Payn for whose comfortable lodgings we are now trying to provide in another journal. But '76 will be our "Centennial Year," and we must make an effort for the hospitable entertainment of old friends like yourself who will be cordially welcomed by Brother Jonathan. So give us as good a priority as you can on the new story, for which we shall be happy to pay you, as you suggest, and at the same rates as for The Romance o f a Backstreet. (p385)
…
February, 1877, we had some correspondence with Wilkie Collins on the advisability of meeting. unauthorized competition by issuing his novels in very cheap form. Unfortunately, I find that many of our firm letters from prominent authors and artists have been either mislaid or destroyed, or purloined, and I cannot find Collins's letter of inquiry to which we replied as follows:
DEAR MR. COLLINS,—Your plan for defeating opposition by really cheap editions exactly meets our views-but you must bear in mind that this is easier for an edition that pays nothing to the author than for one which does. The remedy of International Copyright naturally occurs to you—but this, we fear, would be to American publishers only a Trojan horse, full of cunning warriors in the shape of foreign publishers. And then, instead of your stories being printed in our periodicals, the only access to them would be through All the Year Round, Belgravia, Cornhill, Macmillan, Temple Bar, the Graphic, Illustrated London News, etc., etc. And some future Schliemann, in excavating Franklin Square, would dig up this horse, while the grinning New Zealander, comfortably seated on the ruins of the Brooklyn Bridge and watching the excavations, would wonder at Yankee credulity. The excavations, however, on the whole, would be hailed with delight as confirming the narrative which had been preserved in the American Iliad of the immortal Tupper!
Seriously, though—we have not, as you know, objected to paying the British author; but we do object to his books being controlled in this country by his English publisher, on the ground that such a monopoly would in the end be disastrous alike to the British author, the American publisher, and the American reader. The American expedient of the "Law of Trade Courtesy" answers very well in most cases, for while it generally respects the arrangements made by a British author with his American publisher, it leaves open a way for reprisals on unfair houses, and the people are benefited occasionally by a free fight, in the course of which, while rival publishers are fighting over some tempting morsel, the reading public devours it. Here is a recent illustration. We issued Trevelyan's Life and Letters of Macaulay in two handsome volumes which were really creditable to American printers, and which even British publishers have conceded were handsomer than the
English edition. The price was $5. Well, the book was printed on us and offered in inferior style at $2.50, whereupon we brought out a legible small-pica edition, the two volumes bound in one, at $1.75.Now, who lost? Mr. Trevelyan got his thousand pounds, the American public got a very cheap book. Clearly it was at our expense—but we console ourselves with the reflection that there can be nothing absolutely perfect in this wicked world. Even our perfect American government has failed to provide a President satisfactory to everybody (at present)-and international copyright, we suspect, would in the end prove unsatisfactory even to British authors. We are curious to know from whom you derive the greater revenue, from your German publishers with the protection of copyright, or from your American publishers with nothing but early sheets? And the Germans are a reading people.
As we have intimated, we are strong advocates of your plan of cheap books, and if your suggestion in that direction be due, as you hint, to "tasting wine at the London docks" all we have to say is: "In vino veritas est." When the philosophic Lincoln was told, after the Union victory at Vicksburg, that Grant when fighting was uniformly blind-drunk, he exclaimed, " Then send the same brand of whiskey to our other generals!" So send us a dozen of that "London Dock" and doubtless we shall blindly see our way clear to the sixpenny editions you speak of. And pray do not forget to send us the sheets of your new stories well in advance (at the usual price, of course).
Dickens and Wilkie Collins frequently collaborated in writing short stories. "On one of these occasions," says Collins, "we agreed to exchange styles, so as to puzzle the critics; Dickens was to adopt my style and I was to imitate his. The plan succeeded perfectly, and it was amusing to see the reviewers point out a passage of mine as an example of Dickens's peculiar vein, and in the next sentence comment on a paragraph of Dickens's as a sample of Wilkie Collins's sensational style." (pp392-394)
…
[To A D F Randolph]…This was the state of affairs when the Lakeside Library, in violation of the laws binding publishers, began to reprint on us not only novels but books of travel for which liberal pecuniary acknowledgment had been made to the authors. The Lakeside enterprise was followed by the Seaside, and both affairs were nourished by the American News Company, without whose encouragement they would have been short-lived. The issues of these so-called "libraries," meanly printed, from small type, and on inferior paper, were retailed at ten or twenty cents, and doubtless yielded a profit to their publishers. No book likely to be popular was safe for a day from these people aided and abetted by the News Companies. Daniel Deronda, for which we had paid £1,700, and had issued in two editions, one of them at a low price, was printed upon us at twenty cents. Burnaby's Ride to Khiva, for which we had paid £30, was printed on us at ten cents. Black's Green Pastures and Piccadilly, costing us £600, and the novels of Wilkie Collins, for which we paid nearly £6,000, were printed on us at ten and twenty cents each.
Now these Lakeside and Seaside issues were not handicapped by payments to authors or by regard to decency of paper and print. They must, therefore, have yielded a profit. They could not reach, as you claim, "the utmost limit of their circulation" so long as they were profitable. Only when they cease to be profitable will they cease to be issued.
Our idea, therefore, in starting the Franklin Square Library was to stop the profit at least on some of their issues. We determined that they should not share our profits, because we intended that there should be no profit for a division. We began to print on ourselves. We published a cheap edition of Black's Macleod of Dare at ten cents retail. To be sure, the Seaside followed us at the same price, but we imagine there was no profit to them in the transaction.
It is proper to observe here that we print no new books in our Franklin Square Library without paying some honorarium to the British author, and we strictly maintain our adherence to the rules of trade courtesy, by abstaining from printing on our neighbors. But it would be better, we think, if all the leading publishers were to start similar "libraries." The first title we had selected for ours was the "Juniper Swamp Library" (we send you a copy herewith) and if the Appletons had followed with the "Spuyten Teyfel," Holt with a "Leisure Owl," Osgood with the "Athenian," Lippincott with a "Fairmount Water Works," the final result would have been an Usque ad Nauseam Library, and we should have gone back to original principles. (pp446-447)
…
I must not omit to mention the loss of a popular contributor to our periodicals who passed away a few years before Osgood. Col. William A. Seaver, an associate of the House for many years, died very suddenly in January, 1883, of pneumonia. He was a man of ready humor, observant and affable, and his death was widely regretted. In 1868 Colonel Seaver was placed in charge of the "Editor's Drawer" of HARPER'S MAGAZINE, a post for which he was well qualified by his acquaintance with men, his position in society, and his rare aptitude as a raconteur.
The Hour, in an obituary notice, said
On Monday last the flags at half-mast on some of the well known club-houses of this city conveyed to the members the sad news of the sudden death of their associate William A. Seaver. The genial gentleman and good companion will be missed and mourned on both sides of the Atlantic. Wilkie Collins, Edmund Yates, Henry Irving, and a host of literary men will join William M. Evarts, Judge Brady, and scores of others eminent on the bench, at the bar, in the pulpit, as well as in the journalistic profession here, in doing honor to his memory. His friends, who were legion, will join in a common and sincere lament that " a fellow of infinite jest" has gone over to the silent majority. Like Charles Lamb, Seaver loved the cheerful world to which he had become fondly accustomed, and for those who knew him intimately to think of him as dead is to reflect how much enjoyment of life had disappeared. By his colaborers in Franklin Square Colonel Seaver will be always most kindly remembered. (pp522-523)

---
From The House of Harper by J Henry Harper New York 1912
---
go back to Wilkie Collins front page
visit the Paul Lewis front page
---
All material on these pages is © Paul Lewis 1997-2007
---