1871
The Graphic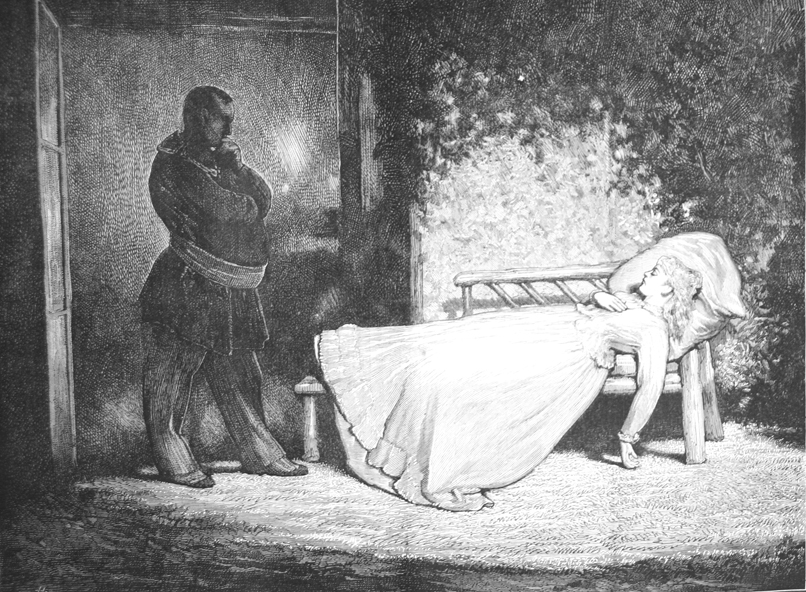 This dramatic engraving by P Linton shows Count Fosco (George Vining) watching the unconscious Anne Catherick (Ada Dyas). The author of the unsigned review is unknown. Opposite the scene was an engraving of Wilkie Collins.
---
It is rather late in the day to recommend people to go and see
"THE WOMAN IN WHITE" AT THE OLYMPIC THEATRE,
but those who have not witnessed the piece have a real treat in store for them. Mr. Wilkie Collins has adapted the piece with great skill, and, abandoning the usual tenderness for his offspring, which too often characterises the novelist who essays to dramatise his own compositions, he has not hesitated to sacrifice some of the most apparently telling scenes in the novel for the purpose of presenting a thoroughly clear and artistic play. Then the piece is remarkably well performed. Mr. Billington, discarding for the nonce his usual rôle of romantic lover, exactly depicts the selfish brutal baronet, Sir Percival Glyde. Mr. Wybert Reeve makes the straightforward persevering Hartright thoroughly interesting. Mr. F. Robson is a charming little Italian professor; Miss Ada Dyas discriminates carefully between the half-crazed Anne Catherick and the gentle Laura—a matter of no small difficulty, considering she has to sustain each part in rapid succession; while of Mr. G. Vining we would simply parody the old distich applied to Macklin, "This is the Jew that Shakespeare drew." This, we would say, is the Count Fosco that Mr. Wilkie Collins imagined. The scene in which, to our fancy, he rises highest, is at the madhouse, where he warns Marian Halcombe (excellently played by Mrs. Charles Viner) to prepare for a terrible shock. The scene which we have chosen for illustration is that which occurs at Blackwater Park, where Sir Percival and Count Fosco are at their wits' end for want of money. Mad Anne Catherick has again escaped from the asylum, and as she lies fainting in the moonlight the Count is struck by the marvellous resemblance to Laura. He immediately conceives the bold plot which forms the ground-idea of both novel and drama.
---
From The Graphic IV No..107 16 December 1871 p579 (engraving p597)
---
go back to Wilkie Collins front page
visit the Paul Lewis front page
---
All material on these pages is © Paul Lewis 1997-2007
---