1862
Autobiographical memorandum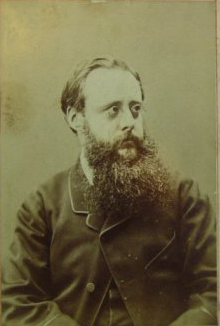 Wilkie Collins wrote very little autobiography. This short note written on 21 March 1862 is the earliest example. It was attached to a letter to the French writer and historian Alfred-Auguste Ernouf (1817-1889) which is reproduced below.
---
Memorandum, relating to the Life and Writings of Wilkie Collins. (1862)
==
I was born in London, in the year 1824. I am the eldest son of the late William Collins, Member of the English Royal Academy of Arts, and famous as a painter of English life and English scenery. My godfather, after whom I was named, was Sir David Wilkie, the illustrious Scottish Painter. My mother is still alive.
I was educated at a private school. At the age of thirteen, I went with my father and mother to reside for two years in Italy—where I learnt more which has been of use to me, among the pictures, the scenery, and the people, than I ever learnt at school. After my return to England, my father proposed sending me to the University of Oxford, with a view to my entering the Church. But I had no vocation for that way of life, and I preferred trying business mercantile pursuits. I had already begun to write in secret, and mercantile pursuits lost all attraction for me. My father— uniformly kind and considerate to his children—tried making me a Barrister next. I went through the customary forms (with little or no serious study), and was "called to the Bar" at Lincoln's Inn. But I have never practised my profession. An author I was to be, and an author I became in the year 1848.
I had, in the year 1847, completed the first volume of a classical romance, called "Antonina; or, The Fall of Rome" - when my father died. I put aside the romance, to write a do honour to my father's genius, to the best of my ability, by writing the history of his Life and his pictures. This was my first published book. I then returned to my classical romance, completed it in three volumes, and found a publisher for it. The success (in England) of "Antonina" decided my own career. I became, what I am now, a writer by profession.
These are the only events worth noticing in my life. My father's position as a painter made my early home-circumstances easy ones. He left his family (his widow, myself, and my brother) with an income to live on—which, though not the income of rich people, was sufficient for all their wants. Apart from my books—my life presents no events which have any claim to on the public interest, or on your attention.
Works of Wilkie Collins. With the dates of publication.
==
1. Memoirs of William Collins, R. A., (1848)
2. Antonina; or The Fall of Rome. (A Romance) (1850)
3. Basil (A story of Modern Life) - (1852)
4. Hide and Seek. (Story of Modern Life) - (1854)
5. After Dark (A collection of short stories) - (1856)
6. The Dead Secret (a novel. Translated by E.D. Forgues.) - (1857)
7. The Queen of Hearts (a collection of short stories) (1859)
8. The Woman in White ("La Femme en Blanc") (1860)
9. No Name (now appearing periodically in "All The Year Round", and advertised to appear, in French, in Le Temps newspaper. This novel, when finished, will be of the length of "The Woman in White". I am now (March 1862) about half way through it.
An account of "Antonina", "Basil", and "Hide and Seek", with translated extracts, appears in the Revue des Deux Mondes.
Besides my Novels, I have written a great number of Essays, Sketches, &c &c in the periodicals conducted by Charles Dickens, called "Household Words"—and also in "All The Year Round". These I have not yet corrected and republished.
I am also the author of three Dramas:—
1. The Lighthouse }
2. The Frozen Deep } None of these three have been printed.
3. The Red Vial. }
"The Lighthouse" was first acted by Amateurs, at the house of Charles Dickens, who played the principal character. It was afterwards acted in public at The Olympic Theatre.
"The Frozen Deep" was also acted by the same amateurs, before the Queen, and afterwards in public for a charitable purpose. This play has never been performed by professional actors.
"The Red Vial" was performed at The Olympic Theatre. It was not successful with the public, though greatly liked by the actors. I have written no other Drama since, and my literary success has been entirely won as a novelist. If I had been a Frenchman - with such a public to write for, such rewards to win, and such actors to interpret me, as the French Stage presents— every all the story stories I have written from "Antonina" to "The Woman in White" would have been told in the dramatic form. Whether their success as plays would have been equal to their success as novels, it is not for me to decide; But if I know anything of my own faculty, it is a dramatic one.
---
This Memorandum was attached to a letter written by Collins to Ernouf dated 21 March 1862.
Dear Sir,
Absence from home has prevented me from sooner thanking you for your kind letter.
The published biographical notices of me, in England, are all more or less incorrect. I think I shall best show my sincere appreciation of the honour which you propose conferring on me and my books, by enclosing in this letter a statement written expressly to assist you. Any further information which you may require, I shall gladly place at your disposal on hearing from you to that effect.
You will find my little autobiography—like this letter—written (in accordance with your kind permission) in English. Though I am a constant reader, and hearty admirer of French literature, I am sorry to say I can only write, and speak, the curious Anglo-French dialect which my countrymen in general have invented for their own use on the Continent. If I ever have the pleasure of making your personal acquaintance, I shall not hesitate to trust to your indulgence for all the mistakes I may make in "gender", "number", and "case". But in writing—and especially in writing to a critic—I shrink from taking those innocent liberties with the French language which so often disturb the grammatical entente cordiale between your country and mine!
Believe me, Dear Sir, │ Very faithfully yours │ Wilkie Collins.
P.S. Some few years since, an article relating to my earlier works, and written by my friend, M. E.D. Forgues, appeared in the Revue des Deux Mondes. Some of the facts mentioned in that article may possibly be of service to you.
---
go back to Wilkie Collins front page
visit the Paul Lewis front page
---
All material on these pages is © Paul Lewis 1997-2007
---