1909
Evening Post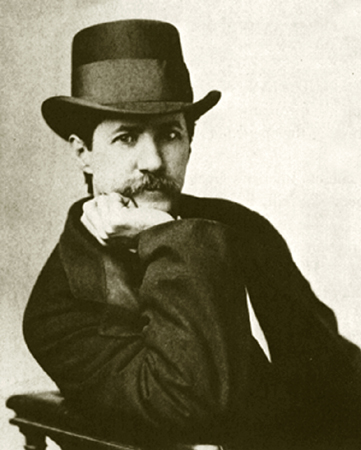 As a boy Charles Burnham worked front of house in the New York theatre of Augustin Daly - seen above. This recently discovered story of his encounter with Wilkie Collins in 1873 tells us about Wilkie's visit to the theatre to see the play Madeleine Morel and an amusing encounter with the author.
---
Wilkie Collins' Narrow Escape
Daly's fifth avenue theatre before the fire

DALY'S next play at this house that brought a large measure of success was one adapted by him from a play written by Doctor Moser, of Vienna, entitled Madeleine Morel. Daly had worked a long time over it, and at the time his theater in Twenty-fourth Street was burned had just finished the manuscript. He had added a new fourth act, written by himself, and after the fire, when the play was recovered, he found that while the act he had written had been destroyed, the remaining three acts written by the author were unharmed.

As Daly had made arrangements for a new theater uptown he determined to use the theater he was then occupying for the remainder of his lease as a home for "stars." The first to appear under this arrangement was Carlotta Le Clercq, in a dramatization of Wilkie Collins' novel, The New Magdalen. Daly was busy rehearsing this play during the latter part of his company's season, and Collins, who had come to America to help in its pro­duction, paid a visit to the theater one evening to see Miss Morris in Madeleine Morel.
Shortly after the curtain had gone up, in company with a young lad who was an usher there, and who, by the way, is one of New York's most prominent lawyers, I was sky­larking in the lobby. I was chasing him around, brandish­ing an old sword that I had found in a closet, when the door suddenly opened and in walked Mr. Daly accompanied by Mr. Collins. I came within an ace of striking the gifted author in the eye. My feelings can be better imagined than described. Mr. Daly, with scarcely a reproving glance, passed into the theater, escorting Mr. Collins to his box, where the rest of Mr. Collins' party were.
A few minutes later Mr. Daly sent for me and as I went to his office I made up my mind that my theatrical career in the front of that house had come to an end. Instead of which he merely remarked: "No more skylarking!" and. handing to me a package, told me to take it to Mr. Collins when the act was finished. As I entered the box and called his name, he turned and, seeing who it was, said, with mock seriousness: "Is this the young man who tried to assassinate me as I came in?" Others of the party asked what he meant. He told them of the sword episode and, brandishing his cane about, made believe to cut off one of my ears, at the same time presenting me with an English coin, which I have carefully treasured to this day.
---
From Charles Burnham 'The Front of The House - Early Struggles of Augustin Daly' in Saturday Evening Post 23 October 1909 Vol 182 No.17 pp8-9, 46-48.
---
go back to Wilkie Collins front page
visit the Paul Lewis front page
---
All material on these pages is © Paul Lewis 1997-2007
---