1950
Ouida - the Passionate Victorian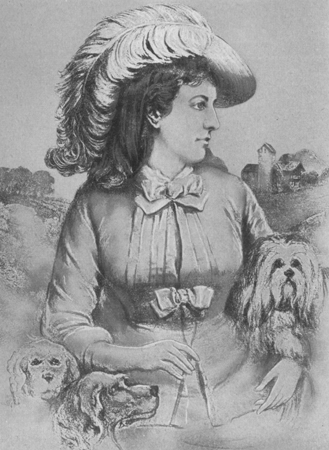 This account is one of the very few references to any contact between Collins and Oscar Wilde. It is in the biography by Eileen Bigland of the novelist Maria Louise Ramé, who wrote under the name Ouida. Bigland gives no source for the story and none has been traced in Wilde's work. This meeting must have been during Ouida's last stay in 1887 - Langham records show she stayed for four months leaving in April. Wilde edited Woman's World from May 1887, though he may have solicited contributions before that. Collins was certainly in London in March and April and although he had spells of illness there were times when he was well and went out. Though generally at this time he paid few visits and there is no evidence he knew either Wilde or Ouida personally. There are no mentions of Ouida or Wilde in Collins's surviving letters. The reference to Puck is odd. It was written during an earlier stay at the Langham in 1870.
So this account is by no means established as true and is included for its curiosity value.
---
It was her habit to keep her visitor waiting while she finished some particular passage, so the poor man had to hover uneasily on a small square of carpet between Scylla (Sulla on the hearth-rug) and Charybdis (the unblotted sheets of writing which strewed the floor) until his hostess condescended to attend to him.
Even then it was sometimes difficult to achieve a successful interview. There was one occasion when Oscar Wilde—who was then editing a woman's paper—called upon her with Wilkie Collins in order to discuss the serialization of one of her stories. Having waited for some considerable time listening to the scratching of Ouida's pen, they were startled when she raised her head and announced in a kind of screech, "Of course, dogs think a great deal; when people believe us asleep, nine times out of ten we are meditating. . . ."
She was only quoting from Puck, her novel about the Maltese terrier; but her visitors were not to know that. In vain Wilde tried to draw her into discussion of the matter in hand while Wilkie Collins skipped, like Tom Thumb, out of Sulla's range. Ouida went steadily on expounding Puck's philosophy of life, and not until Wilde gave up the unequal struggle to talk her down did she glare at him malevolently and snarl out some preposterous sum as suggested payment for the serial. The deal fell through, but Wilde dined out on the story for quite a time. (p65)
---
From Ouida - the Passionate Victorian by Eileen Bigland, London 1950
---
go back to Wilkie Collins front page
visit the Paul Lewis front page
---
All material on these pages is © Paul Lewis 1997-2007
---