1931
Dickens's dramatics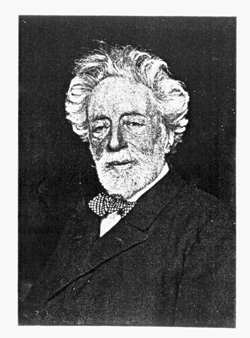 Francesco Berger (1834-1933) was a musician and musical director. He wrote the incidental music for Collins's two plays The Lighthouse and The Frozen Deep. Familiarly hagiographic about Dickens, this reminiscence contains just a few mentions of Collins but some details about performances of the plays. The accounts may not be completely reliable.
---
He [Dickens] invited me to associate with him in a play called "The Lighthouse," written by Wilkie Collins, by composing its overture and incidental music. He produced it in the theatre he had had constructed in the back-garden of his house, one of a block of three, standing a little off Tavistock Square, and acted in it with members of his family and a few intimate friends. Stanfield painted the scenery, Forster recited the prologue, Wills was prompter, and I presided at the piano with a quartet of orchestra. It was afterwards repeated at Campden House, the Kensington mansion of Colonel Waugh.
A year later it was followed by "The Frozen Deep," written by the same hand and acted by the same company, for which I composed fresh music. Like its predecessor it proved an immense success, and " Society " spoke of nothing else for weeks. Queen Victoria having expressed her wish to witness it, a strictly private performance was given at "The Gallery of Illustration " in Regent Street, which she attended accompanied by the Prince Consort, the King of the Belgians, and the Court. Her Majesty was so delighted that she wished to thank "the manager" personally for the pleasure he had given; so, at the conclusion of the play, she tarried in her place while Dickens exchanged the ragged costume of: the final scene for evening-dress. Even in those early democratic days a reigning monarch paid that sort of compliment to genius such as his.
Soon after this, Dickens organised a series of public entertainments in remembrance of his recently deceased friend Douglas Jerrold. One was the performance of "The Frozen Deep" in the Free Trade Hall at Manchester, by practically the same company. It was during our journey to that city that our train was much delayed. I was travelling in the compartment adjoining that of Dickens, and we all grew desperately hungry. To beguile the time we composed conundrums, scribbled them on scrolls of paper, and passed them from window to window on sticks and umbrellas. From him came the question: "Why is the manager's stomach at this moment like a butler's pantry?" And while we were puzzling for the solution, we received his: "Because there is a sink in (sinking) there."
The Manchester audience that crowded the building endorsed to the full the verdict of London, and two more performances had to be conceded. We all had a glorious time in Cottonopolis… [pp15-16]
…
Dickens had a keen appreciation of the good things of the table. His own was always lavishly supplied for his friends, and the very numerous rehearsals which preceded the plays he produced at his house were always followed by substantial suppers, which all concerned partook of, seated round the large table in his commodious dining room. The viands would have delighted the heart of John Browdie, for they included a huge joint of cold roast beef, a tongue, a ham, several cold roast fowls, a few raised pies, trifle, tarts and jellies, dozens of bottled Guinness and Bass, and ended with punch brewed by "the manager's" own hands. Punch, in those days, meant a deliciously odoured compound of rum and brandy, spice, sugar and lemon juice, ladled, piping hot, into good-sized tumblers from a bowl the size of a small bath. [pp17-18]
…
When I once spent a week with him and his family in Boulogne, I had occasion to notice him in the role of devoted parent. One evening, when he, Wilkie Collins and I visited a fair then in progress in that quaint old town, he carried his youngest boy on his shoulders from show to show, that he might see the fun as well as his elders. And how keenly he sympathised with neglected, ill-used, misunderstood boys, readers of his books do not need to be reminded. [p19-20]
---
From 97 by Francesco Berger, London 1931.
---
go back to Wilkie Collins front page
visit the Paul Lewis front page
---
All material on these pages is © Paul Lewis 1997-2006
---