To Nina Lehmann
ALS to Nina Lehmann from 9 Melcombe Place dated [Sunday] 9 December 1866. Single book--folded sheet of very thin blue laid un-watermarked paper 208x274mm. Water staining to the surface and tears along some folds.
The Public Face of Wilkie Collins II 52-55

9. Melcombe Place, Dorset Square, London
Decr 9[changed from 8]th 1866

Injured, and admirable, [deletion] Padrona! observe
the date, [deletion] and address!!
[deletion] What does it mean? Am I a wretch unworthy
of your kindness, unworthy of your interest?
I affirm with the whole force of my conviction
that I am only the unluckiest of men.
Hear me!
I had made all my arrangements for returning
by way of Pau, and was on the point of writing
so,
to you to say / when letters arrived [del: from] for me from
Paris and London.
The letter from Paris, only informed me of a
difficulty. The letter from London announced a
Disaster.
French
My collaborator in the new / dramatic version
in Paris
of Armadale was at a standstill / for want of
personal explanations with the author of the book. He
had urgent reasons for wishing to see me as soon
[omitted: as] possible. Having laid this letter down, I took up
next the letter from London. It was from the
manager of the Olympic Theatre -- and it announced
the total failure (in respect of attracting audiences)
of The Frozen Deep! Not a sixpence made
for me by the play (after all the success of the first
night!) -- the account books of the theatre waiting
to be examined by me -- and the manager
waiting to know what was to be done next!
There was nothing for it but to resign myself
to the disappointment of missing my visit --
and to get back to Paris and London as
fast as I could. I caught the steamer at
Civita Vecchia -- went to Leghorn -- from Leghorn
to Marseilles -- Marseilles to Macon (to rest after
[deletion] ten hours shaking on the railway) --
Macon to Paris. At Paris, a long day's
work with my collaborator, which put things
right again. Next day, from Paris to London.
Next day, investigation of the accounts of the
Theatre -- plain evidence that the play has
not even paid its expenses -- no alternative that
I can see, or the manager either, but to put "The
Frozen Deep" on the shelf by, or before, Christmas.
Such is my brief narrative of disaster. Now you
know the facts, will you be a dear good soul,
and forgive your faithful Wilkie? When a
man's affairs are all going wrong in his absence
abroad -- what is the man to do? He can
do nothing but go back.
You will want to know why we have failed
in this miserable manner. The play is [del] (I am
told -- for I have not yet had the courage to go and
see it) beautifully got up, and very well acted.
But the enlightened British Public declares it
to be "slow". There is'nt an atom of slang or
vulgarity in the whole piece from beginning to
end -- no female legs are shown in it -- Richard
Wardour does'nt get up after dying and sing
a comic song -- sailors are represented in
the Arctic regions, and there is no hornpipe
danced, and no sudden arrival of "the pets of
the ballet" to join the dance in the costume
of [deletion] Esquimaux maidens -- finally,
all the men on the stage don't marry all
the women on the stage, at the end -- and
nobody addresses the audience, and says:- "If
our kind friends here to-night will only encourage
us by their applause, there are brave hearts
among us which will dare the perils for
many a night yet, of -- The Frozen Deep!"
For these reasons, best of women, I
[deletion] have failed. Is my tail put down? No
- a thousand times, No! I am at work on
the dramatic "Armadale"-- and I will take
John Bull by the scruff of the neck, and
force him into the theatre to see it -- before or
after it has been played in French, I don't know
which -- but into the theatre John Bull shall
go. I have some ideas of advertising next time


that will make the public hair stand on end. And so
enough, and more than enough, of theatrical matters.
Oh, I wanted you so at Rome-- in the Protestant
Cemetery -- don't start! [deletion] No ghosts-- only a
cat. I went to show my friend Pigott the grave
of the illustrious Shelley. Approaching the [deletion] /resting-place/
of the divine poet, in a bright sunlight, the finest
black Tom you ever saw, discovered at an
incredible distance that a Catanthropist had
entered the Cemetery -- rushed up at a gallop,
spine
with his tail at right angles to his [deleted: back] / -- turned
over on his back, with his four paws in the
air -- and said in the language of cats:- "Shelley
be hanged! Come and tickle me!" I stooped,
and tickled him. We were both profoundly
affected.
Is this all I have to tell you about Rome? By
no means. Then why do'nt I go on and tell it.
Because it is five o'clock -- the British muffin-bell
is ringing-- the dismal British Sunday is closing
in-- I have promised to dine with the Benzons
(where I shall meet Fred), and to take [deletion] Charley &
Katie (who is in Dr. Mussy's hands again) on my
way. I must walk to keep my horrid
corpulence down -- and the time is slipping away
- and, though I want to go on talking to you,
I must submit to another disappointment,
and give it up.
Will you write, and say you have forgiven
me? The most becoming ornament of your
enchanting sex is -- Mercy. It is the ornament,
dear lady, that you especially wear! (Mercy
on me, I am drifting into the phraseology of
Count Fosco!). [deletion] Let me revert to W. C.
again. Will you ask me to come and see you
are
when you / back in the fine weather at Woodlands?
Do, please-- for it is'nt my fault that I
am in London instead of [deleted: at] in Pau. I must
work and get some money, now my play has
declined to put a halfpenny in my pocket.
Yours ever affctly W. C.
NOTES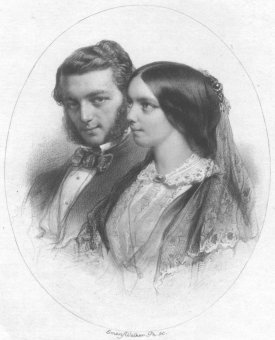 Nina Lehmann was one of Wilkie's oldest friends. He met her in the early 1850s as Nina Chambers, the niece of the wife of W H Wills, Dickens's sub-editor on Household Words. In November 1852 she married Frederick Lehmann and Wilkie's friendship with the couple lasted the rest of his life. He referred to her as 'the Padrona' and frequently stayed at their house Woodlands. The picture here by Emery Walker shows the Lehmanns on their wedding day. Fred's brother Rudolf, painted two pictures of Wilkie - an oil in 1880 and a sketch in 1862.
Wilkie used the thin blue paper to keep down the weight of the letter which was to be sent from London to Pau in South-west France, where Nina spent much of 1866/67 due to ill-health. Overlooking the Pyrenees, Pau had become very popular for the supposed curative powers of its mild climate. At one time it was called "La ville Anglaise". Nevertheless, it would have been a distance from Marseilles if Wilkie had carried out his intention to visit on his way home.
This letter was substantially published in R.C.Lehmann Memories of Half a Century Smith, Elder & Co. London 1908 pp51-54 but with 'corrected' punctuation and missing one sentence. The doctor's name was also omitted. He was Henri G de Mussy. Wilkie wrote to de Mussy twice - on 13 November 1865 and 8 July 1868. See The Public Face of Wilkie Collins II 21, 117.
Wilkie's collaborator was François Régnier, a leading French actor with the Comédie Française, who worked with WC on a number of plays.
The Frozen Deep opened at The Olympic Theatre on 27 October 1866 and closed on 15 December 1866.
The Benzons - Frederick Lehmann's sister Elizabeth married Edmund Ernst Leopold Schlesinger Benzon (d. 14 September 1873), a steel manufacturer and patron of the arts.
---
All material on these pages is © Paul Lewis 1997-2005
---