1880 - age 56
Painting by Rudolf Lehmann (1819-1905), brother of Wilkie's friend, Frederic Lehmann.
Oil on canvas, 26.25in. x 21.25in. (667 mm x 540 mm)
This image is courtesy of the National Portrait Gallery which holds the copyright in it and forbids reproduction in any form without permission.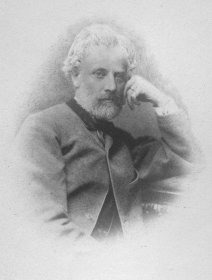 Rudolf Lehmann, shown left, wrote of Wilkie
"I painted him, a commission from my brother, in 1880. Being the son of a Royal Academician, he proved a most patient sitter. He had a full beard and always wore spectacles. A peculiarity of his otherwise regular features was a swelling of the frontal bone, considerably protruding on the right side of his spacious forehead."
Text and picture from Rudolf Lehmann An Artist's Reminiscences Smith, Elder, London 1894