WHERE WILKIE LIVED
1840-1843 Publication
After the fears of the damp, clay soil at Avenue Road, in August 1840 William Collins moved his family to a new house, 85 Oxford-terrace, Hyde-park.

"a situation to which he was recommended as one of the driest and healthiest in London...after he had removed to Oxford-terrace he suffered no further inconvenience from the complaint in his eyes, until the date of a stay at a friend's house...Here the dwelling he inhabited being built on clay, the inflammatory symptoms appeared again almost immediately; subsiding, however, as quickly on his return to his own abode, built on gravel" (Memoirs II, 173, 178)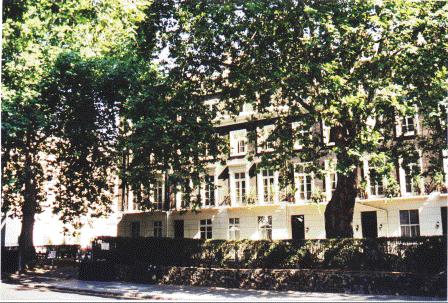 The present 163-171 Sussex Gardens, then 83-87 Oxford-terrace. John Bullar, the executor of William's will, and his son Henry who bedame a close friend of Wilkie's, lived at No.87



Oxford Terrace and Cambridge Terrace were the names given to two rows of houses being built either side of what is now Sussex Gardens. No.85 was in a terrace finished in 1840 and running from Devonport Street (now Sussex Place) to Westbourne Street. In front is a little private road, probably then gated, and a small garden. There was no rear access to nos.83-85, the back of the houses being built tight onto the sides of the Devonport street properties.

| | |
| --- | --- |
| | The house is still there. Renumbered 5 Sussex Gardens in 1905 and then 167 Sussex Gardens on 2 March 1936, it is a little hard to identify. No. 163 Sussex Gardens has its entrance on Sussex Place. No. 165 is the first front door along the terrace. And the front door of No. 169 is the next, shown here in the right of the picture. No. 167 has been absorbed into its neighbour and its front door is now a window. But the house can still be seen as a separate building, the width of the middle two windows shown here, the balcony denoting its separate existence. It is a handsome four-storey terrace house, not far from Porchester Terrace at the north-east corner of Hyde Park. |
| 85 Oxford-terrace. The present 167 Sussex Gardens. | |
The four years the family spent there were times of great change for Wilkie. He left Mr Cole's academy in December 1840 and the question naturally arose - what will Willie (as the family then called him) do?
In one of his few pieces of autobiography, a note to an unidentified French correspondent, he says

"My father proposed sending me to the University of Oxford, with a view to my entering the Church. But I found no vocation for that way of life, and I preferred trying mercantile pursuits."(21 March 1862, cited in Parrish)
His father found him a job at the tea merchants Edmund Antrobus at 446 Strand (West). The premises were located on the north side of The Strand, between King William Street and Adelaide Street, opposite what is now Charing Cross Station.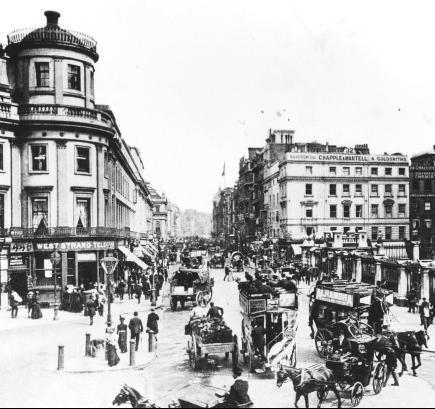 Strand looking east late 19C. Antrobus's office was in the terrace on the left


The frontage of the building is still there, though the interiors were rebuilt in the 1970s when the centre of the terrace was replaced with a new glass-fronted branhc of Coutts Bank. No.446 is now part of the Tecno electronic goods store. The terrace is about 300 metres from the premises of the Royal Academy which was located then in the east wing of what is now the National gallery in Trafalgar Square.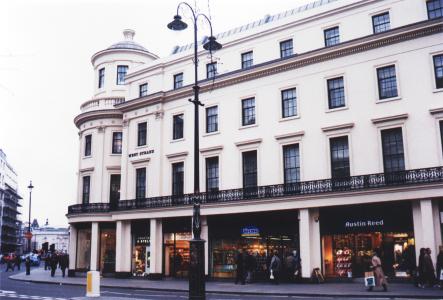 446 West Strand today, just right of the lamp-post
Wilkie did not take to the tea business at all. Even his most academic biographers have seen autobiography in this passage from Hide and Seek, written in 1854, a dozen years after the actual events in Oxford-terrace, and just three years after his friend Charles Dickens put his own life into David Copperfield. In Hide and Seek, Zachary Thorpe, closer to his kindly mother than his strong and religious father, writes to his artist friend Valentine Blyth. In this passage for artist read 'writer'. Omissions are Blyth's interpolated comments.

"I have been bullied by my father, and coaxed by my mother; and the end of it is, that I have given in, at least for the present. I told the governor about wanting to be an artist...but I might just as well have talked to one of your easels. He said the profession was a dangerous one...and led to all sorts of profligacy...and that artists in general led very debauched lives...I denied it all, of course, point-blank...and was savagely rowed for my pains...It ended, as I said before, in my giving in on my mother's account. And here I have been, for the last three weeks, at a Tea Broker's office in the city, in consequence. The governor and his friends say it's a good opening for me, and talk about respectability of commerical pursuits. I don't want to be respectable, and I hate commercial pursuits. What the deuce is the good of forcing me into a merchant's office, when I can't say my Multiplication table? Ask my mother about that: she'll tell you! Only fancy me going round tea warehouses in filthy Jewish places like St. Mary-Axe, to take samples, with a blue bag to carry them about in; and a dirty junior clerk, who wears Blucher boots and cleans his pen in his hair, to teach me how to fold up parcels! Is'nt it enough to make a fellow's blood boil to think of it?" (Hide and Seek, Book I, Chapter IV, first edition 1853, NB the paragraph is changed in later editions and is in Book I, Chapter II)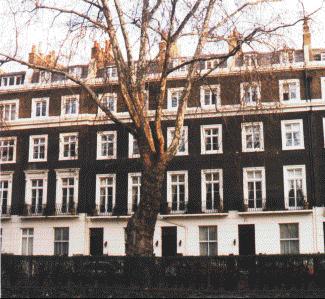 167 Sussex Gardens in the winter of 1997. The Collins's house is on the left.



Wilkie did not take his time at Antrobus's seriously. He passed some of it writing. George Towle was an American journalist who met Wilkie in the 1860s and wrote an account of his life and works in Appleton's Journal of Literature Science and Art in 1870. Some of it is in quote marks and seems to have come from a letter written by Collins.

"There was however hardly any form of audacious literary enterprise proper to his age which he did not surreptitiously venture, while he was supposed to be in a fair way of becoming one of the solid commercial props of the city of London. Toward the end of the four years he had grown wise enough 'to descend from epic poems and blank-verse tragedies' to unassuming little articles and stories, some of which found their way modestly into the small periodicals of the time."
In May 1841 Wilkie's godfather, Sir David Wilkie, died off the coast of Gibraltar and was buried at sea. In late August, William spent three weeks in the Sussex town of Seaford. The material he gathered was turned into a painting 'Seaford--Sussex' exhibited at the Royal Academy in 1844, bought by John Sheepshanks for 170 guineas, and now on display at the Victoria and Albert Museum in London.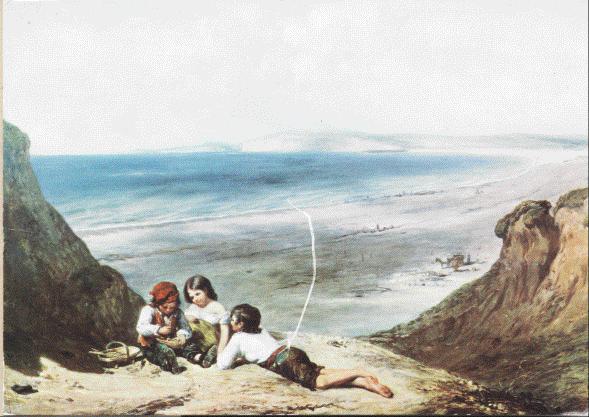 Then in the spring of 1842, the family had bad news about William's health

"He was seized one night, just before his pictures were sent to the Royal Academy, with a violent attack of internal pain. Medical assistance was immediately procured, and his most urgent symptoms were relieved." But the doctor "proceeded to examine him with the 'stethescope' The result of this investigation was to assure the doctor that Mr Collins was labouring under organic disease of the heart." (Memoirs II, 208)
It may have been this discovery that shocked him into taking action to try to secure his son a secure job for life. On 18 May 1842 William wrote from Oxford-terrace to his patron Sir Robert Peel. Peel had bought four pictures off William in the 1820s and introduced him to many useful clients. In 1841 Peel became Prime Minister. William clearly thought this meant he could find a position for Wilkie in the civil service. It was a letter on the grovelling side of polite which eventually gets to the point.

"It is that you would, should an opportunity occur, further the interests of my on, for whose success in life I am of course most anxious, my great desire is to see him placed in The Treasury or in some other government office, where should he be found worthy, he might have the prospect, however distant, of rising to eminence.- I have ventured to mention The Treasury because I believe in that department there would be no necessity for leaving England, for I know I could not part with him altogether."
Peel politely declined

"I have received from friends & supporters of the Government at least one hundred similar applications. The Establishment is so limited that there is not probably more than one vacancy in the course of the year in the Treasury and I must therefore express to you my sincere regret that I see no prospect that, in the present state of my engagements, I can have the satisfaction of complying with your wishes."
The doctor had advised William to avoid exertion or emotion and pay "the most unremitting attention to his health". And fears about his health may have been the reason for taking Wilkie along when he visited Scotland to see his friend Captain Otter and to travel to Shetland to make sketches for illustrating a new edition of Sir Walter Scott's The Pirate. They left in early June and did not return for about a month. On Saturday 2 July Wilkie wrote his mother a long letter from Lerwick on Shetland, quoting from The Pickwick Papers (published in 1837) and telling tales of the people and sites.

"We have made another tour to Sumburgh head (mentioned by Scott in the Pirate) it is 30 miles from head quarters. After we had ridden as far as Nighton (20 miles) Mr Bruce who lives there insisted upon our walking in and taking tea with him. While discussing fowl and ham and the charms of the scenery it began to rain as if all the water in the world was being emptied on the elevated roof that sheltered us. Mr Bruce declared we must sleep there so sleep we did after talking till 12 oClock. After breakfast Mr B accompanied us half the way to Sumburgh and there bade us a hearty adieu. This is the usual practice here and the best bed room in every Zetland House is always kept for the use of strangers."
On their return, Wilkie and Charley stayed with the Antrobus family while William and Harriet visited friends in Southsea, Portsmouth. Writing to his father from the Strand on Wednesday 24 August 1842 in what he called a "rambling and ill written" letter he said

"Pray write and let me know whether that abominable engine of destruction in which you yesterday mentioned yourself, has deposited you uninjured at Southsea"
It was the first hint perhaps of the contents of the first published work of fiction of Wilkie's that has been identified, the only one of his known published works that was written at 85 Oxford-terrace.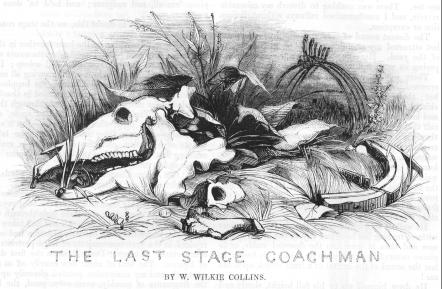 Illuminated Magazine, Vol.I No.4, August 1843, p.209
| | |
| --- | --- |
| | 'The Last Stage Coachman' is a slight story which filled three pages of the first issue of The Illuminated Magazine - a periodical which lasted just two years - from May 1843 to April 1845. It was published from Crane Court in Fleet Street, a short walk down the Strand from where Wilkie worked at Antrobus's office. It is signed W. Wilkie Collins and illustrated by Henry George Hine (1811-1895) a watercolour painter and Vice-president of the Royal Institute of Painters in Watercolours. |
| | |
| --- | --- |
| Earlier that year, on 3 May 1843, William made his will leaving his property to his wife Harriet while she lived and then passing equally to his two sons William Wilkie and Charles Allston. It was witnessed by his neighbours John and Henry Bullar. Then, in the late summer, just after Wilkie's story was published, William moved his family for the last time. He wanted a proper studio at home - something he had never really had - and he found it just round the corner at 1 Devonport-place, Hyde-park. | |
| | Looking along Oxford-terrace towards Devonport-street. No.1 was just round the corner |
Sources
Memoirs of the Life of William Collins, Esq., R.A. by Wilkie Collins, 2vols., Longman, Brown, Green and Longmans, London 1848.

The will of William John Thomas Collins (PROB. II 2054 f.53).

The Illuminated Magazine vol.I, No.4, August 1843

The published biographies of Wilkie Collins.




Oxford-terrace version 1.01 28 March 1999


---
---
go back to Wilkie Collins front page
go back to the Paul Lewis front page

e-mail Paul Lewis on paul@paullewis.co.uk
---
All material on these pages is © Paul Lewis 1999
---