WHERE WILKIE LIVED
Wilkie Collins spent almost all his life living in one square mile of London in the district known as Marylebone. He was born there, lived there with both the women he loved, and died there.
---
17 Hanover Terrace, Regent's Park, London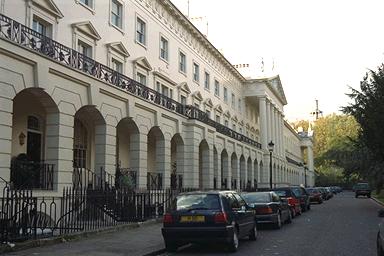 Hanover Terrace consists of 20 large houses overlooking the Outer Circle of Regent's Park in London. Today it is an exclusive and expensive address complete with burglar alarms, closed circuit television, and metal grilles protecting the elegant windows. At each end and near the centre an even larger house is found behind Greek temple frontages complete with blue and white typanums topped with statues. There are three blue plaques announcing famous residents. The writer H G Wells died at number 13 in 1946 and the composer Ralph Vaughan Williams died at number 10 in 1958. The other plaque, at number 11, commemorates the architect Anthony Salvin, a pupil of John Nash and a contemporary of William Collins. No plaque commemorates Wilkie's residence at number 17 nor that of the poet Sir Edmund Gosse who lived there in the 1920s. Behind is Hanover Mews still retaining the granite setts with which Victorian streets were paved. Now used for garaging and separate accommodation it retains one lovely 19th century lamp on a wall bracket.

Wilkie Collins at Hanover Terrace

Wilkie's father William Collins died in 1847. He had become a successful artist and left his widow, Harriet, comfortably provided for. His £11,000 legacy brought her more than £700 a year. In the summer of 1850 she and her two sons, Wilkie and Charles, moved to 17 Hanover Terrace, a luxurious home with a magnificent drawing room overlooking Regent's Park. Wilkie lived there with her for nearly six years. His brother Charles had a painting room and Wilkie had a study.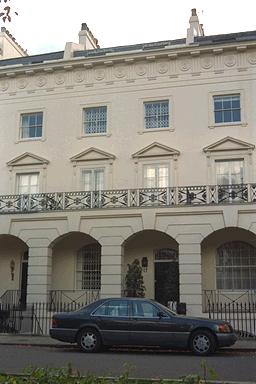 While he lived there Wilkie wrote Rambles Beyond Railways (1851), Basil (1852), Mr Wray's Cash Box (1852), and Hide and Seek (1854). He was also contributing to Bentley's Miscellany (March 1851 - August 1852) and The Leader (September 1851 - August 1855). In 1851 he began his lifelong friendship with Dickens and began to contribute to Household Words (24 April 1852 onwards). Hanover Terrace was where Wilkie's literary career really began.

The Census of 30 March 1851 records six people in the house. There was Wilkie himself, whose profession is still listed as 'Law Student', his mother, and his brother Charles listed as 'Artist'. Apart from the family, Frances Giddes, a friend aged 17 was visiting, and there were two servants, Fanny Green, cook aged 25, and Emily Ballard, house maid aged 26. There is no evidence that the Collins' had a coach, in fact quite the contrary. But the back of the house, which gives onto Hanover Mews, listed James Greenway, coachman aged 49, with his wife Grace and five children including John aged 13 who was an errand boy.

It was also the time when he and and his brother Charles deepened their involvement with the extensive literary and artistic circle of the mid-nineteenth century. Charles was a pre-Raphaelite, though not actually in the Brotherhood, and the family entertained a great deal, on one occasion in 1852 giving a dance for 70 people. Among the visitors were E M Ward, Holman Hunt, Dickens, and John Everett Millais. It was on a walk from 17 Hanover Terrace back to Millais's family home at 83 Gower Street in the early 1850s that Wilkie is supposed to have had a dramatic and life-changing encounter. The Collins brothers were accompanying Millais home; at the time that part of London was semi-rural and badly lit. The source is the biography of Millais by his son, John Guille Millais, published in 1899.

"It was a beautiful moonlight night in the summer time, and as the three friends walked along chatting gaily together, they were suddenly arrested by a piercing scream coming from the garden of a villa close at hand. It was evidently the cry of a woman in distress and while pausing to consider what they should do, the iron gate leading to the garden was dashed open, and from it came the figure of a young and very beautiful woman dressed inflowing white robes that shone in the moonlight. She seemed to float rather than to run in their direction, and, on coming up to the three young men, she paused for a moment in an attitude of supplication and terror. Then, suddenly seeming to recollect herself, she suddenly moved on and vanished in the shadows cast upon the road."
Collins dashed after her and reported the next day that she had related her sad story of being kept a prisoner through mesmeric influence and threats of violence in a villa in Regent's Park. The passage concludes, darkly,

"Her subsequent history, interesting as it is, is not for these pages."
This account is traditionally taken to be the moment when Wilkie met Caroline Graves, with whom he was to live for most of the rest of his life, and also as a source for the dramatic meeting between Walter Hartwright and Anne Catherick in The Woman in White. Neither is probably true.

The Millais biography was published in 1899 when all the parties were dead and although the meeting has similarities to the account in The Woman in White there were nearly forty years for them to get confused.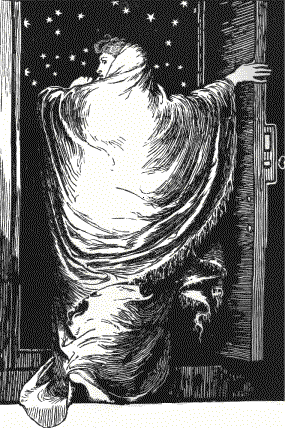 "I had now arrived at that particular point of my walk where four roads met -- the road to Hampstead, along which I had returned; the road to Finchley; the road to West End; and the road back to London. I had mechanically turned in this latter direction, and was strolling along the lonely high-road -- idly wondering, I remember, what the Cumberland young ladies would look like -- when, in one moment, every drop of blood in my body was brought to a stop by the touch of a hand laid lightly and suddenly on my shoulder from behind me. I turned on the instant, with my fingers tightening round the handle of my stick. There, in the middle of the broad, bright high-road -- there, as if it had that moment sprung out of the earth or dropped from the heaven -- stood the figure of a solitary Woman, dressed from head to foot in white garments; her face bent in grave inquiry on mine, her hand pointing to the dark cloud over London, as I faced her."
The Woman in White, 1860, Bk.I, ch.4



Poster designed by Fred Walker in 1871 for
the stage version of The Woman in White
Nor was Caroline Graves a prisoner. She was in fact keeping a second hand shop near Fitzroy Square. The most direct route from Hanover Terrace to Gower Street passes nearby. So perhaps they did meet on one of these walks - perhaps Wilkie even rescued her from some real or imagined threat - and the story became embroidered as it was told to (male) friends over brandy and cigars.


5 January 1997
Version 1.1 adding census information

forward to 12 Harley Street
back to 30 Porchester Terrace
---
This piece draws heavily on information in four key biographies of Wilkie Collins by Ellis, Robinson, Clarke, and Peters.
---
All material on these pages is © Paul Lewis 1996, 1997, 1998
---