WHERE WILKIE LIVED
The first years -- 1824-1830


William Wilkie Collins was born on Thursday 8 January 1824 in the district of London where he spent almost all his life - Marylebone.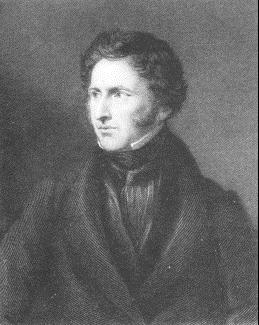 His parents were William Collins, a successful artist and member of the Royal Academy, pictured on the right in a portrait by his friend John Linnell, and Harriet Geddes, the daughter of a respectable but impoverished army Lieutenant. Harriet tried her hand at acting and then as a teacher and a governess in London, helped by her sister Margaret Carpenter who was already making her way as a successful portrait painter. She met William at a small gathering of artists in 1814 - she was then 23, he was 25. But it was another seven years before William proposed to her and another year before his financial circumstances finally allowed - or their desires finally forced - them to marry in Edinburgh on 16 September 1822. They returned to London and the house - 11 New Cavendish Street - which William shared with his mother and brother Francis. He had moved in 1815 from a
"small and inconvenient house in Great Portland-street, to a larger and more eligible abode in New Cavendish-street. His success with the Academy [he had been elected an Associate on 7 February 1814] and the world of Art...appeared to all who knew him to warrant his incurring the increased expenses attendant on thus making a more respectable appearance, as regarded his abode" (Memoirs I pp73-4)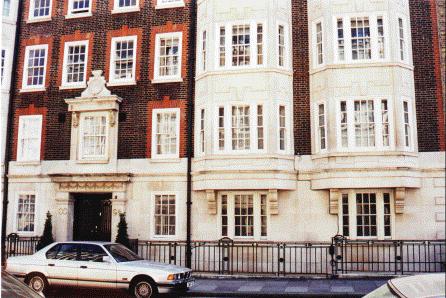 The house where Wilkie Collins was born stood on the right hand half of this picture.
The house was not far from Great Portland Street, on the south side of New Cavendish Street, east of Portland Place and close to what was then Duke Street, now called Hallam Street. In 1871 the house was renumbered 13 and it was renumbered again later as 96 New Cavendish Street. Around the turn of the century the building was pulled down and replaced by a block of mansion flats, 96-100, which still stands today, on the corner of New Cavendish Street and Hallam Street. The property next door and the other buildings to the junction with Portland Place stand as they were in 1824.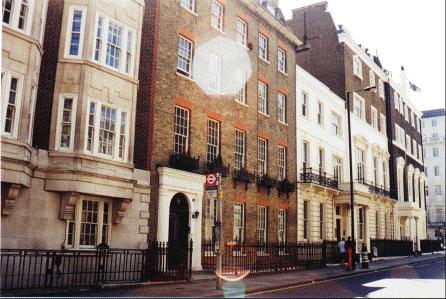 The site of the house where Wilkie was born on the left and neighbouring houses of that period towards Porltand Place
| | |
| --- | --- |
| The Stag's Head public house is still on the opposite corner of Hallam Street, as it was when Wilkie was born, though now housed in a 1960s building. | |
| | |
| --- | --- |
| | By the time of Wilkie's birth, William was a successful artist. He had been selling pictures since 1808. In February 1820 he was elected to the Royal Academy and he exhibited pictures at every annual exhibition. In 1823 - the year before Wilkie's birth - he sold eight paintings for a total of around £700. At the time, a skilled labourer was lucky to earn £70 in a year. It was a far cry from the near bankruptcy faced by him and his mother when his father died and from the genteel poverty of Harriet's home life. One of his oldest friends - and most useful of contacts - was the artist Sir David Wilkie who had been a student at the Royal Academy with him. he agreed to be the godfather of William's first child, who was named accordingly - William Wilkie Collins. |
| Wilkie Collins as a baby drawn by his father William | |


Wilkie was baptised on 10 February at the parish church of St Mary-Le-Bone on what is now Marylebone Road, then called New Road. The church is still there. It was probably on this day that David Wilkie first saw his godson.
"The great artist's first criticism on his future godson is worth recording, from its originality. Sir David, whose studies of human nature extended to everything but infant human nature, had evidently been refreshing his faculties for the occasion, by taxing his boyish recollections of puppies and kittens; for, after looking intently into the child's eyes, as it was held up for his inspection, he exclaimed to the father with serious astonishment and satisfaction, 'He sees!'" (Memoirs I p235)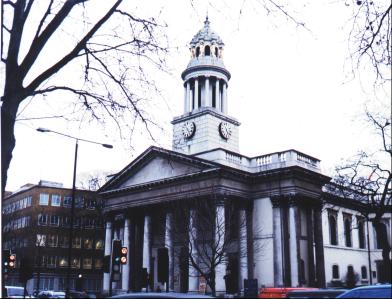 Parish Church of St Mary-Le-Bone



In 1825 William Collins spent the Summer out of London in "the little village of Hendon...To the brooks, the meadows, and the woods surrounding this thoroughly English retirement, his happiest leisure hours were devoted." (Memoirs I p249)


Wilkie's account of his father then explains how he could convey a love of nature and its details. Every one of Wilkie's novels contains details of countryside, weather, or landscape to set the scene.
"an excursion with him in the countryside was a privilege thoroughly appreciated by all who knew him. He possessed the peculiar faculty of divesting his profession of all is mysteries and technicalities, and of enabling the most uneducated in his Art to look at Nature with his eyes, and enjoy Nature with his zest. People who had possessed years of acquaintance with scenery to which he was a stranger, found themselves introduced by him to points of view which they had never before discovered, and enabled, for the first time, to separate through his teaching the valuable and the true from the common and the artificial, in landscapes among which from childhood their lives had been past." (Memoirs I p269)
During 1825 Wilkie's godfather, Sir David Wilkie, left for what was to be a three year trip to see the classical and renaissance art in Europe. William and Sir David corresponded and laid the ground for William to make his own European tour ten years later - a trip that would affect his son Wilkie for the rest of his life.

| | |
| --- | --- |
| | The following year, 1826, William's "increasing anxiety to devote himself daily to the study and enjoyment of nature, induced him to quit London and fix his residence definitely in Hampstead" (Memoirs I p.268). The family moved to a house in Pond Street, Hampstead Green. |


Years later, in 1874, Wilkie described it in a letter to a friend.

"The house was on the right hand, as you descend the hill--the second house (on the way down the hill) in a row of small houses which still remains." (Peters The King of Inventors p.23)
Alas, it no longer does. A hospital has been built on the site.
The family was still at the Hampstead house in January 1828 when their second son Charles was born. Writing on 17 April 1828 to Sir David Wilkie, who was by then in Madrid and near the end of his three years tour of Europe, William described his two sons and the house.
"Your godson grows a strapping fellow, and has a little blue-eyed red-haired bonny bairn, as a brother, about three months old. I have now, for nearly two years, occupied a small house at this place, with I think no loss of advantage in my pursuits...as the distance from the great City is only three miles, I have by no means given up useful contact with many of its most valuable contents." (Memoirs I p299)
The next year William decided to move to a larger property so that his mother, whose health was failing and who still lived in New Cavendish Street, could move in with him. He decided to build his own house in Hampstead. But then there were legal problems with the title to the land he wanted to buy and he decided to take his family, including his mother, to Boulogne for the summer
"The house he occupied stood in the market-place; and he had but to look from his window to find, in the picturesque dresses, curious gestures, and bustling employments of the agricultural peasantry, that ample occupation for his sketch-book, which was a equisite of his happiness wherever he went." (Memoirs I p327)
They returned via Dover around the middle of September and stayed at Ramsgate for a little while before returning to Hampstead where William let a temporary house at Hampstead Square near the Heath. But the plans to build his own house were abandoned and in 1830 he moved back towards central London - to Porchester Terrace, Bayswater.
Wilkie was six and a half when his family finally left Hampstead. But as with so many of his experiences in life, this one was to find its way into his writing. The Woman in White begins with Walter Hartright's visit to "my mother's cottage at Hampstead"
"The quiet twilight was still trembling on the topmost ridges of the heath; and the view of London below me had sunk into a black gulf in the shadow of the cloudy night, when I stood before the gate of my mother's cottage."
And his meeting with Anne Catherick - the woman in white - occurs on the journey back to London from the cottage at Hampstead.
"I determined to stroll home in the purer air by the most roundabout way I could take; to follow the white winding paths across the lonely heath; and to approach London through its most open suburb by striking into the Finchley Road, and so getting back, in the cool of the new morning, by the western side of the Regent's Park.

I wound my way down slowly over the heath, enjoying the divine stillness of the scene, and admiring the soft alternations of light and shade as they followed each other over the broken ground on every side of me. So long as I was proceeding through this first and prettiest part of my night walk my mind remained passively open to the impressions produced by the view; and I thought but little on any subject -- indeed, so far as my own sensations were concerned, I can hardly say that I thought at all."
Back to List of homes
Forward to 30 Porchester Terrace


---
Sources
Memoirs of the Life of William Collins, Esq., R.A. by Wilkie Collins, 2vols., Longman, Brown, Green and Longmans, London 1848.
The Woman in White Sampson Low, Son, & Co., London 1860
And the published biographies of Wilkie Collins.


---
All material on these pages is © Paul Lewis 1999
---