Kew Bridge development
Fitting in
The Scottish Widows plot is a difficult site to build on. Three conservation areas meet there - Strand on the Green to the east, Kew Green over the river to the south, and Kew Bridge to the north and west. It is also in what is called the buffer zone of the Royal Botanic Gardens at Kew which were designated a World Heritage Site in 2004. It is close to a Grade I listed building - the tower at Kew Bridge Steam Museum - and several Grade II listed buildings including Kew Bridge itself and Kew Bridge station, built in 1850 and officially at risk. Numerous listed buildings of various categories along Kew Bridge Road, Green Dragon Lane, Strand on the Green, and over the river at Kew Green will be affected by it.
At its highest the building will be around 30 metres tall - nearly half the height of the Grade I listed Tower - and the five and six storey frontage on Kew Bridge Road will take away the view the houses and flats on the opposite side of the street have enjoyed for two decades.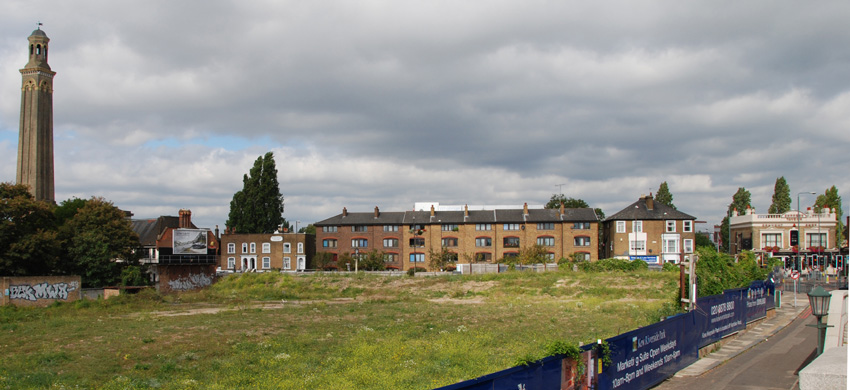 The view that will disappear for these homes in Kew Bridge Road. They will face the five and six storey frontage of the new building.
St George says that the development will improve the local area. There will be a new public space down to the river. The Waggon & Horses pub will be demolished and relocated close to the water, and St George will upgrade the dark and dank pedestrian way under Kew Bridge.
The Waggon & Horses, built in the late 1930s to replace an 1840s building, will be demolished and replaced with a five storey building of 26 dwellings.
The unpleasant pedestrian way under Kew Bridge joining Strand on the Green and the vacant site will be improved and have wheelchair access, though it will still have to allow the free movement of the river.
The views of the elegant tower that dominates the skyline round Kew Bridge will suffer from the scale of the new building. Although the architects have tried to preserve some sight lines to it, that generally consists of the top third rising above the new buildings.

The tower was built in 1867 by Alexander Fraser. It houses a pipe almost 200 feet long and acted as a giant safety valve for the massive beam engine steam pumps at the Grand Junction Waterworks. An earlier pipe in a steel lattice casing was damaged by frost. The new tower protected the pipe by housing it in a brick tower. In cold weather fires could be lit at the base. It is properly called the Stand-pipe Tower but recently it has been likened to a Italian bell-tower and nowadays is referred to by planners and architects by the Italian word campanile. But the slots at the top were to allow out the smoke of the fires, not the peal of bells.

The Tower has been a dominant feature of the skyline round Kew for nearly 140 years, although its impact from many points of view has been reduced by the six 22-storey blocks of flats on Green Dragon Lane. It is protected by its Grade I listing and the buildings around it in the waterworks are of similar age and listed Grade II. Today the waterworks is leased by the Kew Bridge Steam Museum. Three of the original pumps are still in working order, the largest working steam pumps in their original location in the world.


This view of the Tower from Kew Bridge would disappear


These buildings will face the new development across Kew Bridge Road
---
Go to Kew Bridge Road buildings

Back to Kew Bridge development front page

Back to Strand on the Green front page

visit the Paul Lewis front page
---
All material on these pages is © Paul Lewis 1996-2007
---