1895 from 1870
This engraving appears to be re-engraved in wood from the 1870 image published in Appleton's Journal.
Taken from How to Read Character - a New Illustrated Hand-Book of Phrenology and Physiognomy for Students and Examiners; with a Descriptive Chart, Fowler & Wells, New York 1895, p125. This book is probably by Samuel R Wells (1820-1875) and was first published in 1883. It deals with Collins in a short section and a note.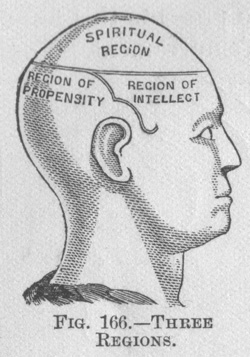 If Intellect be the leading development, the forehead and whole anterior compartment of the cranium, as marked on the diagram (fig. 166), will be deep and broad, as in fig. 167. Here the posterior compartment or Region of Propensity is short and narrow, and the Superior or Spiritual Region (seat of the Moral Sentiments) only moderately developed. If your subject have a forehead like this, you will infer that he is both an observer and a thinker of more than ordinary capacity.
*An English novelist and miscellaneous writer, noted for his skill in the management of the plot in his fictions. "After Dark, " "The Dead Secret," and "The Woman in White" are among his many popular works.