Go to text of 'Laid up in Two Lodgings'
LAID UP IN TWO LODGINGS
INTRODUCTION
Publishing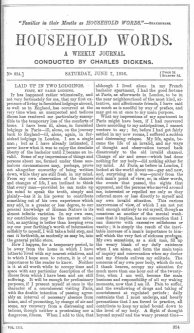 'Laid up in Two Lodgings' was published in Household Words in June 1856 and is based on Collins's experiences in Paris and London earlier that year. Collins had first written for Dickens's weekly in 1852. 'Laid up' was his ninth contribution and only his second non-fiction piece, falling chronologically between 'A Rogue's Life' in March 1856 and and 'The Diary of Anne Rodway' in July. He was paid £7-7s (£7.35) for the first part and £6-6s (£6.30) for the second. Both amounts are slightly more than the standard rate of half a guinea a column paid to Household Words contributors. The sub-editor, William Henry Wills, recorded the two pieces in his Office Book at 12½ columns each, rather more than they in fact make. Overall, Wilkie was overpaid by about a guinea.
This may have been on the orders of Dickens. In July 1856 Dickens instructed Wills to pay Wilkie more for his next contribution 'The Diary of Ann Rodway'.
"you had best give Collins £20—in a handsome note, stating that I had told you that I saw such great pains in his story and so much merit, that I wished to remove it from ordinary calculations."
However, the piece ran to 18¼ columns so the normal fee would probably have been rounded up to £19-19s (£19.95), just 1s (5p) less than the 'enhanced' fee Dickens set.
'Laid up in Two Lodgings' was one of the pieces Collins chose for his first – and only – published book of non-fiction essays, My Miscellanies. Collins made a few minor changes to the piece and two errors of English were corrected.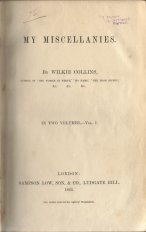 My Miscellanies first edition 1863 published by Sampson Low, Son, & Co. London
My Miscellanies was published in two volumes in 1863 by Sampson Low. A new edition by Chatto & Windus was published in 1875 with a frontispiece portrait of the author, engraved from a photograph by F. Halpin, and eight illustrations by Alfred Concanen (1835-1886) best known for his London out-of-doors covers for sheet music. One of the eight illustrations was for the London part of 'Laid Up'. Further reprints of My Miscellanies followed but, apart from the frontispiece, the illustrations were omitted. In the United States of America My Miscellanies was published by Harper in 1874 with the Halpin frontispiece but otherwise American editions were unillustrated. No other publication of 'Laid Up' has been traced.
Notes on the text
The text here is transcribed from the original publication in Household Words. All spelling and punctuation have been retained including two errors of English which were corrected for the edition in My Miscellanies. They are
"Pain to suffer, and the swallowing of drugs and taking of nourishment at regulated periods; daily restraints that I must undergo, and hourly precautions that I am forced to practice, all contribute to keep my mind bound down to the level of my body."
which was corrected to 'practise' in My Miscellanies, and
"My neighbourhood knows when I dine, and can smell out if it please, what I have for dinner."
which was corrected to 'pleases'.
The original punctuation, which Collins was always particularly careful about, has been retained, odd as some of it now seems. The web-page version may have not retained the proper opening and closing quotes, rplacing them all with ". The spacing has been modernised; the gaps left between the preceding word and a punctuation mark such as question mark or a semi-colon have been closed.
Household Words was a typographically dull publication. Text was printed in two plain columns on a page with no illustrations. The original paragraphing indented the first line of each paragraph. This has been replaced with an extra line space. The line breaks and columnar structure have not been kept.
The text of 'Laid Up' was changed slightly by Collins for republication in My Miscellanies. Apart from the two corrected errors noted above, the present text has not been collated with the later versions.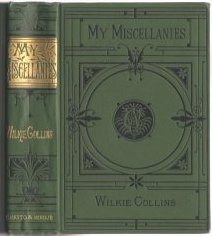 My Miscellanies Chatto & Windus 1875
Biography
Dickens spent most of the period from the middle of October 1855 to the end of April 1856 living in Paris. After a few days looking for an apartment he finally settled at 49 Champs Elysées, accommodation he described as "a series of closets, but a great many of them—with all Paris perpetually passing under the windows". He planned his trip earlier in the year and invited Collins to spend some of it with him "At the end of October, I have an idea of removing the Caravan to Paris for 6 months. I wish you would come over too, and take a bedroom hard by us. It strikes me that a good deal might be done for Household Words on that side of the Water." Wilkie was in fact very busy with his book After Dark and finished that before travelling to Paris. But by the middle of January he was presaging his visit and Dickens promised to find him accommodation "The Lodging, en garçon, shall be duly looked up and I shall of course make a point of finding it close here. There will be no difficulty in that…and will take it by the month—both because that is the cheapest way, and because desirable places don't let for shorter terms." He soon did find somewhere for Collins describing it as "The Pavilion is all ready, and is a wonder. Upon my word it is the snuggest oddity I ever saw; the look-out from it the most wonderful in the world."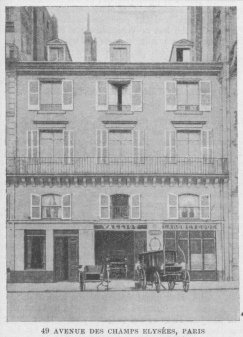 From The Dickensian vol.IX No.3. March 1913 p67
Collins finally arrived on 27 February. The next day he wrote to his mother about his long and difficult journey in which he had to change cabs in London after the horse pulling the cab nearly died, barely caught two trains and then left his baggage at Boulogne.
"Here I am safe, sound, and already better - in the quaintest and prettiest bachelor lodging that ever was built. I have a bedroom, sitting-room, dressing-room, and kitchen, all comprised in one little building—like a cottage in a ballet. Opposite to me is another cottage like mine in which the "concierge" and his wife live - and behind me is a large mansion, with twice the number of windows that they would think of putting into a house of similar size in England. The whole group of buildings is shut in by smart green gates - outside of which the stir and bustle of the Champs Elysées goes on from morning to night. So much for my habitation. I only wish could come over and see it."
And he had a warm welcome from his friend
"I found Dickens's servant waiting for me—and Dickens himself here, all kindness and cordiality, with a supper for me at his house. A fire in my bedroom and a dry and excellent bed, completed the arrangements for my comfort. I feel the journey a little in the shape of a headache this morning—but have profited, in other respects, already, by the change of air."
Collins's house, 63 Champs Elysées, was in the same grounds as Dickens's house. And it seems that Collins's illness began almost at once. On 8 March he wrote to his friend Edward Ward
"I have got the most perfect little bachelor apartment. A "pavilion" like a house in a pantomime—and the most willing pleasant concierge and wife, in the world, to wait on me. Here my luck has stopped. I caught a chill a fortnight ago, from which I have now recovered, but which while it lasted, seriously interfered with Paris pleasures and put me back sadly in some work I had to finish."
And to his mother
"I have had the luck as usual to catch a chill (everybody does the same here in March)— Rheumatic pains and aguish shiverings but I am all right again now. The thing was taken in time, and I got up this morning with nothing to complain of but a little weakness"
Wilkie's illness came as he was finishing 'A Rogue's Life' which was being serialised in Household Words. He described the problems to his friend Charles Ward
"It came of course at the most unlucky time possible, just in the midst of the labour of writing the last longest and most difficult chapter of my "Rogues Life." Everybody here, natives, as well as visitors, have been catching cold. My particular experience of the general malady took the form of rheumatism. I cured myself by sweating - the only way of getting rid of such maladies that I believe in. My arms, legs, back, head, neck, and teeth were all rheumatic by turns. After relieving my mind by swearing and my body by sweating for four consecutive days, I came out victorious in the struggle. But it was rather trying while it lasted."
And he added
"I have got a lodging that a man might live in for the rest of his life in comfort—and the heartiest pleasantest people in the world to wait on me."
After that, both his and Dickens's letters indicate that they enjoyed themselves in Paris. Collins continued to work there, planning out further work for periodicals and developing the plot of his new novel The Dead Secret. He told his mother Dickens was "quite excited and surprised by it—and even he could not guess what the end of the story was." He also confessed that "I can't quite shake off my cold still—and feel occasional rheumatic twinges, which I allay by a vapour bath. Probably the change of air back to London will set me quite right again."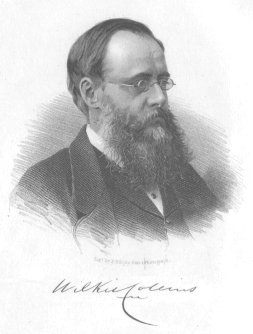 F Halpin's engraving of a photograph of Wilkie from the 1875 Chatto & Windus edition of My Miscellanies.
Collins returned on 12 April but the journey was difficult and the ship sailed in what he described to Dickens as a 'half gale'. Whether he was really ill on his return or whether he simply took lodgings to live with his lover Caroline Graves is not clear. Three references in Dickens's letters to his 'Doctor' could well be references to Caroline. In an earlier letter, awaiting Wilkie's arrival, Dickens wrote
"I am delighted to receive your letter and heartily congratulate you upon it. I have no doubt you will soon appear…I told them at home you had a touch of your "old complaint", and had turned back to consult your Doctor. Thought it best, in case of any contretemps hereafter, with your mother on one hand and my people on the other."
This passage was omitted in the letters from Dickens to Collins collected by Dickens's sister-in-law Georgina Hogarth, published in 1892. That and the tone of the letter has led two of Collins's biographers and the editor of the Pilgrim edition of Dickens's letters to take the reference to 'your Doctor' to mean Caroline Graves, both here and later.
Though Dickens does say in his letter of 13 April
"I am very anxious to know what your Doctor says. If he should fail to set you up by the 3rd. or 4th. of May for me I shall consider him a Humbug…[Dickens returned to London on 3 May]…All unite in kindest regard and best wishes for your speedily coming all right again."
And nine days later he wrote again
"I have been quite taken aback by your account of your alarming seizure; and have only become reassured again, firstly by the good fortune of your having left here and got so near your Doctor; secondly by your hopefulness of now making head in the right direction. On the third or fourth I purpose being in town, and I need not say that I shall forthwith come to look after my old Patient."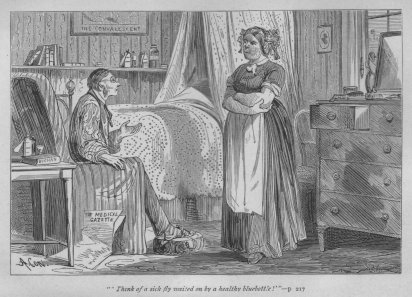 "Think of a sick fly waited on by a healthy bluebottle!"
Alfred Concanen's illustration from the 1875 edition of My Miscellanies

Ill or not, it is thought that Collins spent one night in a hotel, as described in 'Laid Up' and then took a furnished apartment at 22 Howland Street for three weeks, possibly with Caroline Graves. His mother was not in London – she had left the family home at 17 Hanover Terrace when the lease ran out and was not able to move into her new house at 2 Harley Place until June – and his brother Charles was himself in lodgings in Percy Street, about 300 metres' walk from Howland Street.

Collins is well-known for his unconventional views on society. He has some of the strongest women characters in Victorian fiction, showing intelligence, independence, courage, and a willingness to challenge their conventional role. He also had strong servants, treated as sensible human beings and playing an active part in the narrative. Servants are given their role in telling the tale of The Woman in White (1860) and Gabriel Betteridge in The Moonstone (1868) narrates much of the story.

There is some evidence that he really did have his ideas of class and servants changed by his experiences in 1856. Twelve years earlier, when he was just 21, he was looking after the house in the absence of his mother and father. During the night the house was disturbed by a knock at the door caused by a relative of Susan, one of the servants, calling and unable to get into his own house. Wilkie sorted it out and

"What he did, whether the slept anywhere, or took it out in walking the Streets, I don't know. Susan, of course, looked very foolish and made a good many apologies the next morning. I was not surprised at the mess they had all go into, knowing, as I do, what a set of apes the lower orders are in this country."

By 1853 he was writing to his mother

"But I think I can say safely that (wind and weather permitting) I shall be in Hanover Terrace on the evening of Tuesday the 6th - So if you and Charley are not in town then, you can write to the servants to tell them of my proposed arrival. If I am not home before their usual time of going to bed, they need not expect me; for the Train is due in London at a quarter past six p.m."

A year later

"I shall most likely be home soon after eleven. Let the servants sit up, with orders not to despair of me until 12 o'Clock has struck—by which time if I do not ring at the bell they may conclude that I have been obliged to stay at Folkestone—or change my plans in some way. Leave me some cold meat, and a bottle of beer, I shall want nothing more."

And by the autumn of 1856

"drop a line to the servants at Harley Place (I don't know their names) telling them that I am coming back, but am not certain to a day when. They will neither have to set up nor leave the door on the latch—for I shall arrange my return so as to be at home in good time."

However it happened, his views had changed much between 1844 and when he wrote 'Laid Up in Two Lodgings'.

Main Sources
William Baker and William Clarke The Letters of Wilkie Collins vol. I Macmillan London 1999
William M Clarke The Secret Life of Wilkie Collins W H Allen, London 1988
Catherine Peters The King of Inventors Secker and Warburg London 1991
Graham Storey The Letters of Charles Dickens vol.VIII Oxford 1995

If anyone wants a fully footnoted version of this introduction in a Word file, please e-mail me.

Laid Up vs. 1.00
19 August 2000

Go to text of 'Laid Up in Two Lodgings'
---
All material on these pages is © Paul Lewis 1997-2000
---