The Russells
"Went with our companions of yesterday, Sir Henry Russell, Lady Russell, and their son Henry,..."
The companions were Sir Henry Russell, (1783-1852), his second wife Marie Clothilde (d.1872) and their son Henry (1819-1847), who, at 17, was nearly four years older than Wilkie. Sir Henry had recently inherited his title Baronet of Swallowfield, on the death of his father in 1836. He had been created Russell, Bt, of Swallowfield on 10 December 1812. Both father and son were judges in the colonies. The elder was chief justice of Bengal, the younger was the Resident in Hyderabad, East India.



Sir Henry Russell, Bt c1822

The Russell arms. Discite justitiam moniti - be advised and learn justice.
Nearly 30 years later, in September 1866, Wilkie stayed at Farley Hill Court, near Swallowfield in Berkshire, and visited the Russell family at their house Swallowfield Park. Sir Henry had died in 1852 and his brother Charles inherited the title then. He and his younger brother, George Russell, were friends of Wilkie's. On that visit, Wilkie met Constance Lennox who, perhaps a fan of his, asked him for a photograph. On his return to London he wrote her a letter, arranging for three portraits to be sent for her to choose from. She married George on 5 March 1867. Wilkie was invited to the wedding but was in Paris. George inherited the title on Charles's death in 1883. Constance wrote a book about Swallowfield in which she says "Wilkie Collins was very intimate with the Russells and often was at Swallowfield" Swallowfield and its Owners, Lady Constance Russell, London 1901 p211.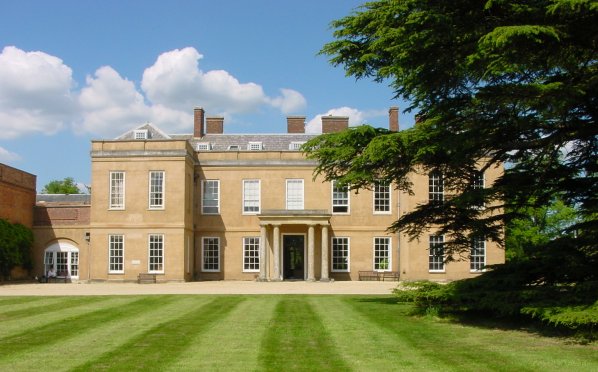 Swallowfield Park, Swallowfield, Berkshire RG7 1TG
The house and extensive grounds are now privately owned and no longer open to the public.
---
go back to Wilkie Collins front page
visit the Paul Lewis front page
click the post box to e-mail me
---
All material on these pages is © Paul Lewis 1997-2001
---