To Daniel S Ford
ALS to Daniel S Ford, the editor of The Youth's Companion, Boston. Single, cream, machine made sheet 155x200mm, watermark HIERATICA [illegible], folded once. Traces of glue down the left hand edge of first page. Dated [Tuesday] 1 June 1886.
The Public Face of Wilkie Collins IV 169.
[engraved black monogram and address]
90, GLOUCESTER PLACE,
PORTMAN SQ. W. ranged right

London

1st June 1886

Dear sir,

I have only waited
to thank you for your
letter, and for the
very kind manner
in which you have
excused delays on
my part which I
regret, until I could
report that I have
at last begun the second
of the three stories called
"Victims of Circumstances."
In a few days more the
mss will I hope be on
its way to Boston. I
am only now well enough
to get back to my desk
-- after some suffering
from neuralgic troubles.

It is needless
to add that I shall
be delighted to make
Mr Rideing's acquaintance
on his arrival in


London

Faithfully yours
Wilkie Collins

I shall go straight
on to the third and last
of the stories, before I attend
to any other literary engagement.
In the meantime will you
kindly let [del] my agent
Mr Watt (of 34 Paternoster
Row London) know on
what dates you propose to
publish the stories, so that
he may preserve my English copyright
by simultaneous publication
here.
NOTES
Daniel S Ford was the editor of The Youth's Companion from 1866 to 1899.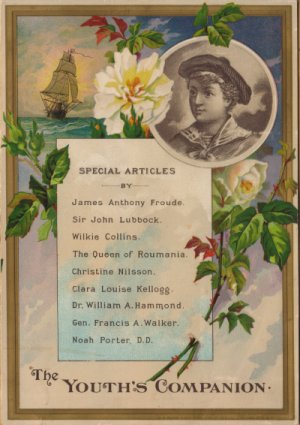 Wilkie wrote three pieces for The Youth's Companion, all about circumstantial evidence leading to a miscarriage of justice in which someone was wrongly executed. The first story, 'A Sad Death and Brave Life' was published on 19 August 1886 and the second 'Farmer Fairweather' on 16 December that year. Until recently it was thought that only these two were ever written. But recently the third story, referred to in this letter, has been identified by Professor Graham Law. 'The Hidden Cash' was published on 21 April 1877. An edition of all three stories with a detailed introduction by Law is published by the Wilkie Collins Society The First Complete Edition of The Victims of Circumstances Discovered in Records of Old Trials WCS June 2002.
This contemporary advert is possibly for an annual edition of The Youth's Companion published later. The reverse lists stories and features a picture of a girl.
The reference in the last paragraph of the letter is to William H.Rideing (b. c1853), an Englishman who worked on the staff of The Youth's Companion from around 1881-1918. An account of his meeting with Wilkie was published in his book Many Celebrities and a Few Others published in 1912.

Alexander Pollock Watt (1834-1914) had been Wilkie's literary agent since December 1881. Watt was the first truly professional literary agent in England, he counted Conan Doyle among his clients. He was Collins's literary executor after his death dealing with the sale of his manuscripts and copyrights.
Wilkie had finished writing The Evil Genius on 9 March. After that he got involved in another copyright dispute over the performance of The New Magdalen.
---
All material on these pages is © Paul Lewis 1997-2009
---