To Andrew Chatto, 18 August 1881
Holograph manuscript attachment to a letter to Andrew Chatto dated 18 August 1881. Single sheet of wove paper, no watermark, 259x208mm, some strengthening of edges and one small hole approx 8x5mm affecting three letters of text, repaired. Signed with initials W.C.
The letter enclosing this document can be read at The Public Face of Wilkie Collins III 304. This enclosure is not reproduced there.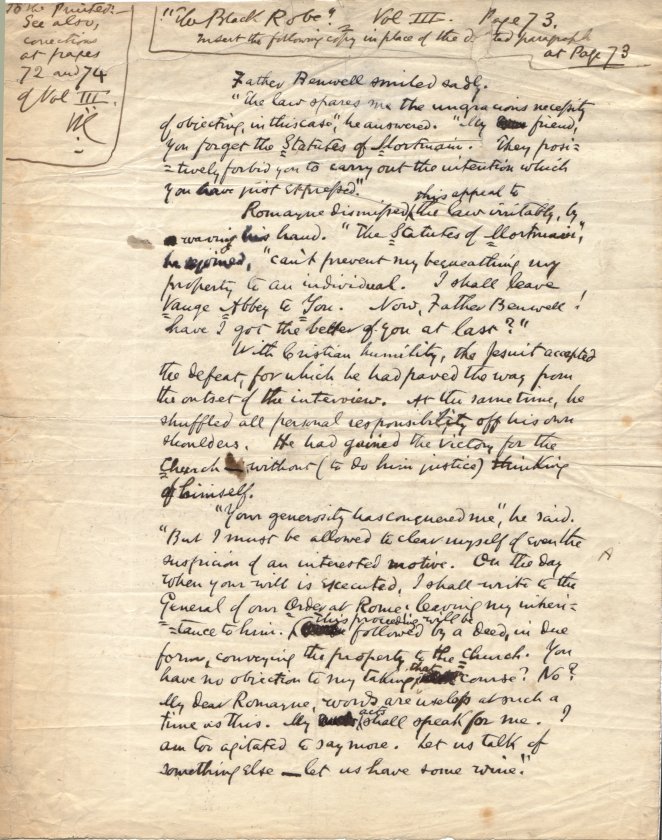 To the printer:-
See also,
corrections
at pages
72 and 74
of Vol III
WC
"The Black Robe". Vol III. Page 73
Insert the following copy in place of the d[ele]ted paragraph
at page 73
Father Benwell smiled sadly.

"The law spares me the ungracious necessity
of objecting, in this case," he answered. "My [del: Dear?] friend,
you forget the Statutes of Mortmain. They posi=
=tively forbid you to carry out the intention which
you have just expressed."

Romayne dismissed /this appeal to/ the law irritably, by
[del: a?] waving his hand. "The Statutes of Mortmain,"
he rejoined, "can't prevent my bequeathing my
property to an individual. I shall leave
Vange Abbey to You. Now, Father Benwell!
have I got the better of you at last?"

With Christian humility, the Jesuit accepted
the defeat, for which he had paved the way from
the outset of the interview. At the same time, he
shuffled all personal responsibility off his own
shoulders. He had gained the victory for the
Church - without (to do him justice) thinking
of himself.

"Your generosity has conquered me," he said.
But I must be allowed to clear myself of even the
suspicion of an interested motive. On the day [in margin] A
when your will is executed, I shall write to the
General of our Order at Rome, leaving my inheri=
=tance to him. [del: To be] /This proceeding will be/ followed by a deed, in due
form, conveying the property to the Church. You
have no objection to my taking /that/ [del] course? No?
My dear Romayne, words are useless at such a
time as this. My [del: deeds] /acts/ shall speak for me. I
am too agitated to say more. Let us talk of
something else - let us have some wine."

Notes: // indicates inserted over a caret

NOTES
The manuscript deletes a 47-word paragraph on p.73 of vol. III of The Black Robe and replaces it with this 253 word explanation. It puts right what Wilkie called "a trifling error...to be corrected (a legal error) before the cheap edition is published." (To Messrs Chatto & Windus 2 August 1881) and on 10 August he wrote to Andrew Chatto "I am making the necessary (legal) corrections in "The Black Robe" and shall send them to you in a day or two." In fact the letter accompanying this manuscript was dated 18 August. Wilkie wrote "Here is "The Black Robe" made (legally) water-tight. The corrections will be found on Pages 72, 73, 74. Vol III". That letter was recently identified by Professor Graham Law in the Chatto & Windus Archive, University of Reading. The changes were made for the one volume Piccadilly edition of The Black Robe published in 1881. The change is significant.
The following words on p73 of the original edition are deleted
Even rigorous Father Benwell was now at a loss for any further expression of honourable protest. He could only plead sadly and submissively for an immediate change of subject. 'No more, dear Romayne--you distress me! What were we talking of, before this unfortunate topic turned up?'
The manuscript also refers to other changes on pp 72 and 74. Deletions are shown by strikethrough and inserted passages are between /slash marks/ and in red.
Amendment to p72
I should be deservedly reprimanded, and your proposed deed of gift /and your proposal of restitution--if you expressed it in writing--/ would, without a moment's hesitation, be torn up.

Amendment to p74
...agitated by the victory that he had won. Refusing a deed of gift in Romayne's lifetime, in the fear that it might lead to a public scandal, he had gained the Vange property for the Church by the safer means of a legacy, which (especially in the absence of an heir) would be an unassailable proof of the testator's attachment to the Catholic Faith. But one last necessity now confronted him--the necessity of placing a serious obstacle in the way of any future change of purpose on the part of Romayne, As to the choice of that obstacle, Father Benwell's mind had been made up for some time past. For a few minutes he walked up and down the room, without looking at his guest. 'What was it I had to say to you?'...
The changes on pp72 and 74 are consequential on the main change. But Wilkie seems to have taken the opportunity to delete the final sentence which is redundant.
Mortmain
Lewis Romayne owned Vange Abbey, now a home but confiscated from the Catholic church at the Reformation and given to an ancestor by Henry VIII. Father Benwell, a Catholic priest, is determined to recover Vange Abbey for the church. In this scene he achieves that objective. Romayne wants to leave the Abbey to the church. In the original that is what he did. But Collins had ignored the Statutes of Mortmain which in general terms forbid property being given to any corporation or body - including the church - which was not a person. Wilkie deals with this problem by getting Romayne to give the Abbey to Benwell personally. It is not a completely satisfactory solution as when Benwell dies he will have to find another devoted Catholic to leave it to.
Editions
Although Wilkie assiduously made the change in English editions, pirated North American editions did not make the change for some years.
---
All material on these pages is © Paul Lewis 1997-2005
---