To Kate Field, 10 September 1875
ALS to Kate Field [Friday] 10 September 1875. Single sheet of book folded, laid paper 180x221mm. Watermark E TOWGOOD Fine.
The Public Face of Wilkie Collins III 96

Lowestoft
September 10th 1875

Dear Miss Field

One line to say
that I hope you
were not prevented
by accident or illness
from favouring me with
a visit as you proposed.

I am here - for
the moment - in pouring
rain, with a very
rheumatic back and
shoulders. Possibly
I may try the coast
further north in a
day or two. But, in
any event, I propose to
be back in London in
a fortnight. If I
can be of any service to
you, pray let me know
it. Letters addressed
to 90. Gloucester Place
will follow me wherever
I may go.

Vy truly yours
Wilkie Collins

I keep your play, until
we can talk [del: illegible] about
it. That book is [deleted character] anything




but easy to dramatise. The
writer was the least dramatic
of modern novelists - or
one of the least, at any rate.
NOTES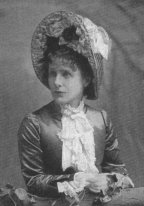 Kate Field from a photograph in 1865
Mary Katherine Keemle Field (1 October 1838 - 19 May 1896) was an American writer and actor. She was also an advocate of women's rights. She paid several visits to England and met Wilkie Collins on one of these in 1873 when he took her to see his play The New Magdalen at the Olympic Theatre. Kate Field published a biography of the actor Charles Fechter in 1882 to which Wilkie contributed a 20 page chapter. She is said to have had a romantic involvement with Anthony Trollope.
The play referred to by Wilkie is untraced. It could have been a play she was writing or one she was acting in.
---
All material on these pages is © Paul Lewis 1997-2005
---