May-day
1812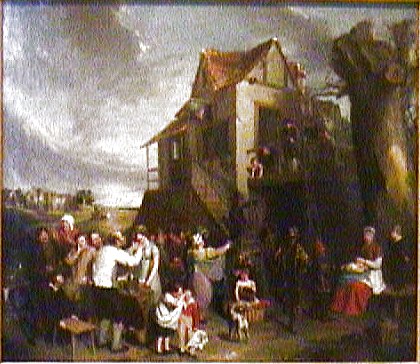 May-day painted and exhibited at the British Institution in 1812. Sold for 150 guineas (£157.50) to the Reverend Sir S C Jervoise, who owned land in West Bromwich near Birmingham.. It is currently in the Yale Center for British Art, New Haven, Connecticut, a gift of Jean M Harford..


Wilkie Collins says little about May-day in his biography of his father. It was he says "considered to display the same steady progression towards excellence as those which had preceded" and he quotes this contemporary review:- "Mr Collins has attained to a very high degree of success in this picture. The characters are various and natural, and of all ages. The groups are well distributed, and employed in a combined purpose, so that each several assists the humour and action of the whole. There is great mellowness and richness in the humour of the several faces, particularly in the countenance of the drunken chimney-sweeper. Upon the whole, this piece has more imagination and shows greater knowledge of life, than the 'Weary Trumpeter,' by the same artist."

May Day celebrations were often boisterous and chimney sweeps traditionally dressed up and danced through the streets demanding money. The picture also shows a young woman with a May Doll, covered by a cloth, and demanding a penny to see it.
---
All material on these pages is © Paul Lewis 1996-2002
---