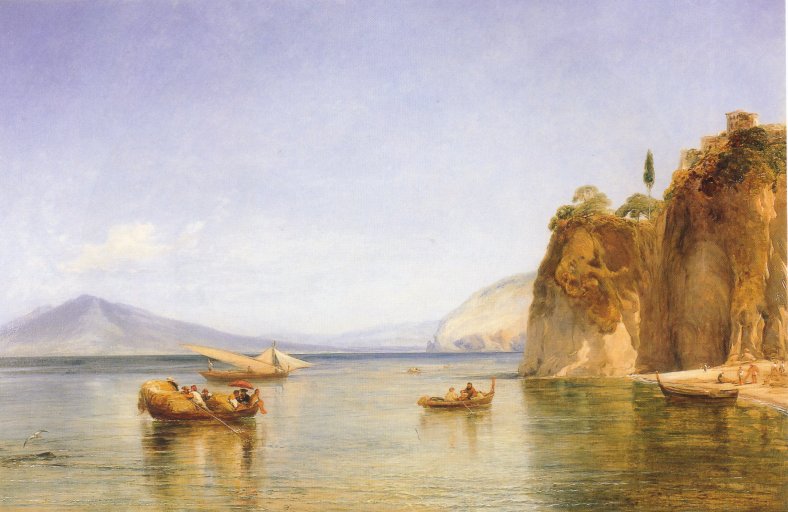 William Collins RA
Scene from the Caves of Ulysses, at Sorrento 1841
Exhibited Royal Academy 1841 no.384
Oil on canvas, 81x120cm

The painting and its origins are described in Wilkie's biography of his father Memoirs of the Life of William Collins, R.A. 1848. Wilkie describes this picture as "a view on the Mediterranean, with Vesuvius in the horizon, and a strip of beach and promontory in the right-hand foreground—the whole being treated with remarkable airiness and transparency of effect." (Memoirs II p191)

The original sketch was done in the summer of 1837 when William escaped the cholera epidemic in Naples during his tour of Italy with his family 1836-1838. He took his family down the coast to Sorrento. "The painter could not have chosen a more delightful place of refuge from infected Naples than Sorrento; which presented to him the advantages of some of the most exquisite coast and inland scenery in Italy, of a healthy soil, of civil, orderly inhabitants, and of a pleasant circle of English visitors." (Memoirs II p 107).

Wilkie wrote that this sketch, and another he did there, had "the appearance of finished pictures" and writes that this one "looks towards Vesuvius also, but from a different point. Here the smooth limpid sea, with gay market-boats floating idly on its surface, ripples into the foreground, tinged with the clear Italian reflections of the hour and scene. A strip of beach, an extremity of rocky cliff, and the point of Vico, presented the rest of the composition in Nature, and supply it in the sketch. The airy delicacy and daylight of the effect thus produced proved so popular in England, that the painter was commissioned to paint two pictures from it. The original study, (for which many offers have been made,) remains, as well as the landscape first mentioned, a treasured heirloom in the family of the painter." (Memoirs II p109).

The painting shown above was the first done from this sketch and was was bought for £200 by John Gibbons (1777-1851), an ironmaster and art patron from Edgbaston near Birmingham. Gibbons had 150 paintings which he hung in a gallery specially built at his London home 16 Hanover Terrace, Regent's Park. William wrote a letter dated 27 July 1841 to "acknowledge the receipt of the two hundred pounds you left for me yesterday, in payment for the picture of Sorrento". Some years later, John Gibbons also bought from William Fetching the Doctor 1845 for 120 guineas (£126).

The Sorrento painting stayed in the Gibbons family for more than 150 years. It was sold following the death in 2000 of Alison Howard, widow of John Gibbon's great grandson Edward Philip Gibbons (1901-1958). It was lot 255 in the sale of the contents of Elm Hill, Worcestershire at the Knowle saleroom of Phillips in Solihull on 10 January 2001. It was sold at a hammer price of £14,400 and it is believed that a member of the Gibbons family bought it.

In the summer of 1850, three years after William Collins died, his widow Harriet and their two sons, Wilkie and Charles, moved in to 17 Hanover Terrace, next door to the Gibbons family. Wilkie wrote to her from Penzance on 14 August 1850 "By the bye, don't forget that there will be something considerable to pay annually for keep up the inclosure in the Park and that this must be settled somehow with Mr Gibbons." (Letters of Wilkie Collins 1999 I p71.

John Gibbons died in 1851 but his widow, Elizabeth Steen, stayed on at No.16. Some years later, in 1856, Harriet Collins decided to move out of No.17 and she stayed for some while next door with Elizabeth. A letter from Wilkie to his mother, from Paris dated 5 April 1856, is addressed to "Mrs Collins care of Mrs Gibbons 16, Hanover Terrace Regents Park London." (Envelope in Pierpont Morgan Library, New York).

The original sketch for this painting was kept by William and, after his death, by Harriet. Then in 1867, when Harriet was ill and living permanently with friends in Tunbridge Wells, Wilkie and his brother Charles divided up her paintings. Wilkie wrote to her on 11 May 1867 "Charley and I have tossed for the pictures...Charley won the toss and chose first (to my astonishment!) the upright Sorrento - (with the chestnut tree) - leaving the sea-Sorrento (afterwards repainted large for Gibbons) to fall to me. We then went on alternating...I am quite content, and so is he. You must certainly come to town - and see my Sorrento in its new, and beautiful, frame!" (Letters II pp285-286)

In 1842 another copy of the picture on a smaller scale was painted for John Sheepshanks. He bought it for 50 guineas (£52.50). It hangs in the Henry Cole wing of the Victoria and Albert Museum in London.

---
go back to Wilkie Collins front page
visit the Paul Lewis front page
e-mail Paul Lewis on paul@paullewis.co.uk
---
All material on these pages is © Paul Lewis 2001
---