I joked last year that mortgage lenders have a small group of staff employed in the taking-money-off-people-without-them-noticing department. And I repeated this joke on television and I had an email from a viewer who said – It's true. My Dad worked for many years in a bank — in the Retail Innovations Unit.
One wheeze which came straight out of one of the retail innovations unit is the fee to leave the deal. When a customer comes to the end of the deal, and has performed their side of the contract month by month over 25 years, there is a fee which can have many names but lets call it an exit fee. And the wheeze was that you put the charge up during the course of the loan. When MoneyFacts looked into this last year it found that in 1996 the average was £56. A year ago it had grown to £218. Quadrupled in ten years.
Then of course the FSA stepped in and said it was unfair to raise the fee during the course of the contract. And you all agreed yes it was unfair and froze your exit fee and promised it would be the same at the end as the beginning.
But since the fees at the end were controlled the fees at the start have gone through the roof. Arrangement fees can now be thousands of pounds. And indeed they have become part of the choice. Would you rather pay £495 with a rate of 5.85% for two years or £695 with a rate of 4.99% for three years? That courtesy of Furness B Soc. Tough isn't it? And with some societies it's even tougher as they have different fees depending whether it is a remortgage, a house purchase and whether you are an existing customer or a new one.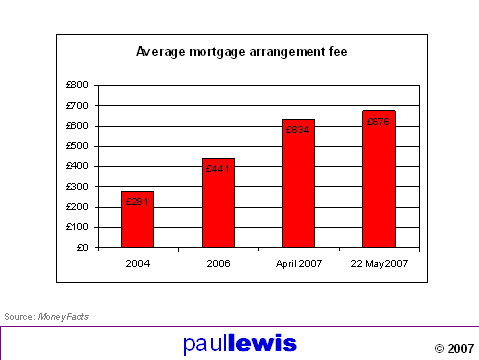 MoneyFacts tells me that three years ago arrangement fees averaged £281. A year ago they averaged £441. Three weeks ago they averaged £634. And yesterday that had gone up to £676. And that excludes the mortgages with no fees – and step forward here Dudley BS and Shepshed BS and Stafford Rlwy BS who charge no fees. It also excludes percentage fees, also rising 2% or even 2.5% not uncommon. On a half million deal – and that is not uncommon either now – that will bring in £12,500. Does it really cost twice as much to arrange a mortgage for £500k as one for £250k? What do you do, draw it out in tenners and count them?
And although these are fees you don't send a bill do you? Arrangement fee £695 payable in 30 days. No. It's payable in 25 years. Because you just add it to the loan. So £695 at 7% a year becomes £3772 just for allowing the customer to walk through the door.
And although these are fees even that wouldn't matter if you explained that's what you did.
Adding fees on to the loan without telling anyone is finance not service. And not something which building societies should be doing if you are to differentiate yourselves from the banks.
All this variety means it is impossible to answer the simple question 'What is the cheapest mortgage to buy this house?' First you have to sort your way through fixed, variable, discount, capped, tracker – and that's before we get to offset, current account, and credit impaired. And way before we reach LIBOR linked or dollar denominated. And even if you get to grips with those, there are arrangement fees – flatrate or percentage – higher lending charges, legal fees, survey fees. Amounts which it is impossible to factor in to the total cost without a computer. And then of course release fees. Which, just as you're walking away from the deal, leap after you and bite you in the bum. At least you know now how big their teeth will be.
No-one can rationally choose between all this. It's not choice and competition – it's complexification. The deliberate act of making products so complicated that no-one can understand them. Can never be sure if they have been sold the right product or not. Find it hard to tell when the product goes wrong. And if it does, can never find the evidence to sustain a complaint. So we employ a mortgage broker. Adding another cost to the price of buying a home.
A year ago I complained about this in a speech to the Council of Mortgage Lenders. Did anyone listen? Then the MoneyFacts database had 6437 residential mortgage products. Three months ago I asked again and it was 9508. Yesterday it was 10,665. So clearly I did have an effect. You thought 'hey, confusion. That's a good idea.' And increased your product.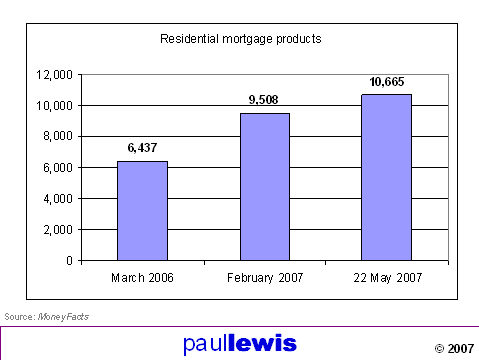 But here is another golden opportunity to differentiate yourselves from the banks. Keep it simple. Keep it transparent. Service not finance. MoneyFacts now offer the public the chance to compare the true cost of mortgages on its website. Why not put the true cost of your deals by the side of them so people can genuinely make the choice. And you know what? Once you started doing that the choices would get fewer because you would be fooling fewer people into spending more than they need to.
Now I'm going to end with a radical suggestion about the future of building societies.
In January Ed Balls, economic secretary to the Treasury and the man who has advised Gordon Brown as long as anyone, asked Otto Thoresen Chief Executive of Aegon to head a review of Generic Financial Advice – accurate and reliable information about their money separate from the sales process. Something of course which journalists like me have been doing for years. And the fact that the newspaper personal finance supplements on Saturdays and Wednesdays are still so bulky, and the fact that Money Box reaches about 2.5 million people a week on the radio and another 400,000 a month on the web shows the demand for impartial, accurate and practical advice.
The banks have turned their back even on independent financial advice. You know if a bank tries to sell you a product it's not because it's the best for you. It's because it is the one that they have an agreement to sell. And that is why the best advice is never buy a product from your own bank. But building societies are not much better. Sure you might refer someone to an IFA chain but often you will act as an introducer to an insurance or life company you have a deal with. So again, no independent financial advice through your branch network.
But building societies are trusted more than banks. Your mortgages dominate the best buy tables. As we saw your current accounts shame the banks. And the atmosphere in the local branch is more friendly than the sales cauldron of personal bankers. And I bet some of your staff do offer generic financial advice. Where do I claim pension credit? How do I pay off my credit card? How do I budget.
Thoresen's job is not to see whether generic financial advice can be put in place but to see how it can be put in place nationally. One way or another we are going to have it.
With the trust that you have. And the branches that you have. And the mindset your customers have when they visit you – money; sorting out my problems. It is a short step for the building societies to use those advantages and play a major part in providing non-sales, unregulated, clear and accurate money advice.
Now you start with one disadvantage against your competitors. Size.
The Post office has more than 14,000 branches and will probably end up with about 12,200 after closures and replacements with mobiles. They want it. The banks have about 11,000 branches. They want it. But the building societies have just 2148.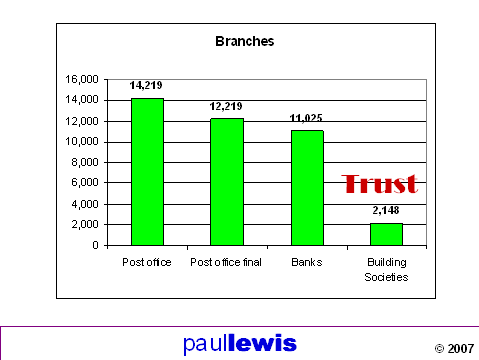 But you have trust. And that is where you can certainly beat the banks. And perhaps complement the Post Office. And it is possible that the Government will even pay you to do it.