This talk was given on 23 November 2006
The text here may not be identical to the spoken text
Association of British Insurers
Saver Summit 23 November 2006
Chair's introduction
Pension crisis, longevity, and persistency
Welcome to the fifth ABI Saver Summit. This year we have a glittering line up of Ministers, industry bosses and politicians. And for some reason they asked me back to chair it.
The £27 billion savings gap was born at the first Saver Summit. The ABI was its midwife. And Stephen Hadrill, the patriarch of the ABI will be giving us its first school report as it reaches the age of five.
Pensions crisis
You remember – if you were here – that last year I told you the pensions crisis was getting worse. Evidence was the mentions of the phrase in the UK's national newspapers. Virtually no mentions in 1999, 2000, and 2001. Then in 2002 665, then 792, 916 and last year it totalled 1104 mentions. But this year it has fallen back to 570 [pro-rata for the whole year]. Maybe the White Paper did solve the pensions crisis. Or maybe journalists just got bored with it.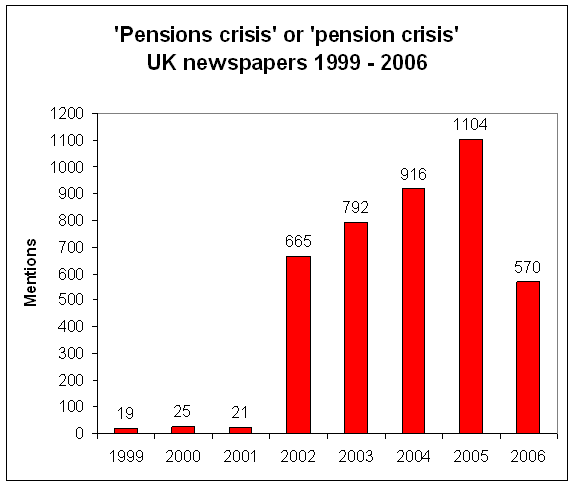 Longevity
Today our theme is pensions – and this week the cost of pensions rose by nearly 2%. Because on Tuesday the Office for National Statistics issued the latest figures on life expectancy. What are called interim life tables. And we all got a present – longer life. Let me show you mine.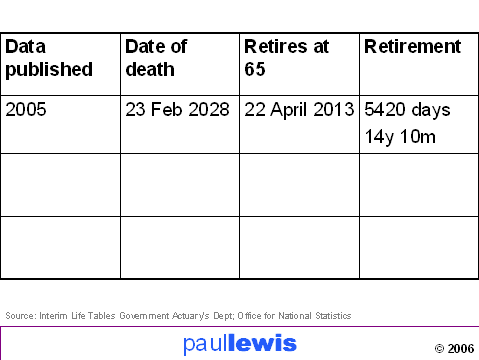 On Monday, using the tables published last year, my expected date of death was 23 February 2028. Half the people my age in the UK will die before that age and half after. If I retire at 65 that gives me 14 years ten months of retirement. But then on Tuesday I checked again. And what do you think? I am going to live longer. Now the break even bet is that I will die on 7 June. So apart from cancelling the funeral my financial plans are completely wrecked. An extra 105 days of retirement, up 2%, with no money.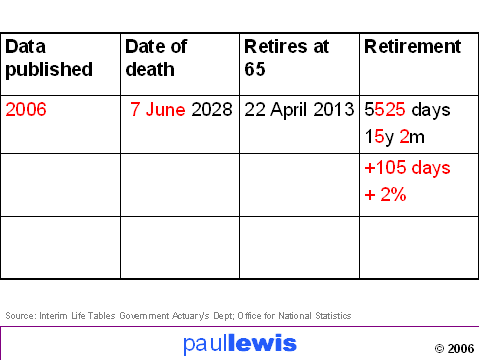 And if we go back 20 years when I started one of my tiny pension schemes in 1986 I only expected 11 years one month of retirement. So if my pension was adequate then – it wasn't – it certainly isn't adequate now to cover another 4 years 1 month – 37% more.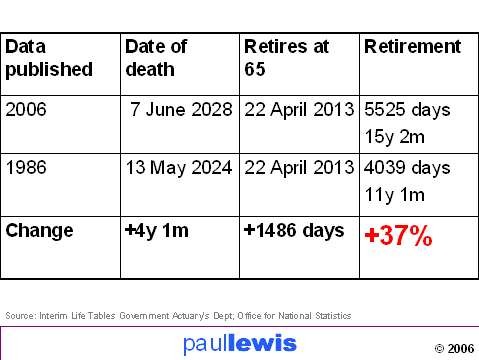 Persistency
Now. One more thing why this week is important. There is no longer term product than a pension. You start it in your 20s or 30s and pay in for 40 years and live on when you retire. So how long do people pay into a pension?
I first came across these figures at my first Saver Summit in a talk by Laurie Edmans then of Aegon. They are called persistency figures. How long do we keep long-term products?
Last month the FSA published the latest. And they showed that when it comes to personal pensions, half sold by company representatives and more than half – 54% – sold by IFAs are in fact given up within four years.
Now there may be lots of reasons for this – from change of circumstance, people marry, divorce, have children, lose their job, or just decide they're not going to get old – to churning, sales staff encouraging people to move from one pension to another.
These figures have been collected since 1993. And we now have an eight year time series. And this shows that persistency of pensions sold by company representatives have generally come down over that time. But persistency of personal pensions sold by independent financial advisers, which began at nearly three quarters kept for four years has come down and down. So the latest figures show that more than half, 54%, of those sold in 2001 were given up by 2005.
Now, as I say, this may be due to mis-selling, it may be due to mis-buying. But mis-something is going on.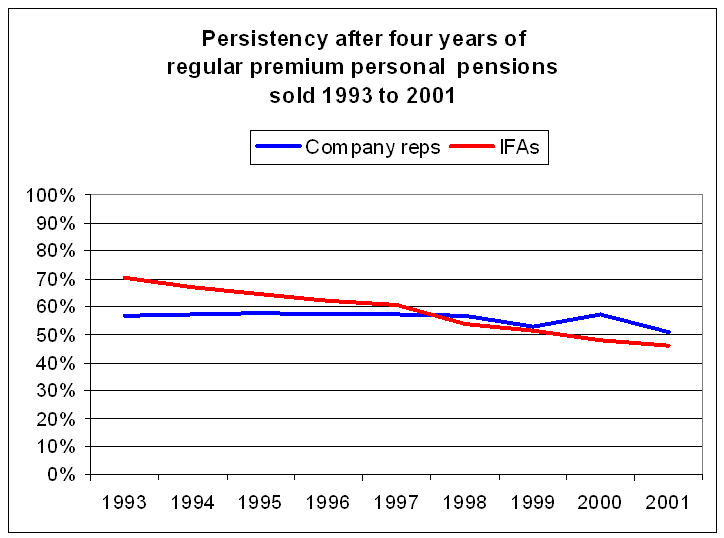 As the FSA says "If investors buy policies on the basis of good advice, they would not normally be expected to give them up"
And why is this week, indeed this very day, important? The FSA Board is meeting today to consider scrapping this information. For the very good reason that it will save some of Britain's biggest companies – all ABI members who take £24 billion a year in premiums – £17,500 a year each. So my plea is that if the FSA says today 'we don't want this information' the pensions industry as a whole says – 'we will continue to supply it.' Or this graph will never be updated again.
[UPDATE 1 DECEMBER 2006: At the FSA Board on 23 November the decision was deferred so that the whole question could be considered as part of the Retail Distribution Review which will consider "whether persistency data should be collected and, if so, in what form to be of greatest value to the FSA, to industry, and to others interested." Pending that review the FSA will continue to collect persistency data in its present form.]
---
go back to Talks front page
go back to the Writing Archive front page
go back to the Paul Lewis front page

e-mail Paul Lewis
---
All material on these pages is © Paul Lewis 2006
---